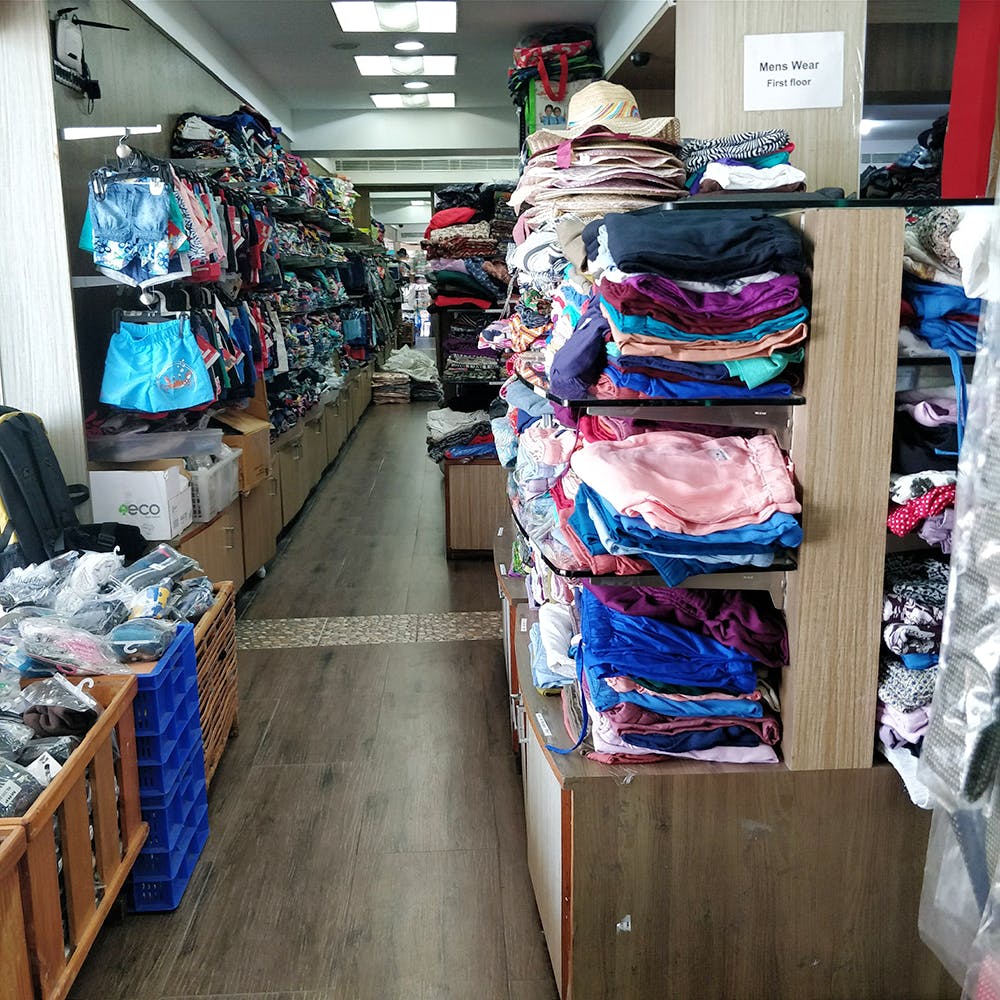 Brokebutfabulous Your Thang? Then Take It A Notch Higher With These Top Export Surplus Stores In Chennai
Feeling too broke to go shopping? Fret not! With this list of top export surplus stores In Chennai, you can not only save big but also win over the fashion police! Check it out!
Easy 2 Wear
Polo shirts, denim, casual shirts and shorts for men. Dresses, tops, and trousers for women, all from brands like Bossini, Ralph Lauren and Armani. Easy 2 Wear can totally make you look all dapper while you're on a budget. They also have some quirky accessories at great prices.

Cool Club
Stocked with both - party and casual wear from brands like Nike, Van Heusen, Otto, Gas, Diesel for both men and women, Cool Club can help you amp up your style quotient without draining your savings. We particularly liked the sports jackets and blazers here that start from INR 1500.

One Style
Guys, if budget formal wear is what you're looking for then One Style totally nails that department. Featuring an awesome collection of trousers, checkered shirts and pants from Zara and Gap, the export surplus variety here is simply lit and cheap!
On Trend
From breezy summer tops and tees along with quirky pants to slim fit shirts (available in sizes up to XXXL) linen pants and semi-casual trousers, On Trend knows how to do casuals. With their affordable pricing, you can totally refresh your wardrobe without spending too much.

Trend Now6 Fashion
Although it looks quite tiny, Trend Now6 Fashion is like a hidden treasure of branded men's wear waiting to be discovered. From Calvin Klein denim to shirts from Zara, Tommy Hilfiger, Superdry, this place can make you look all suave even on a shoestring budget. We also liked the sportswear here from Nike and Adidas along with fancy accessories from Ray-Ban and G Shock.

Elliots Fashions
A one-stop shop for affordable shopping, you can find everything from branded denim and pants to tops, shorts, skirts and bohemian outfits for both men and women at this old store. Their summer wear is particularly worth checking out with tees starting from just INR 200. For more info, click here.
Fashion Folks
With Ralph Lauren tees starting from just INR 700 and other high street brands like Zara, Tommy Hilfiger, Guess, Armani all being sold at factory prices, Fashion Folks is truly a paradise for budget western wear. We also found some great accessories and perfumes here at budget prices.

Dandy
Budget, casual and looking like merch you'd find in an actual high-end showroom, the menswear at Dandy is on point! With an inventory that stocks essentials like slim-fitting shirts, polo necks, tees, and comfy denim, this store can meet all your daily wear requirements without making you feel guilty about spending.
Dollars And Pounds
Sportswear, casual wear, formal wear, innerwear - whatever it is that you may be looking for, Dollars And Pounds has it all. Featuring brands like Zara, Ralph Lauren, Abercrombie & Fitch, Nautica and Nike at factory prices, you can totally indulge in a stylish bargain here. They also have great sports accessories from brands like Manchester United, Chelsea, FC Barcelona along with perfumes and stationery. Tempted to go shopping now, aren't you?
Think we missed something? Let us know in the comments below.
Comments