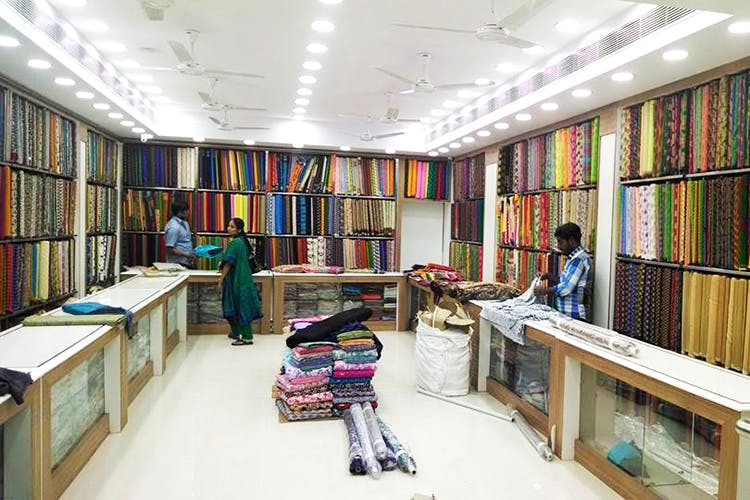 Blouses For Sarees Or Fabric For Dresses: Hit Up These Top Fabric Markets In Chennai
Bought a new saree and thinking of pairing it up with an interesting printed blouse? Or perhaps you're borrowing your mother's 20-year-old Kanjeevaram for Diwali and desperately need to find that elusive blue and red double shade to get stitched. Whatever your situation, this list of top fabric markets and shops is certain to come to your rescue!
Nalli 100
Top fabric markets in Chennai are defined by Nalli. To enjoy fabric browsing and shopping in luxury, Nalli 100 is your destination. Spread across a huge area, it is well laid out and flooded with natural light, so you know you're not buying what you think is a deep blue and ending up with electric purple. Nalli 100 is renowned for its collection of semi and real raw silk, fabrics slightly coarse and boasting a dull, understated luster which add regality and class to any outfit. The brocades astound with their diversity and are perfect for that vintage royalty look you've been dreaming of (ever since you saw the recent Sabyasachi campaigns!). Nalli has valet parking too, so enjoy the perks!
Besant Nagar
Besant Nagar's wayside shops are quite the popular destination for the mill and handloom fabric and make up the best fabric market in Chennai. At the foot of Chennai's favourite Eden lie a number of shops selling ikat, mangalagiri and blended synthetics. The ikat is coarse and thick, recommended more for use as cushion covers or apparel for cooler times, and very affordable. The fabric here may not be of the highest quality, but is good enough for a season's use and throw. When you're done, buy some gypsy neckpieces to go with your new purchases (or spend a happy half-hour browsing) as the translucent beads glimmer by the lanterns set up nearby.
Pantheon Road
If you're in Egmore, visit Pantheon Road, which has earned the title of Chennai's Fashion Street and is the top fabric market in the city. While pre-matched suits and readymade tops are on offer, it's the fabric that is certain to draw you in. Choose from metres and metres of cotton, synthetic, handloom and mill material in stripes, checks, motifs, quirky prints, and charming florals. These fabrics are best used as home linen — for upholstery purposes, like curtains, cushion covers, bedsheets for the children's room, or to get quilts made out of. They're cheap, and roadside shopping is always fun!
Colours Choice
Another option for the T-Nagar loyalist looking for the top fabric market in Chennai is Colours Choice. After you're done buying your sarees from Kumaran, Nalli or RMKV, stop over at this Pondy Bazar favourite for affordable matching material in two-by-two, mangalagiri, pure silk, silk cotton, and printed cottons. They also have ready-made apparel and semi-stitched salwar-kameezes in their now-swanky multi-storey shop, but it's fabric that it remains popular for.
Cotton Street
From bulky fabrics for home furnishing need including curtains, cushion covers and patchwork quilts to ones perfect for your wardrobe, Cotton Street has them all. The fabric also has amazing batik, stripes, floral, checks, and kalamkari prints.
Ajantha
For awesome fabric at budget prices, hit up Ajantha in T Nagar. Here, you can buy cotton and mixed cotton fabrics starting INR 140 per metre. Among the fabrics, you'll find pure cotton, spun cotton, raw silk, Banarasi silk cotton, and satin. As for prints, there's so much to check out as there are over fifty shelves with just fabric material.
Kalanzian Tex
Rayon, cotton, pochampally, jute cotton, Kanchi cotton, whatever you're looking for, Kalanzian Tex sells. This store is good for not just fabric but also blouse materials - two by two starts from INR 140 and these require no lining. They've got a great collection of tissue fabric too.
Bobby
Another hidden gem in T-Nagar, Bobby is for those looking to strike a balance between budget and luxe fabric. Right from plain and traditional patterns to quirky owls and hand-painted designs, quality and choices at Bobby are super and the fabric is priced from INR 350.

Pretty Girl
Shop kalamkari, georgette, and silky smooth chanderi fabrics at Pretty Girl. Dedicated just for breathe-easy linen and cotton fabrics, Pretty Girl is for those looking to stitch up comfy maxi dresses and wrap around skirts.
Did we miss something? Tell us in the comments.
Ask Aasha a question