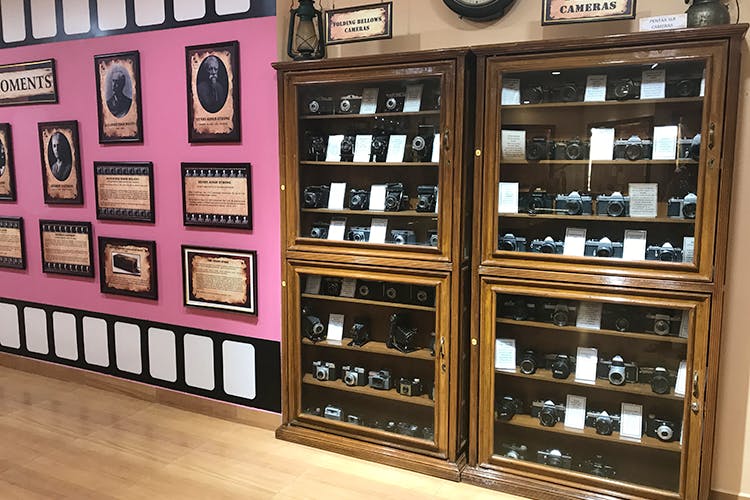 From Secret Harbours To Library Vans, Here Are The Top Hidden Gems In Chennai
Chennai is filled with secrets, and even if you've lived here long you may not know some of these. We'll tell you the best-kept secrets of Chennai in this list of best hidden gems in Chennai. Already hooked? Scroll down and discover the top hidden gems in the city.

The Reading Project - Library Van
The Reading Project is basically books on wheels. This library van travels across Chennai to different areas and brings a library with 30k+ books right to your doorstep. The van covers areas like Avadi on the West, Madhavaram in the North, and Navalur/Vandalur in the South. They also park at company campuses and you can pick up 10 books at a time for a membership fee starting INR 300.
Royapuram Fishing Harbour
Even if you've heard about the Royapuram Fishing Harbour, you've probably not checked out the different spots where you can catch a glimpse of the sunrise and sunset. These spots are just around the harbour and are perfect to take stunning pictures. Also, this is the best place to find the freshest fish and seafood.
Dr Arun's Photography and Vintage Camera Museum
Most Chenaiites don't know about Dr Arun's Photography and Vintage Camera Museum, an obscure camera museum located on East Coast Road (ECR). This museum has curated vintage cameras from 1870 including the World War II US Air Force cameras. The museum is home to an eight-feet long camera and the famed Mitchell 33mm Hollywood camera from the 1940s.

Alamparai Fort
Located near Kadapakkam, the Alamparai Fort is a monument that was built in the 17th century and had a 100-metre long dockyard stretching into the sea, from which salt was extracted. The ruins of this fort are a stunner and you'll find trails of ivy, shrubs, creepers, bushes, and trees, perfect for Instagram pictures. The fort, built with bricks and limestones overlooks the ocean and there is a mausoleum and a watchtower where you can see the sunset. If you go swimming, you may even spot some ruins underwater.

Seoul Store
Seoul store is perhaps one of the only grocery stores that sell all-things-Korean in Chennai. They've got dry foods such as canned tofu and popular Korean snacks as well as they imported frozen foods. They have canned seafood including tuna, salmon, and mackerel. You can also shop for authentic Korean sauces (Oyster Sauce and East Asian Style Tobasco Sauce) and noodles at Seoul Store.

Ottiambakkam Quarry
Located near Semmancheri, Ottiambakkam Quarry is perhaps one of Chennai's best-kept secrets. An hour ride from the city, this quarry is peaceful and gorgeous. You can swim, kayak, and go boating here. This quarry is known for paddle board yoga, so if you're in for some adventure try that. It's a great place to just chill and catch some dreamy views.
St. Thomas Mount
St. Thomas Mount is the only place where you can get a panoramic view of Chennai. A tiny hillock just a bit further from Kathipara junction, the St Thomas Mount Shrine was first constructed as a lighthouse by the Portugese. Now, you can enter for free and get the best views and vantage points to see the city and click awesome pictures.

India Seashell Museum
The India Seashell Museum in Mahabalipuram has more than 40,000 seashell collections from across the world. The seashells are from countries like Mexico, Australia, Thailand, Vietnam and Indonesia and there are four galleries with cool artefacts and collections. The aquarium, souvenir shop, and seafood restaurant are sure to make you nuts about seashells!
Arasankazhani Lake
This secret lake is located near Chemmancherry-Perumbakkam and looks like a G-shaped island with a mud wall. This wall is surrounded by plants like bamboo, pongamia pinnata, neem, vetiver, and palm tree. Arasankazhani Lake is home to 39 varieties of birds, six varieties of frogs, seven varieties of snakes, pond turtles, butterflies, dragonflies, and crabs. Oh, and it looks incredible.

Ask Aasha a question