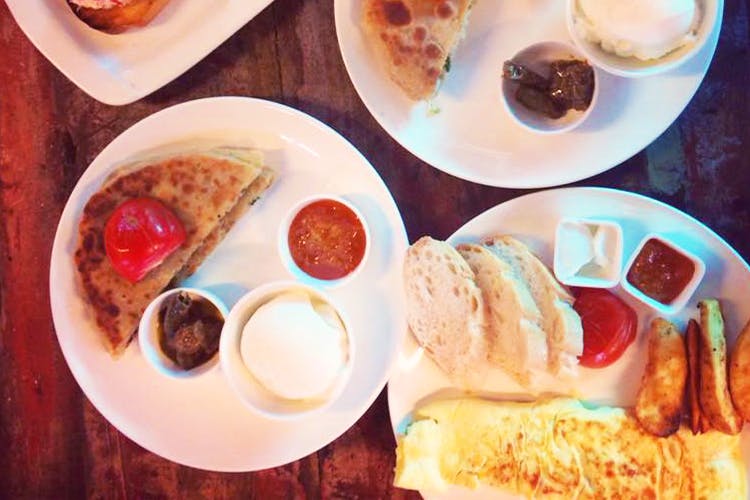 These Restaurants Around The City Are Perfect For A Happy Meal Time With Your Kiddies
Finding a place for a perfect meal and a fun time with your kids could be a head breaking task. Worry not, we have got you sorted with this list of top restaurants in the city which your kids will adore as much as the time spent with you.
The Farm
The Farm in the Old Mahabalipuram Road in Chennai is one of a kind experience. Away from the chaos of the city and in the lap of nature, The Farm doesn't only offer homegrown food but it also has animals and poultry across the farm. Kids can see how food is grown, cheese is made and can also have a hand at trying to make pizza! You can also request for a walk around the farm and see organic food gardens. Horse riding is available for kids under supervision. It not only is fun but educational too!
Writer's Cafe
A library turned cafe, The Writer's Cafe in Gopalapuram steams with sweet ambience. Not only their square pizzas will have your kids amazed but they have a selection of books to keep their creative little minds busy. The price for two is approximately INR 500 and comes with a number of combo offers. For your kid lost in fairy tales, this is the place to check out for a nice evening family time!
Ciclo Cafe
Whatever you are thinking it may be, it may not be. It is a cycle-themed cafe with intriguing and decorative cycle parts hung across the cafe. Other than their pizzas, pastas and cheesecake, they also have a bicycle shop attached to the cafe where you can rent a cycle to go for a ride as well as make purchases. If your kid is getting impatient waiting for the meal then you know what to do.
ECR Dhaba
If the weather is right then the ECR Dhaba is out with its might with their outdoor seating and kid-friendly decor. With their huge outdoor space available, the place is enough for kids to spend their endless energy and enjoy a good meal for INR 800 for two. They can feed ducks, play with rabbits and hang around the fish pond. They have sculptures and artworks installed across the place as well. They provide kids with paper and colour pens to draw; some of the kids' artworks are also on display. Besides that, they have a flower shop, spa and dry fruit shop for you to explore as well!
Cream Centre
the Cream centre has two branches; one in R.A.Puran and the other in Anna Nagar and is completely vegetarian with prices INR 600 for two. It has a casual set up perfect for a laid back dinner with your kiddos. The place has an outdoor play area and a garden with swings, climbers and slides which will keep your child busy! After a hefty play session, your child will be hogging down those Nachos and Cheese balls.
The Waterfall
Lay back and have your kids amused at this waterfall themed restaurant in Vadapalani. With gushing waterfalls up to 20 feet and rocky walls inside the restaurant, the place offers a natural and serene ambience for a family outing. They also have a banquet hall for you to host birthday parties. The unusuality of the place and the authentic Andhra and Tamil meals will have your kid splashing happily! The prices are just INR 800 for two.
If you think we have missed out on any place then do mention them in the comments below.

Comments