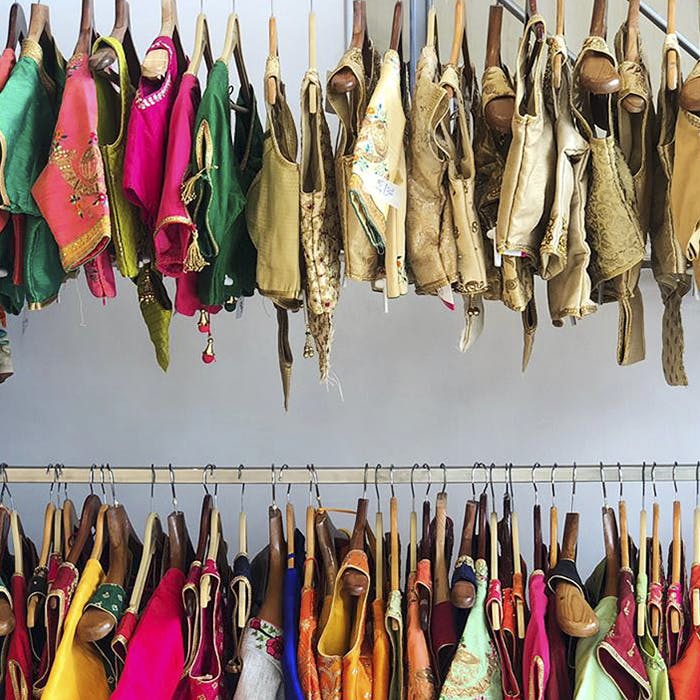 Ditch Stitching And Rock It Like A Desi Girl With This List Of Top Places For Ready Made Blouses In Chennai
How many times have you had to drop the idea of wearing a saree because your designer couldn't get your blouse right or couldn't give it to you on time? It's painful we know. But ladies, why should we put up this pain when we can just buy a ready-made blouse? Not only are these available widely but can also be picked up last minute and can totally save your day. And to make things easier (like we always do), we've compiled a list of the top places for ready-made blouses in Chennai. Now, ditch worrying and get what you want today!!

Soch
Offering an extensive collection of silk blouses with work like zari, embroidery, zardozi and more, Soch has great ready made blouses for festive and party wear. Prices start from INR 1500.
Jashn
With only metallic ready made blouses in almost every tone of silver and gold, Jashn keeps it simple yet relevant. The silver tone blouses are quite popular and are also available in sleeveless patterns. You can even get alterations done for an extra charge. Prices for gold blouses start from INR 400 and silver ones start from INR 2800.
Pothys
Given its specialization in the silk department, Pothys has an exquisite range of ready made silk blouses as well. From simple zari and prints to heavy zardozi embroidery on blouses, you can choose from plenty of options here. Priced for simple blouses start from INR 400 while the heavy ones start from INR 6000.

Neeru's
Featuring an array of both simple and heavy ready made blouses, Neeru's has a blouse for every saree. The simple ones are mainly available in raw silk while the heavier ones come with banarasi and zardozi work. Prices for the simpler blouses start from INR 1200 while the embroidered ones start from INR 3000.

Kay
With a great variety in everything, Kay shines in the blouse department as well. The ready-made blouses come mostly in cotton and chanderi, with batik print ones being among the fast selling ones. As for the heavy blouses, these come in stonework, zardozi work on banarsi, net and brocade fabrics. Prices start from INR 1800 and go up till INR 9000. They even have a 30 percent sale on some of their blouses right now.
Sarvana Stores
Abundance is the central theme of this store and the ready-made blouse department here is also in line with that. From stretchable polyester blouses to lace, cotton, printed, silk and velvet blouses - you cannot run out of options here. Prices start from just INR 150 and go up till INR 1500.

Welcome Number One Blouse
A one-stop blouse destination, this tiny shop is like a ready-made blouse galore. From simple cotton blouses to heavy stone, metallic and embroidery ones, there's something for everyone here. Prices start from INR 130 and can go up to INR 600.
Ask Dipika a question