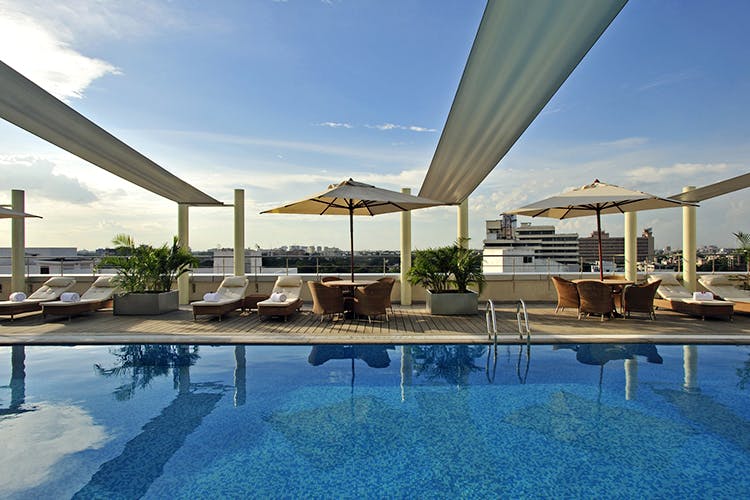 Couples! Live Your Date Night To The Fullest With This List Of Top Romantic Restaurants In Chennai
No matter what the trend, you can never outdo a romantic dinner. Good food, great vibe and your loved one by your side, that's *the formula* to make some beautiful memories with bae. So this date night, put a leash on those wild ideas and let the simple magic of romantic dinners (or lunch) take over. Take your pick from this list of romantic restaurants in Chennai and find out for yourself.
Azzuri Bay
With breathtaking views of the Adyar estuary blending into the sea and lush green treetops surrounding you, this roof-top place promises a cozy and romantic dining experience. With ample space to accommodate over 100 people yet give you your personal space, an enticing Asian Menu, this place is also budget and can host candle lights too! Whatte wow!
Kefi At The Taj Club
The vibe here is totally Mediterranean and will make you feel like you're on a romantic holiday in the Greek Isles. Although they have a great rustic indoor seating, we recommend you go for the outdoor cabana-style setting which is on the rooftop and perfect to catch the sunset. As for the menu, you can find flavours from Greece, Spain, Morocco, Turkey, and Lebanon, which you can gorge on while sitting by the poolside to dial up the romance factor. They even offer packages with a three-course or five-course menu along with two glasses of wine (complimentary).

Kipling Cafe
If you don't mind travelling for a bit, this ECR cafe can be a perfect option for your date night. You can sit in tiny huts and recreate the magic from an older time or sit out and have a more medieval feel to your date. As for the food, they have Thai food platters, pizza, and more along with booze for a fancy dining experience.
Rendezvous Cafe Restaurant
With welcoming interiors, lovely ambiance and the perfect rooftop for great conversations, Rendezvous Cafe Restaurant presents itself a perfect date spot, away from the city. Located in Puducherry, you can hit this place up if you're planning to spend the whole day together and don't mind driving down for a little getaway. The cute flower arrangements there are quite romantic and the food simply satisfying.
Chamiers Cafe
Dreamy lights, vintage photographs, and a history to tell, Chamiers Cafe can make you live the date night of your dreams. Sitting under the canopy of the chandeliers, you can enjoy some great music while gorging on a nice salad or a pasta here. They even have an al fresco sitting to give you some privacy and have a fantabulous date with bae.
The Summer House Eatery
Housed inside a restored bungalow, this restaurant offers some serious pinteresty vibes. With pretty decor on the inside and also the option to enjoy some privacy in their green outdoor seating, this place can help make your date night a hit! The food here is also as pretty and fine as the restaurant decor and includes dishes like Indian Tacos, crepes, Khimchi Udon, Korean Fried Chicken, crab cakes and more.
Café de Paris
Made to resemble a Parisian cafe, the outdoor dining at Café de Paris can add a whole lot of charm into your date night. Offering covered booths and individual tables, the outdoor area also has potted plants and hanging vines, all painting a very pretty picture, particularly in the evenings. If the weather's acting up, you can even move inside to their one of a kind, greenhouse type glass house, where there's even a stage for artists and musicians to perform. Perfect for those rainy days when romance is on the list!
Wild Garden Cafe at Amethyst
A favourite among the Chennaites, Wild Garden Cafe at Amethyst also makes for a great romantic spot. Although it has indoor seating, we suggest you sit outside amidst the green that fills up the premises of Amethyst. The whole combination of the subtle lamps and ivy creeping up the chairs will make you feel like it's just you and your date in the middle of a tiny forest. You can order some sandwiches, pasta, and more here while taking in the warm and peaceful ambiance this place offers.
Comments