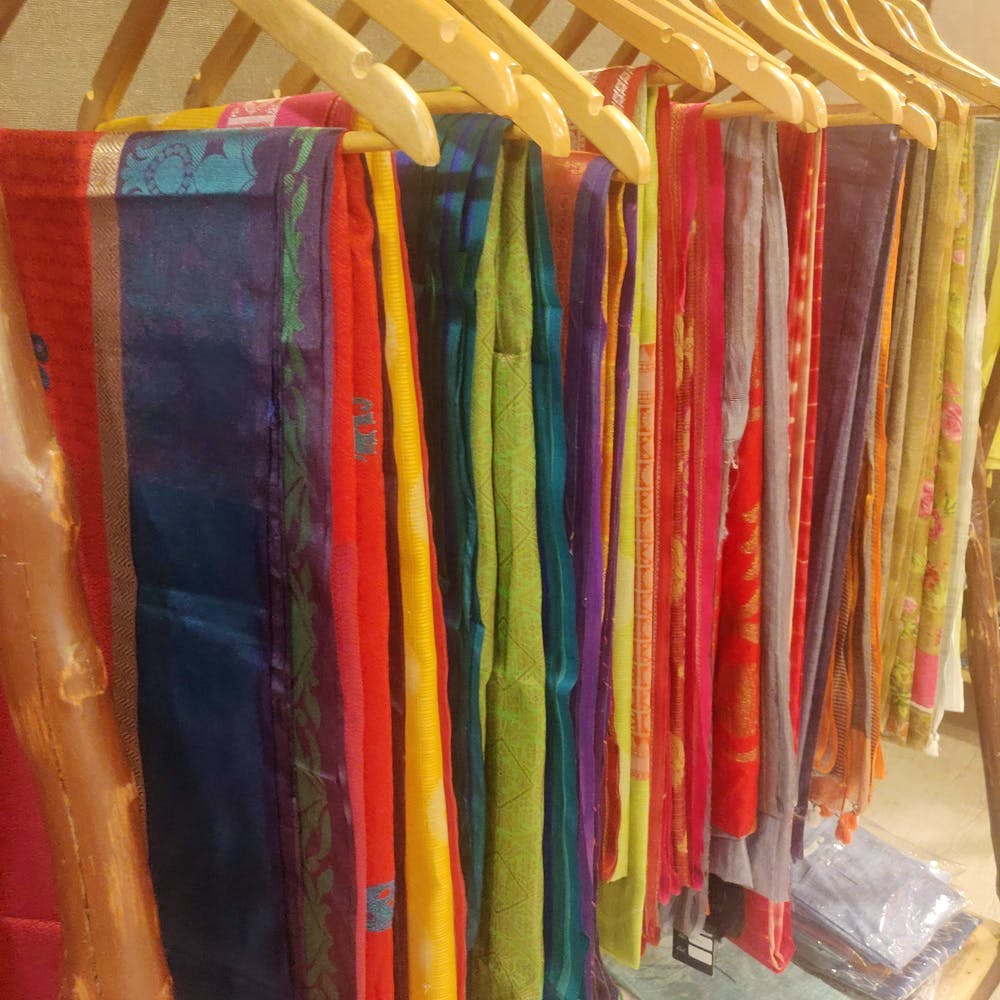 From Stationery To Saris, Shop At These Top Stores In Nungambakkam & Get Lit
Nungambakkam is the best destination for shopping, especially if you're looking for luxe boutiques and designer clothing. A perfect mix of budget-friendly stuff and quirky products, here are the best stores to shop at in Nungambakkam.
Renasci
Shop everything from kurtis and dresses to exquisite wedding gowns at Renasci, a multi-designer boutique in Nungambakkam. You can choose from over 50 designers and dress like a celeb!
A Tailor's Tale
This swanky multi-designer boutique has the best collection of men's clothing. Shop shirts, pants, and ethnic clothing from designers like Sougat Paul, Lacquer Embassy, and Sisa. A Tailor's Tale also has oxfords, derby, loafers, and casual shoes in plenty.
Beyond Canvas
For the love of home decor, drop by Beyond Canvas in Nungambakkam. This studio has the quirkiest home decor products including ceramic clutches and mobile mandirs (which are compact and portable). You can shop bookends, hand-painted storage boxes, bookshelves, and vintage coffee tables here.
Easy 2 Wear
Men, women, and children, your wardrobes are sorted with Easy 2 Wear, a two-floor clothing store in Nungambakkam. Shop shorts, formal shirts, polo T-shirts, formal pants, and jeans starting INR 350. They've got cartoon-themed clothing for kids aged three and above. You can shop kurtis, dresses, and skirts as well, so get down there and shop summer clothing.
Office #1 Stationery
This stationery store pretty much has everything you need right from cutesy washi tapes and stickers to shredders and expanding cheque folders. Hoard up on Faber Castle and Camel paints, colour pencils, crayons, and sketch pens. Check out the drawing books which come in varied sizes- A5 to A3 paper.
Rupkali
If you love saris, Rupkali will be your paradise. With budget-friendly saris in a range of fabrics including tussar cotton, Banarasi cotton, linen, and muslin, there's something for everyone at Rupkali. They've got kalamkari, hand tie & dye, block prints, and printed designs.
Soma
Shop breezy and comfy clothes at Soma, a store dedicated to block print designs. They've got skirts, trousers, dresses, kurtas, and sarees starting INR 1,500. You will fall in love with the block prints and designs which come in blues and hues and all shades of pink.
The Book Store
Bibliophiles, check into The Book Store in Nungambakkam, where you can buy books by the kilo. You'll find everything from children's books to popular trilogies (privy to teens who love vampires and dragons), and illustrated books like Dr. Seuss and The Diary Of A Wimpy Kid series. Pick up a kilo of books for INR 250 and rejoice!
Mudraa Motifs
Head to Mudraa Motifs in Ispahani Centre in Nungambakkam if you're looking for designer clothing suited for our needs and weather. These breathe-easy clothes are perfect for our weather and Mudraa Motifs has gowns, Kurtis, lehengas, and saris. As for fabrics, they've got chanderi, cotton, rayon, linen, silk, and a funky mix of these fabrics.
Karishma
Head to Karishma in Nungambakkam to shop for pre-wedding and post-wedding apparel. You can shop salwar suits, anarkalis, gowns, and kurtis here. The salwar suits come from Jaipur, Mumbai, and Calcutta. You'll find salwars in fabrics like Chiffon, Georgette, tussar, silk, chanderi silk, linen, and malmal cotton.
Silk Floss
Dedicated to just sari borders and embellishments, Silk Floss has materials like velvet, cotton, silk cotton, silk, and georgette. Find add-ons with ethnic designs - manga, peacocks, and floral designs, and borders with Pattachitra, Gond, authentic Banarasi and Rajput artwork.
Peekaboo Patterns
Peekaboo Patterns is a child's wonderland and they've got adorbs gifts, mobiles, rugs, toys and even furniture for kids. Shop innovative toys like handmade felt finger puppets, felt valances, wooden play tools and puzzles here.
Comments