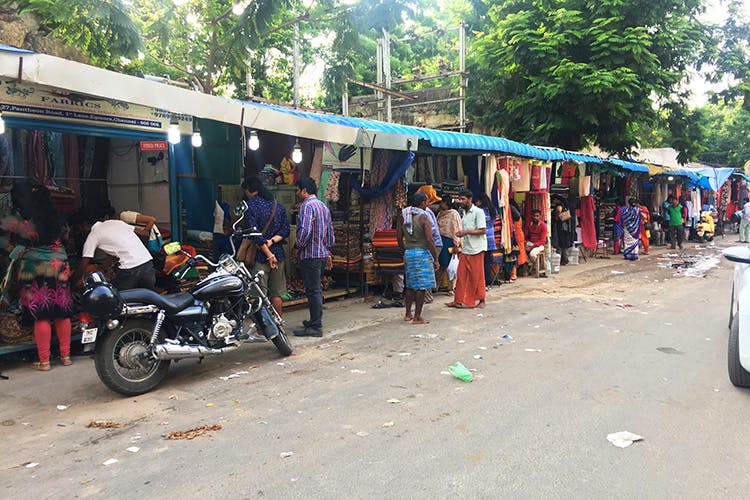 From Fabric Shopping To Bowling, Here's A Low-Down On What To Do In Egmore
Iconic structures, highly-revered street food, a slew of shops and cultural trips - Egmore is special in more ways than one. Whether you're visiting the place for the first time or the hundredth, here's a hood guide on what you can do in Egmore.

Fabric Shopping On Pantheon Road
Dubbed as Chennai's cotton street, Pantheon Road still remains a favourite among patrons for picking fabulous fabrics by the meter from the vendors that fill up this lane. With endless options to customize your wardrobe while on a budget, this place offers all kinds of quirky, simple and printed cotton as well as synthetic, blended fabrics.
Read more here.
Hog On Sandwiches From Balaji Stall
Among the major attractions in Egmore are the sandwich stalls right outside Alsa Mall. Loved by visitors and residents alike, this place offers over 30 variety of mouth-watering sandwiches and even omelettes starting INR 60.
Watch A Play At Egmore Museum Theatre
The Government Museum in Egmore is a true architectural marvel. The second oldest museum in India, this place has an active theatre that hosts some of the finest plays in the city, so be sure to check online and enjoy the city's theatre culture in this iconic 600 seater theatre.
Read more here.
Shop Accessories And Trinkets From Fountain Plaza And Alsa Mall
Snoop around a little, and you'll find some fancy accessories at these two malls in Egmore. Check out Thofah and Rajesh Fancy Cosmetics for some trendy silver jhumkis or Bollywood Shoes in Alsa Mall for some budget footwear. We also found pretty bangles at Dreams Come True and some handicrafts store in Alsa Mall.
Pursue Your Saree Love At Co-Optex
Featuring the best of Tamil Nadu's weaving community, Co-Optex is still winning and for all the right reasons. With an extensive variety of sarees, stoles, dupattas and more, this place spoils you for choice, allowing you to pick from an array of traditional and contemporary pieces without shelling out too much.
Read more here.
Go Bowling At Down Under
One of the oldest bowling alleys in Chennai, Down Under allows you to have a good time with your gang without spending too much ( INR 180/person). They even have billiards and arcade games with an attached cafe for some refreshments. Read more here.
Get Lost In Books At Connemara Public Library
One of the oldest libraries in the country and the largest in Asia, Connemara Public Library is every bit as beautiful as it's iconic. With over 600,000 books to read, you can totally lose yourself in the world of books here or just go there to take in all the beauty this place exudes.
Read more here.
Masaledaar Desi Rasoi
Open till 3:30 am, this simple, casual diner offers some super delicious North Indian food during wee hours. If you're looking to indulge in a midnight meal, hit up this place. Their fried rice and paneer tikka are must-try.

Ask Dipika a question