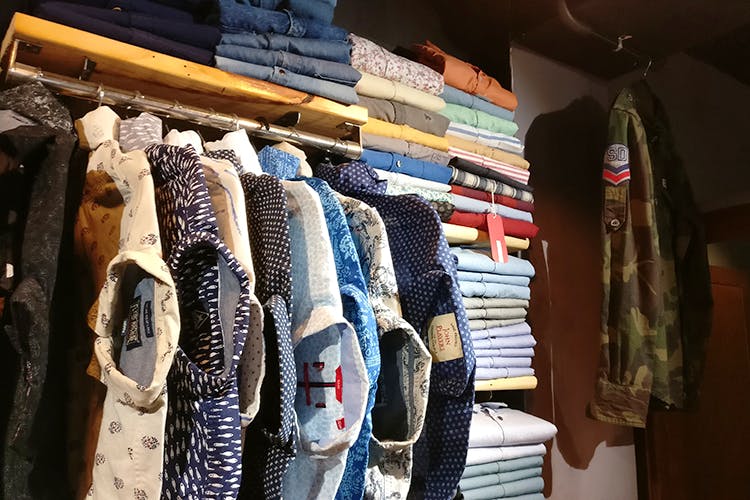 This Budget Export Surplus Men's Store In TTK Offers Everything From Zara Men To Nike Sweats
Shortcut
Trend Now6 Fashion is a tiny export surplus store on TTK Road and isn't much to look at from the outside. But this store is a treasure trove for slashed price mens wear and kids wear.
What Makes It Awesome
The store caters predominantly to men with a separate section for kids as well. The menswear section features casual and partywear along with accessories. What it stands out for is its wide collection of branded high street export surplus clothes. You can expect to find Columbia jackets for INR 1,500, UCLA and Marvel tees for just INR 200, shirts from Calvin Klein, US Polo Association, Zara Man at just INR 650, Superdry and Tommy Hilfiger shirts for INR 750, Calvin Klein jeans for INR 1,000.
They've even got dri-fit sportswear from brands such as Nike. A neon green dri-fit Nike running tee costs just INR 350 and tracks and joggers for similarly low prices as well. They've got accessories and shoes too! In fact sports fans, you're in luck, we snuck a peek of the new Nike Air Max's for a surprisingly low INR 3,000, and they've got Adidas as well. Watches, belts, wallets, and sunglasses are available too from Ray Ban and G Shock, though their authenticity can't be vouched for.
All of that was just the menswear section, they've got an equally stocked kids section that has even more brands! UCB shirts for little ones as low as INR 450 are on offer, along with a selection of tops and bottoms from brands like Tommy Hilfiger that are just as cheap.
They're card and Paytm friendly in case you were wondering, and upon request, they're happy to source clothes from you in case you're searching for something specific. Lastly be sure to visit the store during not peak hours as it can get really cramped and chaotic when it's busy.
Comments