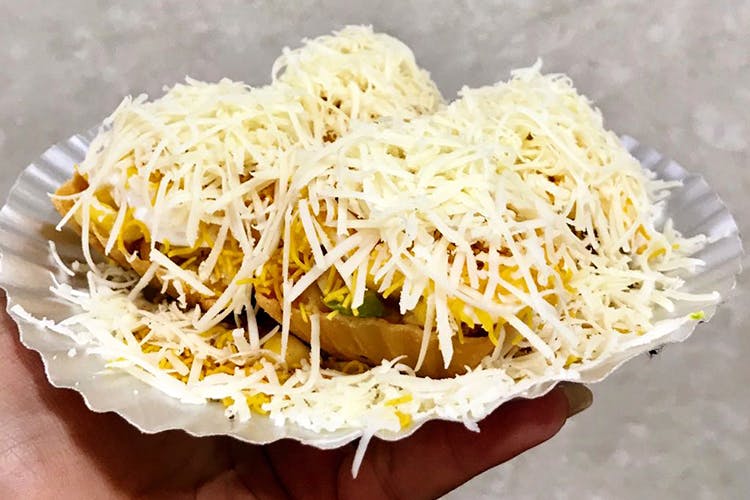 The Ultimate Street Food Bucket List For Every Chennaite. How Many Have You Done?
If you thought Chennai was all about just the classic idli, dosa and vada, then hold on. The city is bustling with more than just one street food corner and we just put down the best for you. At LBB, we love our street food and have covered it extensively here, here, here and here.  From Chettinad style pastas to cheesy chaat and ridiculously good chilli idlis, here is where you must head to in Chennai for your fix of street food.
Rangoli Chaat
Super popular among college goers, this chaat corner in Nungambakkam serves pani puri at its best. Their pani puri is spicy and their masalas remind us of those from Juhu Chowpatty and Hyderabad gup chups (golgappas). Apart from the many kinds of chaat like bhel puri and dahi papdi, a must try is their Paan Kulfi.
Price: INR 50
Kakada Ramprasad
No street food compilation in Chennai is complete without evergreen recommendations from Sowcarpet. And Kakada Ramprasad is one among the many north Indian joints in this area that needs to be your pit stop for your sweet tooth cravings. Their bright orange jalebis are so juicy and fresh, you can't stop at just one. Apart from their crazy good sweets, their dhoklas too are a hot favourite.
Price: INR 30 upwards
Seena Bhai Tiffin Center
If there is one thing we won't get tired of, it's dosas. Dosas of all shapes and sizes. Just like how a vada pav a day never hurt anyone, Chennai's dosas need to be had atleast once a day. And this Sowcarpet tiffin center is your one-stop-shop for everything podi. Jam-packed on all days of the week, Seena Bhai is known to serve authentic ghee and podi overloaded dosas, idli, and uttapam. Yes, it is a podi fest at this joint, known to be one of George Town's oldest tiffin centres. Thirty-seven years and counting!
Price: INR 200 for two
Chotu Motu
The place for hot samosas and rasmalai, Chotu Motu is located right at the heart of Mint Street, Chotu Motu is the tiniest yet busiest stall. Buzzing with a crowd all the time, the place serves yummy kachoris and samosas. Their green chutney definitely takes the cake home and their sweets like rasmalai and rasgullas are something that will definitely make you come back for more.
Price: INR 40 upwards
Sapthagiri Tiffin Centre
T Nagar's Sapthagiri Tiffin Centre is a vegetarian's delight. What looks like any other fast food place, Sapthagiri Tiffin Centre is actually a brilliant discovery if we may say so ourselves. Our top three recommendations from this place are the Chenna Parota, Chilly Idli and Thakali Dosa. So filling and extremely tasty. Their parota is thick and stuffed with chenna right in the centre. And their Chilly Idli and Tomato Dosa is nothing like what you have tasted till date.
Price: INR 60 upwards
Balaji Sandwich, Alsa Mall
You haven't really had wholesome Sandwiches if you haven't stopped by Egmore's Alsa Mall. The tiny kiosk right outside the mall is a community by itself. Their Cheese Omlette Sandwiches with Green Chutney is hands down the best snack to dig into. With over 60 varieties of Sandwiches (Yes, we truly are spoilt for choice), also worth trying are their Chicken Cheese and Aloo pattice sandwiches. Price: INR 100
Links
Known to be the inventors of Murukku Sandwich, Links is a hub for street food lovers. With over 100 options on the menu filled with toasts, chaat, and desserts to choose from, Links is the quick fix for cravings of all sorts. Apart from their crunchy Murukku Sandwich, if there is one thing you should try at this joint, it is their Corn Canopes. Chennaities travel miles for one bite of this cheesy dish and it is worth every penny. Filled with masala mayo and cheese, this dish is drool-worthy.
Price: INR 30 upwards
Prawn Akka & Sundari Akka
What is Chennai street food without some mouth-watering seafood? Our coastal city has several stalls on every beach and a never-ending supply of quick bites. Prawn Akka from Palavakkam Beach and Sundari Akka from Marina Beach happen to be our favourite street food stops. From fried prawns to Vanjaram Masala and shark on good catch days, we have always tried an impressive spread by the two and these akkas definitely know how to serve up lip-smacking seafood marinated in aromatic spices and then fried.
Price: INR 100
Chaska Momos
Apart from Kailash Kitchen's authentic Tibetan style momos, if there is one place that's got its street food cred right, then it has to be Thiruvanmiyur's food truck — Chaska. The beachside truck serves juicy and tasty chicken and veg momos done either steamed, fried or pan fried and also specialises in some spicy Mushroom 65. There's also noodles, rice, chicken sides, and thukpa to be had here. It's a mini party every evening at this food truck as the owners serve momos along with our favourite tracks on loop. Also on site, is their cute as a button beagle, always ready for play.
Price: INR 60 upwards
Didn't include your favourite street food in Chennai? Tell us in comments.
Comments