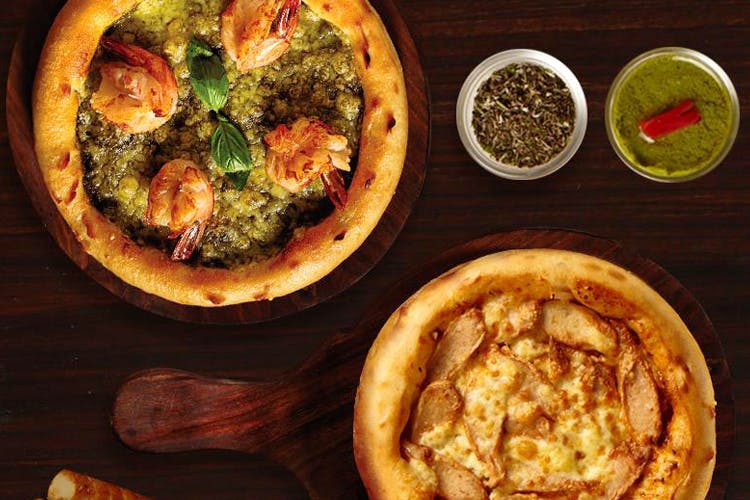 You Can Tuck Into Unlimited Pizzas At INR 369 And Get Free Meals At This Eatery
Shortcut
Onestà, Bangalore's favourite pizzeria, is now open in Chennai and is all set to blow your mind with its 6-inch (read mini) wood fired pizzas and insane offers!
What Makes It Awesome
We love ourselves some paisa-wasool deals and Onestà has just that! The biggest attraction here is the Unlimited Offer where at just INR 369 you can have unlimited veg pizzas, desserts and one beverage, and at INR 469 you can have the same in non-vegetarian.
They also have the whole menu (which includes appetisers, lasagna, ravioli and different kinds of baked bread too) on an unlimited offer for just INR 529 for vegetarians and INR 629 for non-vegetarians. But wait! Did you know that Onestà also runs a fun contest called 'Name of the Week' where they put out four letters once every week on their Facebook and Instagram handles. So they might put out something like R-U-T-H, for example, and if your name (first, middle or last) has all four letters together and in the same order then you get a free unlimited meal at Onestà the following day! As long as you carry a valid ID along with you to prove that your name has indeed all four letters, your free meal is sorted here. How cool is this? So keep your eyes peeled and ID card in hand!
Located in Semmencheri and decked with an Italian rural set-up, an open kitchen and a live Cannoli counter, Onestà has got to be your go-to place when you're craving some Italian ravioli, lasagne and of course, pizza! The seating is quite comfortable and they even have hand sanitisers on all their tables (because who eats pizzas with a fork and knife?). Onestà means honest in Italian, and we're being super honest when we say that they do have the best deals in town. Prices start at mere INR 99.
The menu starts off with some short eats and appetisers such as Bacon wrapped Prawns, Jalapeño Cheeseballs and Assorted Bruschettas. Coming to the pizzas, the classic Farmhouse Special, Mexican Veg Delight and the Chocolate and Banana pizzas are some of the favourites. Meat-eaters, don't miss out on the Cream Roasted Chicken pizza, Wasabi Mayo Chicken pizza, Chicken Stuffed Crust Margherita and the Bacon and Prawn pizza.
They have some amazing bite-sized dessert options like Chilli Chocolate Tart, Kiwi Cheese Mousse, Tiramisu, Baked Cherry Cheesecake and more. Do check out their special menu by Chef Armando that changes once every three months and offers an interesting mix of starters, pizzas and desserts.
Pro-Tip
Make a reservation if you plan on going there over the weekends as it tends to get jam-packed.