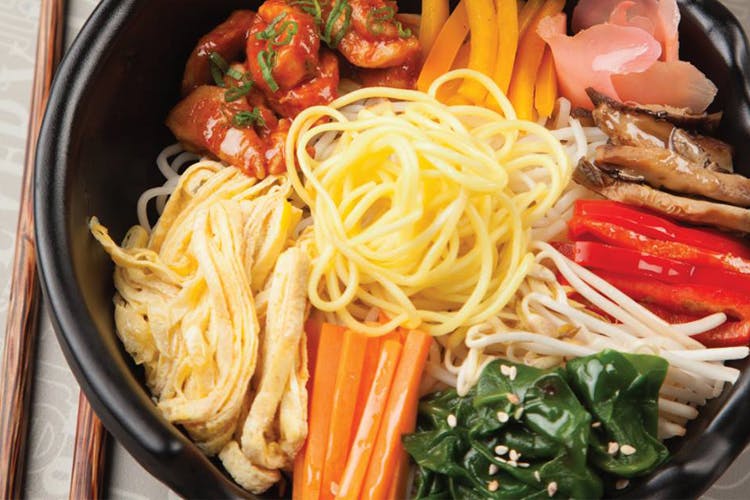 This Spunky Asian Canteen In Gopalapuram Is All About Its OTT Decor And Authentic Food
Shortcut
Va Pho Asian Canteen in Gopalapuram is as much about its colourful and quirky ambience as much as it is about its pan Asian menu. Plus, you can not miss that OTT auto which forms a big part of their decor.
What Makes It Awesome
The first thing you see as you enter Va Pho, is an auto. Not joking at all. A blinged out, bedazzled auto that looks like it's been coloured by a little child and a pack of crayons. If that description made it sound gaudy in the slightest, let me assure you that it's not.
The over-the-top vibe at Va Pho is shown in every detail. Walls are adorned with funky drawings of Asian motifs, there are painted bicycles with tiny umbrellas and cute little curious for you to look at in every corner. Nearly every square inch of the restaurant has something that catches your eye. That's what is amazing about this place, there's so much attention to detail that has gone into making it look the way it does.
Asian food is what they serve and they've got a little bit of everything from most Asian countries. The chicken Saigon Pho followed by the Taiwanese 3 cup chicken are my usual picks. Their Korean Bibimbap, Kung Pao Vegetables, and Baos are also some of my other recommendations. If you like your food spicy, they've got a whole host of options for you, like the Indonesian Beef Rendang Curry, the Spicy Chicken Meatballs with Wok Tossed Rice Vermicelli and the Meegoreng. For those of you who like to end a meal with something sweet, be sure to try out their Burmese Falooda and Tender Coconut Ice Cream Stick.
One of the things I enjoy about the food here is that while the quantities were adequate, the meals never fill so you up so much as to make you feel queasy. So, for those of you looking to eat light and healthy, choices like the Bibimbap are great picks.
Also On Va Pho - Asian Canteen