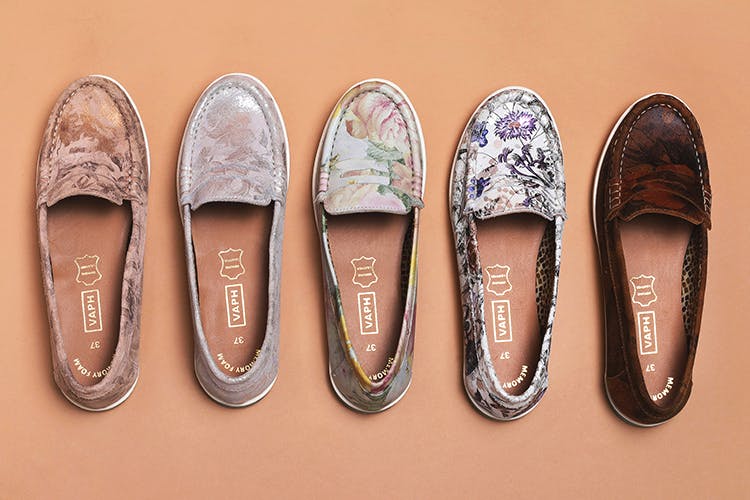 This Chennai Label's New Collection of Slides & Floral Loafers Screams Summer
Shortcut
Our very own home grown brand — Vaph — known for its beautiful, handcrafted leather footwear is out with its newest collection of slides, loafers and more. And prices start at INR 1,600 only!
What Makes It Awesome
Ladies, if you want to ditch your heels for a pair of spunky flats, this brand is for you. They've got a fabulous range of comfy yet stylish shoes for all you lovely ladies and gentlemen. There's everything from handcrafted loafers, oxfords & brogues, moccasins, sneakers to slides & slippers. And what's special about their new collection is that you can find lighter soles and happy, floral prints for the summers. There's going to be metallic flowers, sunny-tropical ones and even some in dark shades, so take your pick. Their shoes usually come up to INR 4,000 but the latest spring-summer range is priced between INR 1,600 and INR 2,900. And the old collection is on sale! Hurray for the rest of us budget-mongering mortals!
The brand is currently working on being in 50 multi-brand retail stores by the end of the year, so you don't have to always order them online. Also if you've been loving their previous collections you can get some of it on sale! Pick a classic pair of white sneakers for street style fashion vibes or Oxfords in metallic shades of gold, silver and even a blue to pair with a dress on a night out about the town. We're eyeing the pink Skye Women's Oxfords that are priced at INR 1,950 from INR 3,900. And there are some other shoes on sale as well like the Peyton Women's Sneakers (Gold) and Gabby Women's Loafers (Blue) which we liked! So you can either pick a pair (or more) from their new collection or you can grab these old babies on sale! It's a win-win, really.
Comments