Looking For Funky, Boho Dream Catchers? We'll Tell You Where You Can Get Them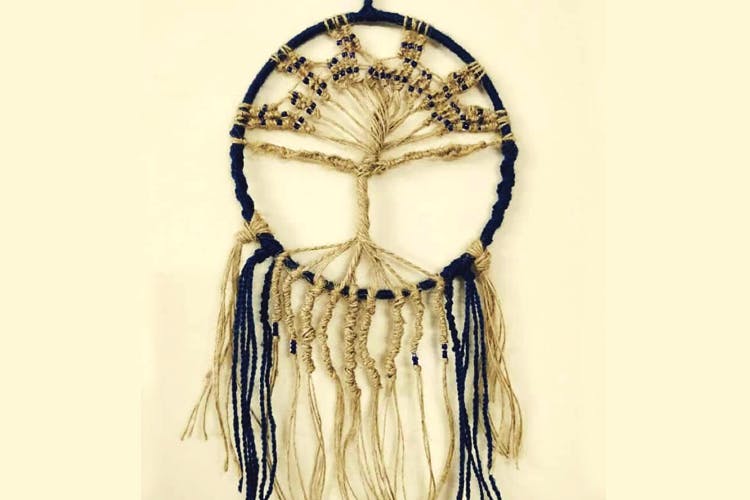 Shortcut
Sushma, Founder of Warpworks, makes dream catchers with specific themes and you can buy them from INR 300.

What Makes It Awesome
Got them fairy lights, and scented candles, what's missing? A stylish, shiny dream catcher that will add that extra charm to your room. Don't you agree? And what's better than a theme-based dream catcher that suits the aesthetics of your room!
Chennai-based Sushma can make that for you. Sushma has been making dream catchers for over three years but it is only now that she started Warpworks, a venture that sells dream catchers. She works with glass beads, yarn, jute, feathers, silk, and wood. One of the most popular pieces is the 'spiral into madness' dream catcher which is a combination of teal, navy blue, and seafood green yarn woven and intertwined into a spiral. The other favourite is the 'tree of life' dream catcher which is basically jute woven in the shape of a tree with glass beads and a hoop made of wool. The biggest dream catcher she's made is 20 inches.
The all-natural hemp dream catcher has the hoop made from the Bodhi tree root along with wooden and glass beads. The feathers that she uses in the dream catcher were all personally collected by her over the years. There could also be a feather from an owl, she quips! Our fave, 'chunky lucy', is a quirky mix of taffy pink and gold with teal and pink tassels and feathers. The weaving makes it seem like the colours are moving. If you have specific ideas, she can recreate them too. So, what are you waiting for? Sweet dreams!
Pro-Tip
Under the brand, Warpworks, one can also find chunky jewellery and bracelets, so check that out! Sushma makes mini dream catchers which range between 1.5 and 2 inches! You can call her to place orders.

Comments