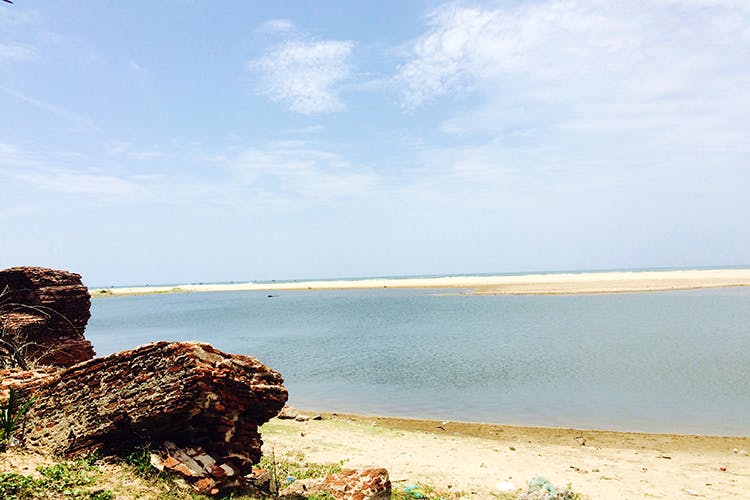 Have You Been To These Abandoned Ruins By The Beach? You Must!
Shortcut
Watch the sunrise by the beach and explore the ruins of Alamparai Fort, which is 16 kilometers from Mahabalipuram (towards Pondicherry).

What Makes It Awesome
If a historic destination is your thing, then Alamparai Fort near Kadappakkam is a good option. The ruins of the Fort overlook the sea and we think is a perfect day-long trip. Built in the 17th century, this fort once had a 100-metre long dockyard stretching into the sea, from which salt was extracted.
You can reach the ruins if you drive along the East Coast Road for about two hours. This fort is a lesser-known travel destination, so you can escape all the chaos in the city and relax with the waves. Just as you enter the fort, you'll find trails of ivy, shrubs, creepers, bushes, and trees on the walls. These picturesque views will make for Insta-worthy pictures!

The fort, built with bricks and limestones overlooks the ocean and there is a mausoleum in the centre. There are walls and brick steps that lead to the top. Catch a magical sunrise by climbing up the watchtower which is inside the fort. Spend some quiet time and soak in the sound of the waves. Bliss!
Want some adventure amid all this? The fishermen from the community close by could take you on a ride, where you may see several parts of the dilapidated fort in the sea (due to the 2004 tsunami). If you go swimming or surfing, you may get to see a piece of history (literally) under the ocean.
What Could Be Better
You could camp by the shore but the locals can cause an issue. So camp at your own risk. If you are looking for accommodation, you might have to drive along the East Coast Road to find resorts.
Pro-Tip
Go with a group of people during the day, because it may not be safe during nights. Pack some lunch along that you can relish at the Fort. (Don't leave the premises dirty). If you keep driving, you will reach Marakkanam, where you can go boating and the discover some salt banks.
Comments