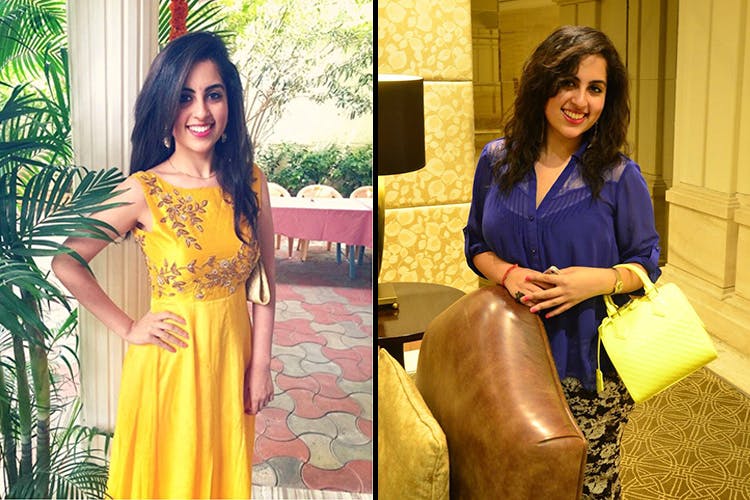 Here's How This Chennaite Got Fit And Lost Nearly 10 Kilos
Shortcut
Need a fit-spiring story to get you to start working out this year? Chandhrika Vigneshwar's journey of toning up and getting fit can be your #fitnessgoals too.
Her Story
Chandhrika Vigneshwar, a student of architecture, had always been on the chubbier side for her height and was at 65 kilos throughout high school and college. And it never bothered her until she saw her brother start his fitness program.  The duo began working out at home to Shaun T's Insanity programme — an intense workout regime that involves high intensity cardio. It was so intense that after every workout, she felt like she was dying by the end of it and that was indeed a wake-up call for her. It was time to get fit!
Her Fitness Regime
Currently, Chandhrika is married and is involved in the family business of cashew processing but makes sure to work out at least 5-6 times a week. This is because when she started with the Insanity Program in 2014, she lost weight fast, but put back some of it back in 2015 (she went from 56 to 62 kilos), because of what people call "post-wedding weight". While following Shaun T's intense workouts at home, she decided to take it up a notch.
Yes, she did lose weight but she wanted to get more toned, fit and not just be thin. She then joined FitKits and began training under Hari, founder, and head coach. It's been nearly 9 months of intense classes with Hari and she hasn't looked back. Despite working out for months, when Chandhrika first joined FitKits, she was tested for fitness levels and learned she could barely do a push up (her previous workout mostly focused on cardio and endurance rather than strength).
She decided it was time to do some weight training and improve her upper body strength. For nearly a year, she's been doing a combination of High-Intensity Interval Training (HIIT), hammer exercises, abs, and cardio. And it's worked. She's come down from 65 kilos to 56 kilos. In between, she's moved up to 58 kilos, but that's because her body's getting toned with lean muscle. Beast mode on!
Her Diet
Chandhrika doesn't believe in going hardcore with diets, because if you're a foodie, diets tend to crash after a point (don't we know it). So she says she stuck with portion control — she just has a cup or two of rice every day and cuts back on her sweet tooth cravings (the hardest part!). She'd indulge once a week on chocolates, brunches occasionally at China XO at Leela Palace, and homemade biryani made by her mum and the rest of the week would be clean eating with a lot of greens, spinach, veggies, and protein.
She's pretty strict about not cheating the rest of the week but if she absolutely can't control her cravings, she'd probably have a square or two from a chocolate bar. But on cheat days she doesn't hold back one bit — it is a cheat day after all!
Her Mantra
If you don't love going to a gym, don't waste your time. She hated the 30 minute treadmill-efx-cycling routine and it didn't work or show any results for her body. Take your time and figure out a workout you'll love and that way you'll stick by it.
And only challenge yourself with yourself. If you can do 10 push ups today, do 20 next week and keep pushing forward! Don't pressure yourself to look like anyone else, just try to be the best version of yourself, she advises to aspiring fitness enthusiasts. We love this nugget of inspiration so much we're going to start classes, asap. What about you?
Comments