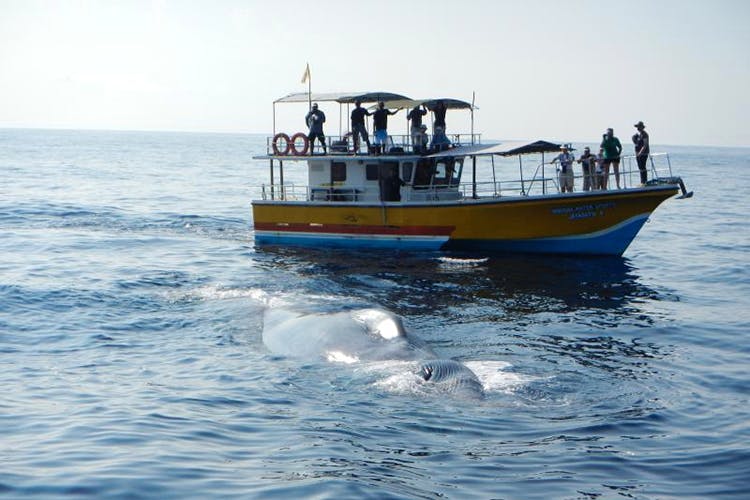 Chennai Peeps, Whale Watching Is Literally A 90 Minute Flight Away From You
Shortcut
Turns out you don't have to go to Australia or South Africa to see sea life in it's natural habitat, Mirissa, a seaside paradise on the southern tip of Sri Lanka is frequented by whales and dolphins for a couple of months in the year.
Getting There
An hour and a half away from Chennai by flight, lies Sri Lanka. The country is absolutely gorgeous and offers so many wonderful tourism options — from their famed national parks to hill stations and sea side retreats. At a two and a half hour driving distance from Colombo lies Mirissa, a tiny town on the southern coast of Sri Lanka. Mirissa offers quite a few tour operators that offer boat rides and tours for visitors looking to catch a glimpse of whales and dolphins and several other kinds of aquatic life.
Whale Of A Time
Mirissa itself is a fishing village and has recently become popular for these tours. It's also known for it's surfing scene. Eco-tourism is heavily controlled and whale spotting in Mirissa is only done by licensed tour guides and operators. Prices vary around INR 6,000 per ride and have a cool twist, if on the five hour ride you don't spot any whales, you can get the next ride free! Having said that, we will say that there are a lot of species you can encounter, sperm whales, killer whales, humpback whales and a plethora of dolphin species too! Seeing such aquatic creatures is to be going an overwhelming experience so make sure you are ready with your cameras. The boats themselves are quite big and can house 30-40 passengers. Most with two stories, seating below and an open observation deck on the floor above. Life jackets are mandatory and will be provided by the operators.
But don't get too comfortable , you're not allowed to get in the ocean as interfering with wildlife is a big no-no. Be sure to pack your sunscreen, hat and sunglasses as the tours start in the morning around 6am and bring you back around noon. The best season to go is till about April apparently as the sea is smooth and the whales and dolphins can be easily sighted, post April however the season ends as it is the start of the monsoon.
If you are intrigued by whale watching in Mirissa we recommend you combine it with a few other tourist attractions to visit in Sri Lanka like these ones, to really make the most of your trip.
How To Get There?
Flight tickets to Colombo can be as low as INR 8,000 if you plan ahead, which is quite cheap considering that it costs almost the same to go to Delhi. Additionally, acquiring a visa is fairly hassle free nowadays with the Sri Lankan visa application process being available entirely online and being instant. Getting to Mirissa is a little tedious though, with the easiest route being to fly to Colombo and then take a bus to Matara and get off at Mirissa along the way. Taking the train from Colombo Fort is a cheaper option, with the closest stop being Weligama. The town is seven kilometers from Mirissa and from there you can either take a bus or an auto-rickshaw.
For more info, check out some of the tour guide operators here and here.
Comments