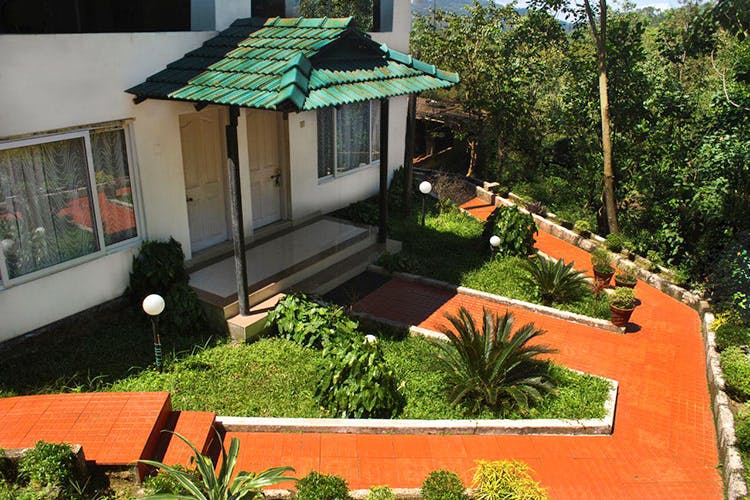 Barbecue, Night Safari & Jungle Stay: This Valparai Eco-Resort Is Budget Friendly, Too
Shortcut
The Whispering Falls is a budget boutique resort in the heart of Valparai amidst a jungle! There are night safaris, barbecues and campfires to be had beneath a gorgeous, green canopy.
What Makes It Awesome
The Whispering Falls resort is 49 km from the famous Athirapilly waterfall. The resort is meant to be a place where you can immerse yourself in nature without trampling on it. To that end, the resort has minimal construction and is surrounded by mountains and woods. Though don't worry, they haven't skimped on expected amenities and style in the interest of being Spartan. Their rooms are air-conditioned, spacious and have all basics like TV's, WiFi, etc. The property itself is quite pretty with its tiny walkways and brick paved paths, open sit outs, and small gazebos.
One of the other advantages of being a fairly small resort is that privacy won't be an issue. Quiet and calm can be had in spades. They also have a simple restaurant with an al fresco dining area overlooking the surrounding woods. Furniture and decor are fairly minimal with cane chairs and wooden tables being the extent of it. Food available is simple homemade South Indian along with a selection of Chinese. Though we're not so sure about the Chinese at a place like this, it's best to stick to the local favourites, like parottas, rice, sambars, and gravies. Being a hill station, you can expect the weather to be pleasant enough to eat outside, besides with a backdrop of mountains, trees, and clouds you'd be silly not to sit outside.
They've got activities for you to check out as well. Fancy barbecuing out in the woods? For INR 500, they'll give you all the tools as well as marinated meats so that you can get cooking. They've got a night safari at INR 1,500 per person, perfect for the wildlife enthusiasts. There's a complimentary campfire as well. Apart from that, there are loads of places you can check out by yourself too, plenty of places for birdwatching and just walking, all you have to do is just ask the staff.
Pro-Tip
The biggest plus point Whispering Falls has going for it, apart from the natural beauty around it, is it's below the average price point of approximately INR 2000 for two people per night. If you're on a budget and you're looking for a unique holiday experience, Whispering Falls is for you.
Comments