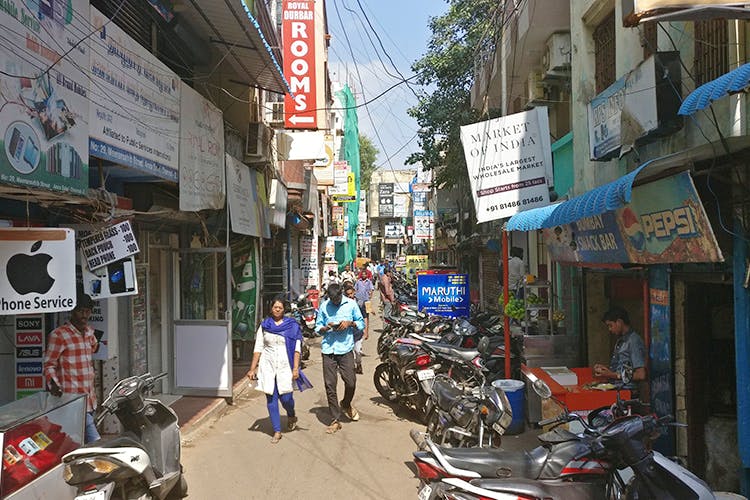 The Best Wholesale Bazaars In Chennai & Why They Are Paradise For Budget Shoppers
Chennai gets berated for being a conservative city as compared to other metros, however the word we feel best describes us, is thrifty. There are loads of places to score discount goods in the city and some of them have been around for years thanks to how popular they still are. So without further ado, here are six of the best the city has to offer.
Pondy Bazaar
Pondy Bazaar is one of the few places where you'll find products for vastly different price ranges. For the budget shopper, you can look to pick up colourful earrings, kurtas and other accessories for cheap at the Corporation Shopping Complex. If you're shopping for women's clothes you're in luck, as the cities biggest saree shops like Naidu Hall are all based in Pondy Bazaar, and have sarees, inner wear, kurtas, etc across budgets. There's also plenty of places to eat so you're never going to be too far from food. We recommend that you cab it as parking is a pain.
For: Accessories, clothes, home appliances
For more on what to expect at Pondy Bazaar,  go here and here.
Ritchie Street
The second largest electronics grey market in the country started in 1970 and is still booming today, thanks to the sheer variety of electronics they stock at dirt cheap prices. Almost all personal use electronic items along with their peripherals can be found here, from phone batteries to CCTV cameras. They have a steady stream of new products coming in from countries like China and Korea and most stalls have fresh inventory so if you're searching for a new product, chances are they probably stock it. We recommend doing a little bit of research before you go there however as you can get ripped off if you're not confident.
For: Electronics
Mint Street
Find a little bit of Bombay/Rajasthan in the street food scene in Georgetown thanks to the Marwari community that's settled there. Vada Pavs, Aloo Tikis, Lassis, Kachoris, from Novelty Tea House, Mehta Brothers and a few others are absolutely mouthwatering. They're super cheap too, with a plate of kachori setting you back just INR 15. There's even an interesting murkku sandwich, that actually has two murukkus sandwiching veggies and cheese! For more on the amazing street food at Mint Street, click here.
For: street food
Royapettah High Road
Known for it's furniture shops, Royapettah High Road has plenty of vendors offering furniture at discounted rates. Keeping in mind that material used and quality of finish will be average at best, you can buy a decent double bed for as low as INR 9,500. Not only that but at budget furniture stores like Sri Sakthi Furniture they're open to haggling. However that isn't the case with the higher end furniture stores on the same street like JFA and Woodpecker as they have fixed prices. All the stores on the street offer home delivery for all products purchased and a warranty.
For: Furniture
For more on what to expect at this furniture street, click here.
Fountain Plaza
One of the first shopping complexes in Chennai, Fountain Plaza is home to a host of tiny shops that sell women's clothes and accessories. You can find kurtas and leggings and Ankur's Matching Centre, earrings, lipstick and other cosmetic items at She Fashion boutique, silver jewellery at Thofah, and many more accessories and women's garments. Most of the products are nominally priced with items like slippers starting at INR 100. We love that there's an Ajnabi there to sate our snack cravings. For more on Fountain Plaza, read out feature on it here.
For: Womenswear, accessories
Parry's Corner
This last entry to the list isn't just one small street, it's a collection of many streets that specialise in selling their own type of products. There's a street that sells only paper and paper related products like stationery and books for wholesale prices, called Bunder Street. Next to Bunder Street is Badrian Street which sells flowers wholesale, and it is so vibrant. Godown Street sells fabrics and saree materials from across the country for super cheap. In fact Parry's Corner is so big, Mint Street is a part of it! These streets supply the city's major commercial enterprises and sell their products at wholesale rates.
For: Almost everything
Comments