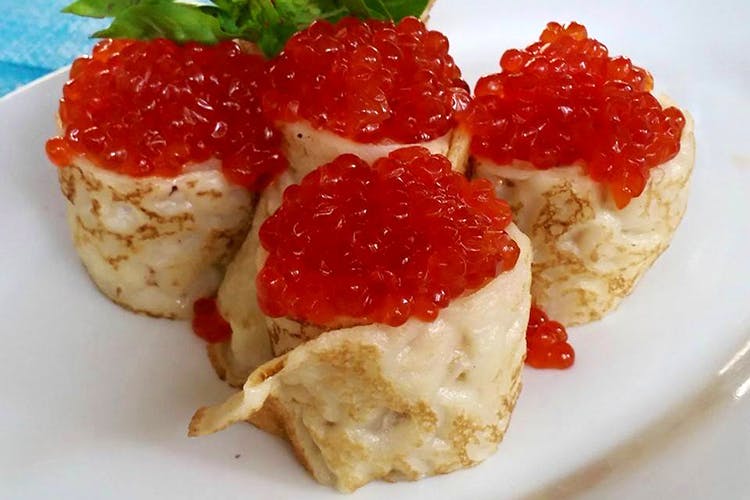 Chennai's Only Russian Restaurant Serves Everything From Red Caviar Blinis To Proper Vodka
Shortcut
Though the name Winter Palace is a misnomer in a hot and humid city like ours, Chennai's only Russian restaurant located inside the Russian Centre Of Science And Culture does serve a bunch of staples and also vodka from the cold country.
What Makes It Awesome
Before introducing you to a rather different continental experience, we must talk about the decor of Winter Palace. After passing by a cabana sit out on our right, we step into a different world of sorts. We are welcomed by sophisticated, vintage seats, surrounded by blue walls and historic paintings. Soft Russian music plays in the background and the whole setup looks perfect for date night.
Their menu is pretty elaborate and the pictures of the food with dish names on the menu makes it easy for first timers to order. If you're trying Russian food for the first time, we suggest you start with the Soup Lapsha, which is a hearty and delicious mix of vegetables and noodles (chicken and beef versions are also available). They also have cold soups on the menu, like the Krasnodar made with tomato — in fact, they have a full page dedicated to really interesting and wholesome soups.
If you're a fan of caviar, then try their Red Caviar Blini. Get a three-piece serving of this starter made with Russian pancakes and cheese and salmon caviar. Winter Palace's salmon is known to be delish. Caviar, not your scene? Then just order in the regular chicken or mushroom blini with loads of cheese.
For mains, the Chicken Stroganoff is a popular choice, made with sour cream and mushrooms. It makes for a good meal and you will, of course, relish the mashed potato! It's soft and goes really well with the butter rice. The fish steak priced at INR 640 was worth the price (for the ample quantity) and tasted quite nice too. Plus, there's also the signature Chicken A La Kiev and Russian style beef dumplings served with sour cream and garlic.
Winter Palace also does vegetable, mushroom, chicken and fish pies, to be ordered in advance. It's cooked in calzone pizza style with tummy-bursting stuffing and priced at INR 990. And yes, you can wash it all down with wine, domestic beer or Russian vodka. For our sweet tooth cravings, we loved experimenting with the several layered, traditional Napoleon cake (apparently the national dessert of Russia) from their dessert menu. It was a multi-layered flaky pastry layered slice of cake was soft, creamy and had the right amount of custard in every layer.

Pro-Tip
If you're a lover of spicy food, the meals at Winter Palace might be a bit bland to your liking.

Comments