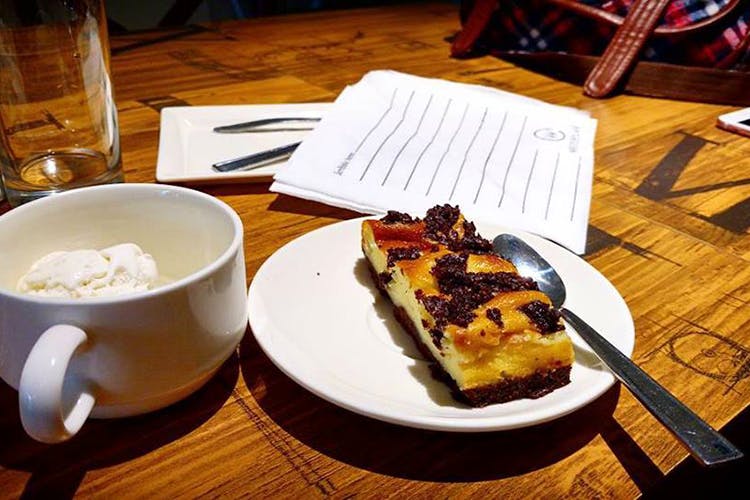 Work For As Long As You Want And Tuck Into Coffee-Flavoured French Toast At The Writer's Cafe
Shortcut
The best thing about Writer's Cafe (in association with Higginbotham's bookstore) on Peters Road is that they have free WiFi and won't shoo you away even if your orders are just a cappuccino.
What Makes It Awesome
Books, library feels and a cafe with bakes and cakes… what more can you ask for at a hang out space? Well, Writer's Cafe also has Wi-Fi and it is free. Right outside the cafe, there is a wall with colourful street art by various artists. Don't forget to take a selfie there, of course, with your bestie. Once you enter, grab the nearest table because the cafe tends to be crowded even on weekdays.
The menu is short and sweet and comes with all day breakfast (try the unusual Coffee-Flavoured French Toast) such as multigrain pancakes, Bircher Muesli, waffles, chocolate pancakes, and more. Coffee here includes the usual cappuccinos and lattes, but also Siphon Coffee and Iced Filter Coffee. Pair your cuppa with their selection of brownies, cheesecake, muffins or tea cakes. They do filling sandwiches too. Everything on the menu is reasonably priced, and you won't spend more than INR 500 (for two) if you do a light snack and coffee.
We hear the cafe is an initiative as part of CSR for M Mahadevan's company (he's also the entrepreneur and restaurateur behind Oriental Cuisines which brings you Benjarong, Ente Keralam, Teppan and French Loaf, and of course, Hot Breads!). They only hire women who are victims of attack or burn-survivors, training them thoroughly for three months, before they begin service. A wonderful initiative in our opinion, and a fantastic way to rehabilitate these ladies. Hanging out at a cafe has never felt so satisfying.
Pro-Tip
Upstairs is a darling little space, where you will feel like you are in a cosy library, except this space comes with comfy seating for you to take meetings or work in peace. Writer's Cafe also has enough space upstairs for performances and workshops. So look out for those.

Ask Amrita a question