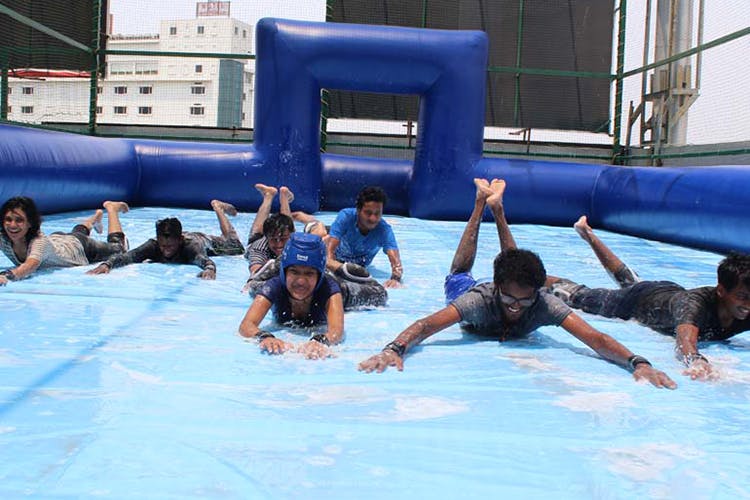 Midnight Soap Football Or Turf Footie? This Entertainment Lounge In Koyambedu Offers Both
Shortcut
Zeezoo, an entertainment lounge atTen Square Mall in Koyambedu, offers soap football, a separate regular turf football court, billiards tables and PlayStations too!
What Makes It Awesome
Zeezoo is one of two spots in Chennai you can play soap football at (the other being here). For those of you not in the know, soap football is the Charlie Chaplin version of football. The comedy comes from having to play football on a soapy floor with no grip. Skills, technique, speed, none of it matters as you struggle to stay upright for more than five seconds. Don't worry there are knee and elbow pads, as well as helmets to keep you safe. The court is just right for a 4v4 game and prices for hour-long slots start at INR 1,800 and go up to INR 2,750 on the weekends.
If you think soap football is a disgrace to the beautiful game, then head on over to their slightly larger 5v5 indoor turf football court. This regular football court has a freshly laid turf pitch that is great to run on. Similar to the soap football rates, hour-long football slots start at INR 1,800 and go up to INR 2,800 on the weekends. What we like the most, is that Zeezoo is open until 2am!
There's billiards and PlayStations available too if running for an hour behind a ball doesn't take your fancy. Rates for the billiards table is INR 200 per hour in the afternoon and INR 300 per hour in the evenings. An hour on the PlayStation will set you back INR 100. We wish they sold alcohol because beer is the only thing missing from that combination.
All in all, Zeezoo is one of the cheaper indoor artificial turf facilities in the city and for a novelty like soap football, we definitely recommend checking this place out.
Comments