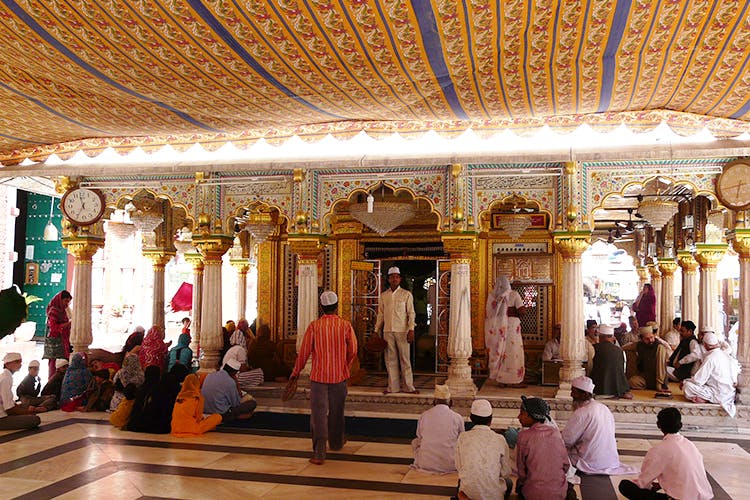 Visit These Popular Dargahs For A Dose Of Culture & Peace
We asked around and found five dargahs (or mausoleums) in Delhi that are most popular among spiritual seekers. Know this before you go — believers of the faith usually tie a thread on a latticework wall while hoping for their prayers to be heard. Also, no dargah allows shoes inside and your head must be covered by a cloth before you enter.
Disclaimer: If you feel like we've missed anything, feel free to suggest it to us.
Nizammudin Dargah
Dargah of: Khwaja Nizamuddin Auliya
Dedicated to one of the most famous Sufi saints of India, this one is visited by people from all over the world. We say, make a pit-stop at the bazaar right outside where you can buy chaadars and flowers as offerings. They also have qawwali on Thursday evenings and you can find more that here or here.
Nearest metro station: Jangpura (yellow line)
Mehrauli Dargah
Dargah of: Qutbuddin Bakhtiar Kaki
The oldest one in Delhi, you'll find this one in the bylanes of Mehrauli. The Sufi saint it was dedicated to was a disciple of the Chishti order, and you'll find his tombstone in the inner sanctum, a space where women are strictly not allowed.They can instead go and pray at the Ibadatgaah, a women-only prayer section.
Nearest metro station: Chhatarpur (yellow line)
Matka Peer Dargah
Dargah of: Hazrat Sheikh Abu Bakr Tusi Haideri
It is located near the Purana Qila road, and you'll know you've reached the right place when you see an entire tree covered with matkas (earthen pots). For offerings, there are many shops outside that sell matkas, jaggery and roasted gram.

Nearest metro station: Pragati Maidan (blue line)
Chirag-I- Delhi
Dargah of: Hazrat Nasiruddin Mahmud Chiragh Dehlavi
Located in Chirag Delhi, the Sufi saint buried here was a disciple of Chishti as well as a poet, and was awarded the title Roshan Chirag-E-Dilli, which is where the locality gets its name (bet you didn't know that—neither did we).
Nearest metro station : Chirag Delhi (magenta line)
Kaka Nagar Dargah
Dargah of: Bibi Fatima
This beautiful place stands out from the rest since it is the only one that's dedicated to a woman. Located in Kaka Nagar, you'll find it opposite the Oberoi Hotel.
Nearest metro station: Khan Market (violet line) or Pragati Maidan (blue line).
Comments