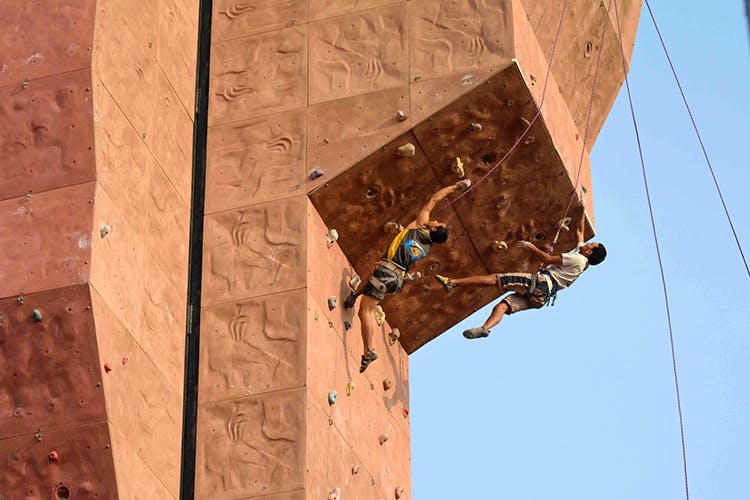 Adrenaline Junkies, You Must Try These 7 Adventure Sports In The City
Delhi is brimming with plenty of new adventure sports that have made their way here from, erm, YouTube? And the city is responding, too, with an advent of new ventures and groups lending a helping hand to adventure enthusiasts in the city (or even occasional hobbyists).
Always wanted to try parkour or paragliding, but never got a chance to actually get to it? We're making it a bit easier for you. Here are our picks for adventure sports to try in Delhi NCR.
Parkour
Parkour is already quite a popular sport across the world, and unsurprisingly, it's slowly but surely made its way to the capital too. There are many online groups that regularly parkour across the rooftops of Delhi/NCR that you could find on Facebook, and Zenith Academy (with its three branches) even offers a course to get you started.
If, like us, running across rooftops has always been a thing you thought you'd enjoy, this is the sport for you!
Delhi Rock
Always see a rock face and get the urge to climb it? If the answer is yes, hit up Delhi Rock. With a huge dome meant for aerial dance and rock-climbing, Delhi Rock is the only indoor rock-climbing gym in the city.
In it for the long run? Get a membership, or just get a day's pass to try it on for size. They also offer a bunch of activity-courses that you'll probably not find at a lot of places in the city, like Krav Maga, Tattva (a style of Yoga) and Aerial Silk.
Flyboy
Flyboy offers one of the most unique adventure sports in Delhi, perhaps even the country; powered paragliding. It's paragliding, only with an aircraft-like engine to help you take off and enjoy the sprawling views of Gurgaon—that's our way of telling you it's not in Delhi yet. Though that's okay, they had us at 'paragliding in the city'.
They offer a bunch of other airborne services, if you can call them that – like aerial advertising, floral showers (wedding idea, anyone?) and aerial surveillance, among others.
Indian Mountaineering Foundation
IMF is the premier mountaineering and rock-climbing institution in the country. Whether you're an experienced climber or a first-timer, they have different, artificial rock-climbing walls for every level of expertise. This is the place to be if you want to test your mettle while their trained instructors egg you on. Read more about it here. They regularly organise excursions and expeditions to various places in the country – you can check their website for updates.
#LBBTip: If you're new to climbing/mountaineering, we recommend hiring equipment instead of buying it for your first time.
Shooting
It's a great sport for when you need to vent out your frustration, or, in case you're preparing for the Olympics. Delhi has no dearth of shooting ranges which are open to amateurs as well as professionals, who want to take a shot at it.
Off-Road Biking
Remember those cool, dirt-biking scenes in Hollywood movies?  You can try it yourself at ATV Circuit in Noida. They have a 1.5km long off-road circuit, and you'll be provided with ATV bikes ranging from 80cc to 350cc, as well as top safety gear. No skill set is required as the guys here are well trained, and can ensure you proper guidance and make sure you come to no harm. Check out their website here.
Go-Karting
If you get a kick out of rapid driving or underground racing, Go-karting is just the sport for you. Head to these three places if you want to try navigating through challenging tracks at high speeds. The multi-level track at Smaaash is also worth checking out.
Comments