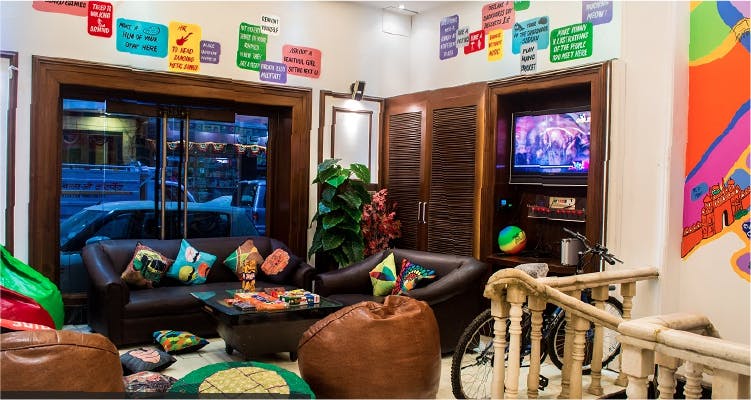 Backpacker Hostels in Delhi
We all have friends from outside the city that just pass by, are here for a night or two and then are gone again. For that very purpose, we've put together a list of hostels that they can crash at while they're here.
Zostel
Three different types of rooms - dorms, standard rooms and deluxe rooms - so that you can choose as per your convenience and need for privacy. Everything is air conditioned and there's wi-fi access for all guests. There's a common room with computers in case you've got some spare time and/or email to check. What we love is that they'll make detailed itinerary's for you and offer travel advice is you want it, free of charge. They also take guests on walks around Delhi, on pre-structured routes. You can join in free of charge, and if you're feeling generous, donate, for their troubles. The best part? You get to see Delhi through seasoned eyes.
Price for a bed in the dormitory (8 beds): ₹ 599
Hotel the Spot
For a home away from home, this is the hostel to stay at. They have a standard and superior category rooms, as well as ones with twin beds if you're the kind that needs your space. Family run, they make you feel welcome, so we're sure you won't be homesick. Equipped with wi-fi, a cafe with computers and printers, and lots of like-minded people to meet and befriend. Breakfast is also included.
Youth Hostels Association of India
They have over 150 hostels in India, and are spread over 90 countries in the world, so you can rely on them. They have separate dormitories for men and women, and private rooms with double beds. There's a common dining room, a library, a gym and a common room to chat up the new friends you'll make. Ask about their membership, it earns you access to all their hostels, in any part of the country, and the world.
Madpackers Hostel
For them, it's all about the travel. They'll welcome you with open arms while you stay, and make sure you're uber comfortable. They have dormitories, only female rooms, as well as mixed. They also have private rooms, both A/C and non A/C, at different rates. Breakfast, wi-fi, towels and unlimited tea and coffee is inclusive of the room charge. They organize food walks and bar crawls that you can opt for, if you'd like. You can also opt for dinner, if you'd like.
Jugaad Hostels
Contemporary interiors, we're talking chic exposed brick and clean bedding, with a common living area. The terrace is open to all, with a shack and a few hammocks for those lazy mornings. The regular dorms have 8 beds, and there's an all-female dorm with 6 beds. If you're looking for more privacy, they've got private twin rooms as well. All those housing options you see in all your favorite movies? Dead-ringer for those, this one.
Stops Hostels
A stark contrast to most hostels, Stops boasts of wooden flooring, colourful walls, and comfortable beds. They also have a lot to keep you occupied – a well-stocked library complete with books and documentaries and films on India, airy balconies and common kitchens where you can conduct all your culinary experiments.
Comments