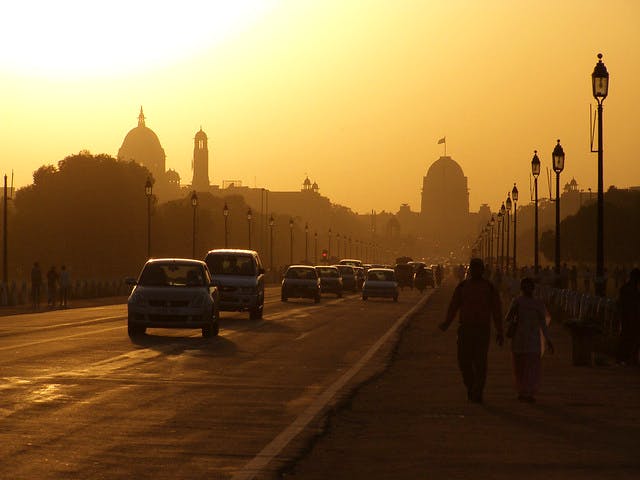 Discover Delhi: 13 Underrated, Beautiful Places You Need To Explore
Delhi is a beautiful city that holds many treasures, some that are even centuries old. It also has some underrated but beautiful spots that should be in the must-visit list of all those who are bored of going to the same old places.
So, here's our list. Dilli darshan plans anytime soon?
Yamuna Bank
Go there just before sunrise and you'll see some photographers lurking around to catch the first rays of sun. Boats will be getting ready to ferry the minimum amount of people who come there. Even though, the river hardly has any water except during the monsoon season and there's a lot of trash settled near the banks, you will feel the past glory of the mighty river once you get there.
Nearest metro station: Yamuna Ghat
Purana Qila
It is believed that this was the site for the mythical Indraprastha of the Pandavas from the Mahabharat. In the day it is a couples retreat and at night it hosts a light and sound show that narrates the history of Delhi in both Hindi and English.
Nearest Metro Station: Pragati Maidan
Mehrauli Archaeological Park
This one is easy to miss not only because it is next to the majestic Qutub Minar but also because its entrance is almost camouflaged with the trees that it is surrounded by. It is a beautiful walk where you can spend hours This area also has monuments starting from the Delhi Sultanate period up to colonial period.
Nearest Metro Station: Qutub Minar
Zorba the Buddha
It is a spiritual village in Ghitorni that hosts events related to yoga, spirituality, personality assessment and more. It is a beautiful hidden gem that is covered with trees, ponds, birds, soft music and wonderful aroma.
Nearest Metro Station: Ghitorni
Safdarjung Tomb
It does not see a huge footfall of tourists or history buffs because it loses in terms of grandeur to Humayun's Tomb. The fact that not many people visit this place is the reason why one should go there and appreciate this monument from the late Mughal period. Its gardens are well maintained and one can generally spot peacocks around. It's also a photographer's paradise.
Nearest Metro Station: Jor Bagh
Garden of Five Senses
It is spread over 20 acres and has different themes in which the garden has been divided and designed. It hosts many food festivals, melas and cultural programs as well. Since the place has many bars and restaurants as well, the garden aspect of it has become slightly less important.
Nearest Metro Station: Saket
Rajpath & Raisina Hills
Take a walk on one of the most important roads of Delhi and sit and enjoy the view of the Rashtrapati Bhawan. You can even catch the change of guards ceremony in the evening on weekends. Also, if you happen to be in the area during night time, stop by to see the Rashtrapati Bhawan all lit up.
Nearest Metro Station: Udyog Bhawan
Indraprastha Park
It is a beautiful, peaceful park built on a landfill site. It has a Shanti Stupa located inside its complex which was established by monks and nuns of Nipponzan Myohoji, the 14th Dalai Lama along with a children's park, amphitheater and foodcourt.
Nearest Metro Station: Hazrat Nizammudin
Sunder Nursery
It is a heritage park converted into a nursery. Built by the Mughals, it is truly a picturesque garden that is the place that all photographers will be seen rushing towards with their cameras and tripods.
Nearest Metro Station: Jangpura
Jumbo Point
Ever heard of 'catch flights not feelings'? At the Jumbo Point you can catch feelings and a view of the flights that fly above you while taking in the breathtaking view of sunsets.
Nearest Metro Station: Dwarka Sector 8
Parthasarathy Rocks
Located in JNU, this is one of the most romantic spots to be. However, you need someone from JNU to get you inside.
Nearest Metro Station: Munirka
Northern Ridge
It is famous for haunted stories, the 1857 mutiny and as a hangout spot among the North Campus kids. Despite being a hub for college kids, you can always find a 'me spot' here.
Nearest Metro Station: Vishwavidyalaya
Okhla Bird Sanctuary
Calling all wildlife and nature enthusiasts, this bird sanctuary has more than 320 species of birds. Since this place is at the point where Yamuna enters UP, there is a rich variety of plant species as well.
Nearest Metro Station: Okhla Bird Sanctuary
National Parks & Wildlife Sanctuaries
Comments