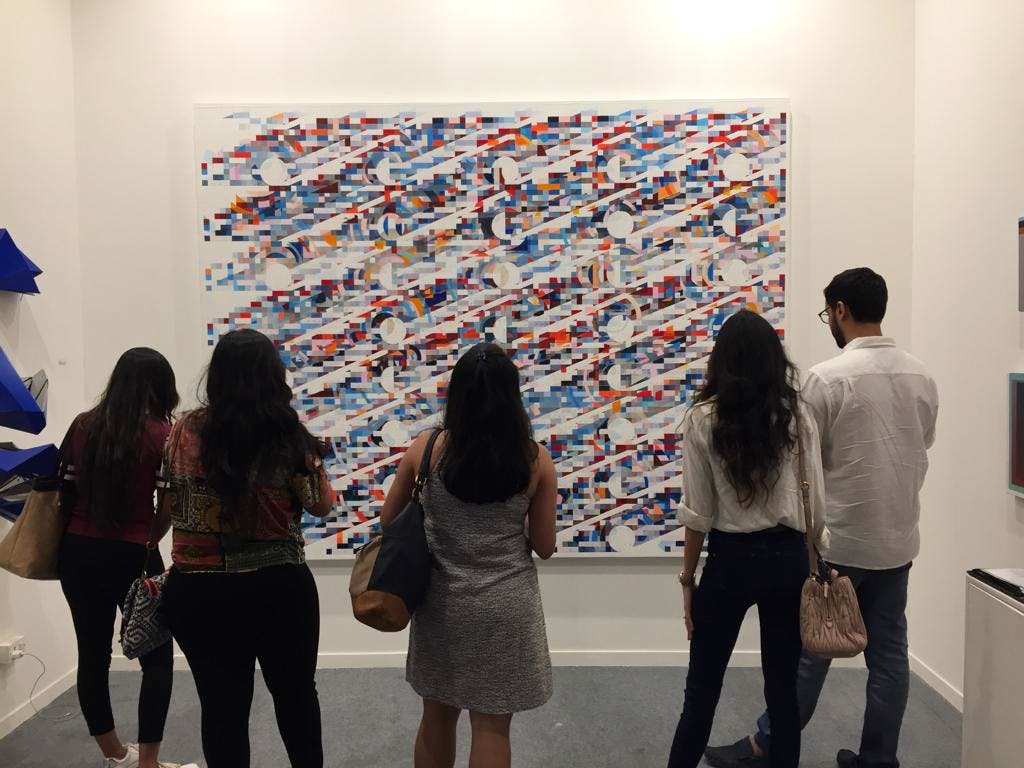 Art Enthusiasts, You Have To Check Out These 10 Stunning Galleries
If you're an artist or an art enthusiast, our list of 10 best art galleries in Delhi NCR will DRAW you towards them (sorry). Go on, unleash your love for art at these beautiful galleries now.
Nature Morte
Nature Morte is a contemporary art gallery in Delhi which showcases a variety of art. From intriguing abstract paintings to moving socio-political documentaries and even meaningful photographs, this gallery has a lot to offer. Their exhibition is curated and has mind-blowing works of artists like Aditya Pande, Mrinalini Mukherjee and Sheba Chhachhi.

Vadehra Art Gallery
If you want to check out works of Indian artists, you should most definitely visit Vadehra. You'll be awestruck when you look at the works of artists like Ravinder Reddy, SH Raza, Atul Dodiya and Zakir Hussain here. They have two galleries in total, one of which, is an art gallery and the other is a contemporary arts gallery (both of them are located in Def Col).

Delhi Art Gallery
For Indian modern artworks, Delhi Art Gallery is the place to be! Artists from all across India, and even Europe, contribute to the gallery's collection. The artworks displayed here show a strong influence of the western art movements and tell a great tale of Indian modernism.

Delhi Art House
If you're looking to buy some beautiful artwork online, do check out Delhi Art House. They are an online art gallery and have a variety of paintings to offer in Indian, European, Modern Art, Flora & Fauna, Portraits and more styles. Most of them are hand-painted on canvas and delivered with frame. They are relatively affordable too (for art).
However, we are not very comfortable with the fact that they've re-created famous artists' works too.
National Gallery of Modern Art
As NGMA is supported by Ministry of Culture, it's undoubtedly one of the best art galleries in Delhi. Their collection comprises of the works of artists like M.R. Acharekar, Arpana Caur, Thomas Daniell and Rabindranath Tagore. Apart from showcasing and maintaining works of modern art, they also do special exhibitions globally and organise lectures and seminars to promote research in the field of art history, art appreciation, art criticism and more.
You can even read about their curated exhibitions on their website before you head here.
Exhibit 320
Exhibit 320 is a space for contemporary art from India and the sub-continent. The exhibits here are exceptionally good and carry a lot of aesthetic and visual dialogue. Contemporary artists like Sunoj D, Sumakshi Singh and Kumaresan Selvaraj have a actively showcased at Exhibit 320. This gallery also hosts seminars, lectures and talks that contextualise art within critical discourse.

The Stainless Gallery
The Stainless Gallery is loaded with works of visual artists throughout! Apart from the fact that they have regular exhibitions, they also lend the space to other artists to showcase their artworks. They have exclusive shows by renowned artists and designers exploring steel as a medium of art. They host interesting workshops (but not that often) which are managed by experienced artists.
Espace
Karl Antao, Paula Sengupta and Zarina Hashmi are few of the many artists that showcase at Espace. This contemporary arts gallery is also currently showcasing 'AADI' which focuses on segments of Indian tribal and folk art. So, if you want to know more about the not-so-popular genre of Indian art, be sure to visit this gallery.

Shrine Empire
The Shrine Empire is a heaven for someone who is into contemporary visual art. The gallery is stocked with beautiful artwork by artists like Anoli Perera, Raj Jariwala and Tayega Begum Lipi. You can also check out their collection on their website, they're all amazing to look at.

GALLERYSKE
GALLERYSKE is loaded with intriguing and moving contemporary art. Artists have created works like visual art, beautiful photographs, video clips (that you should definitely watch on their website) and interactive installations. This gallery is one of its kind as it showcases pieces of artists who aren't very popular but create stunning artworks that need to be seen by the world.
Comments