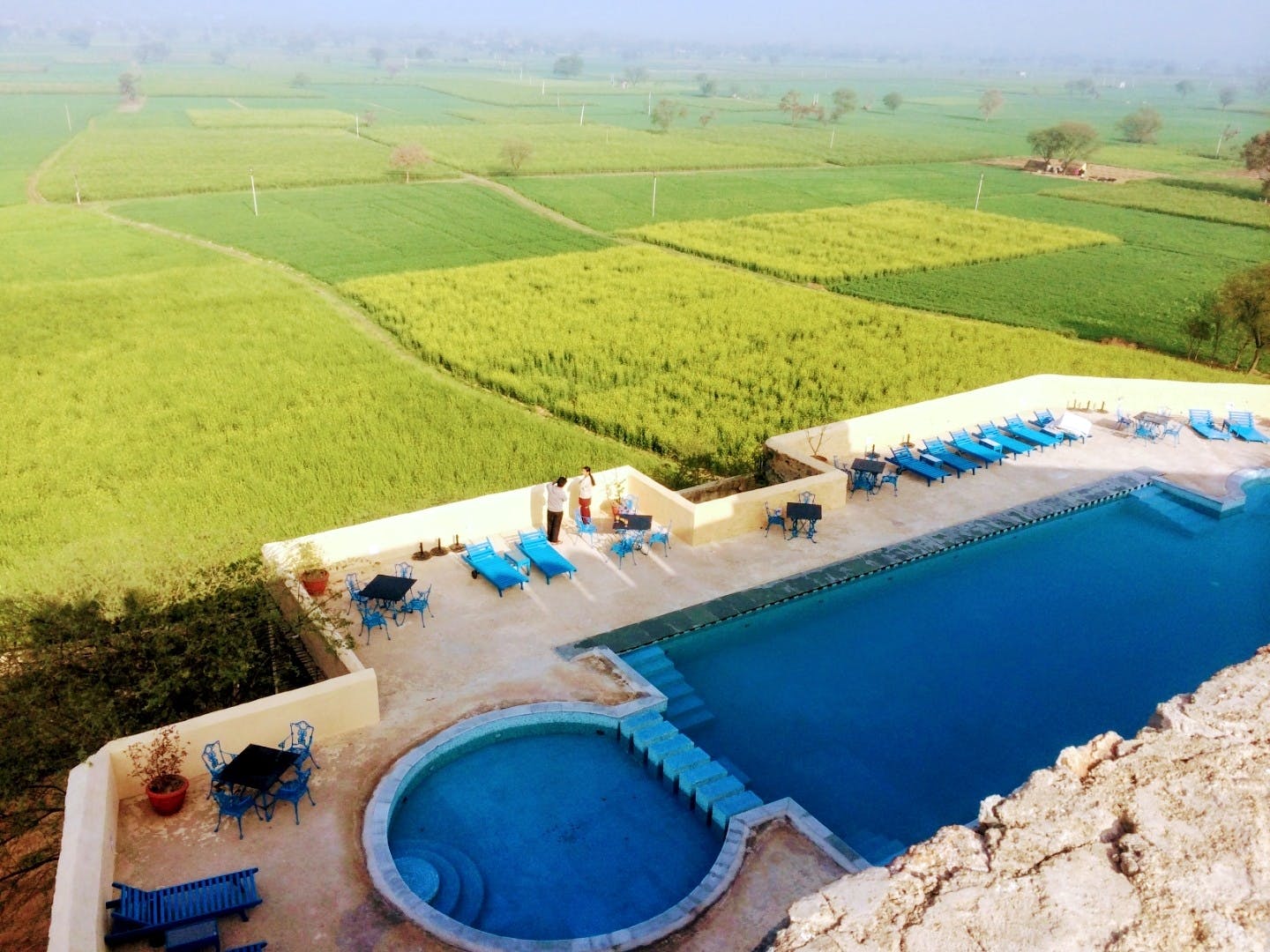 Getaways Less Than 4 Hours Away From Gurgaon
Take a break from all that work and check into some of these properties the next time a long weekend comes around. These getaways are perfect for a quick bout of rest and recreation, all under four hours away from the concrete jungle that is Gurgaon.

Tijara Fort Palace, Alwar
Each of the suites and rooms at this gorgeous property by Neemrana Hotels has been named after 21 of India's most famous women painters, such as the Anju Mahal or the Pushpmala Mahal. Their artwork adorns the walls of these namesake rooms as a celebration of their legacy.
Walks in their terrace gardens, a holistic treatment at the spa and a trip to the natural spring of Surajmukhi – this sounds like the perfect recipe for relaxation. Don't forget to stop by the Sariska Wildlife Sanctuary, maybe you'll spot some tiger stripes among the wilderness!
It's a little pricey but hey, it's only one weekend.
Distance from Gurgaon: 1 hr, 52 minutes
Heritage Village Resort & Spa, Manesar
First of all, the Heritage Village Resort & Spa in Manesar scores big because it's a pet-friendly resort! There's nothing worse than going on vacay without your best friend (who can leave when big puppy eyes stare you down?) and every pet-owner will agree.
A gym, jogging tracks, spa, pool, a trip to Damdama Lake and the Sultanpur Bird Sanctuary, with lots and lots of down-time as well, should cover you for two days.
Distance from Gurgaon: About 40 minutes
The Hill Fort, Kesroli
The fun thing about this property is that it is equidistant from Agra, Jaipur and Delhi, so maybe you could even squeeze in a day trip to the Pink City for some lassi and a plate of kachoris on MI Road, after sightseeing. More than comfortable, The Hill Fort offers opportunities to unwind at the resort itself too.
Distance From Gurgaon: 2 hours, 50 minutes
Aravali Resorts, Rewari
If you can only get away for one night, we suggest checking out Aravali Resorts in Rewari. The highlight at this resort is the huge variety of outdoor activities you can sign up for. They're equipped with paintball, rappelling, Zorbing and valley-crossing facilities so you can get those endorphins flowing.
Distance from Gurgaon: 1 hour, 9 minutes
Fort Unchagaon, Garhmukteshwar
This one clocks in at just a little over four hours but we thought it deserved a mention anyway. Primarily because the area in which Fort Unchagaon is situated is well-known for river dolphin sighting! In addition to that, the hotel offers a plethora of activities such as boat cruises, bullock cart rides, pottery, horse riding and a visit to the mango orchards.
The rooms are super comfy, clean and perfect for afternoon naps.
Distance from Gurgaon: 3 hours, 33 minutes
Lalit Mangar
Located on the Gurgaon-Faridabad highway, this one is definitely a splurge. Two nights in opulent luxury – the rooms at the Lalit Mangar afford some really stunning views of the Aravallis which you can admire from the balcony. There's lots of fun stuff to do on the property as well including yoga and pottery classes and a romantic night of stargazing.
The Lalit Mangar makes for a wonderful trip-for-two, especially if you're ready to take things to the next level.
Distance From Gurgaon: About 40 minutes
Mud Fort Kuchesar Fort, Uttar Pradesh
The very famous Mud Fort HAD to make it to the list! This fort, built in the 1700s, has a crazy tale to tell. Enjoy the princely treatment at the fort and take a break at the vast forest cover the place lies in. Although the accommodation is on the higher side, it sure is worth the experience.
Distance From Gurgaon: About 3 hours

Casa Delhi
Casa Delhi is an eco farm retreat near Faridabad that offers healthy organic meals, lets you stay in mud huts, experience the farm life through activities like cow milking, pottery and even hosts meditation classes. Basically, it is the idyllic weekend getaway every city-tired soul who is short on time (or leaves) could do with.
If you're not looking for a royal getaway and don't have a large budget, Casa Delhi is actually perfect. Find more info here.
Distance from Gurgaon: About 2 hours.
Peepal Kothi
Mushroom farming, a pond, slow food, doggies, and greenery everywhere; Peepal Kothi is barely half an hour away from Gurgaon and is three acres of pure happiness with all the above. This farm stay is idyllic for it's close enough for last-minute plans but far far away from the dust and pollution. The ducks lounging in the lake, sit-out verandahs, and white butter slathered rotis only add to the charm. The tariffs are on the higher side (INR 11,000 for a single kothi inclusive taxes) but they include meals and you aren't going to spend on commute going to far off places.
Distance from Gurgaon: About an hour.
Find more info here.
Karma Lakelands
Located just 20 minutes away from Sector 80 in Gurgaon is the Karma Lakelands Resort where nature meets luxury. This lavish resort's got gorgeous chalets, nature walk trails, an award winning nine-hole golf course, among many other amenities. A gym, spa, squash, tennis and badminton courts are among many other facilities offered to help you enjoy a comfortable stay. There's also a European style cafe where you can drink coffee, read a book, play board games, and have a chill time.

Distance from Gurgaon: Less than an hour
Find more info here.
Comments