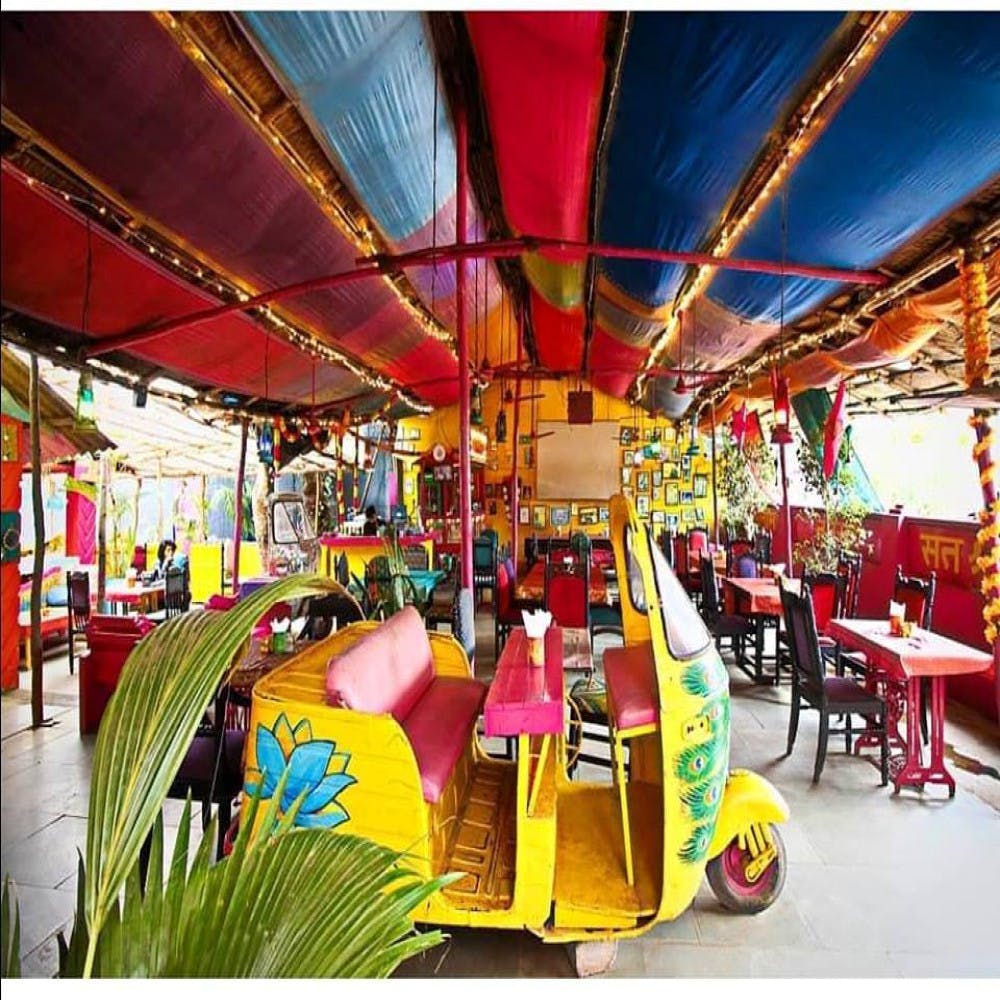 Click Away: These Are Some Of The Most Instagram Worthy Spots In Goa
Great holidays are often a mix of good friends, great vibes and some stunning pictures to relive the memories. So instagram junkies, we got you covered. We've compiled a list of some of the most instagrammble spots in Goa so that you can work them right into your itinerary.
The Parra Road
Remember the pristine narrow roads lined with palm trees on either side, of the Dear Zindagi fame? That's the Parra road for you! On your google map search for St. Anne's Church in Parra and you'll easily spot the road. Lined with palm trees, and overlooking fields on both sides, this road that you'd have often spotted in films and TV series like Four More Shots Please!, is off of the main highway, it is one of the prettiest, most picturesque roads in Goa.
Eva Cafe
A small cafe on the Anjuna flea market road, Eva Cafe transports you to the Greek seaside aesthetic. Minimally done up, all in white and beige and blue, the cafe is right by the sea making it one of the perfect sunset cafes. Distressed furniture, small knick knacks that come from the sea itself, like the shells used as weights, add to the kitsch look of the place. So get that cup of steaming coffee or the pint of chilled beer and get that perfect picture of your bohemian self.
You can also check out Olive Goa, Suzie's and Burger Factory in Morjim, all with beach views, the prettiest sunsets and of course, a million photo ops.
Fontainhas
Located in Panjim, Fontainhas is Goa's Latin Quarters and an art exhibit by itself. With colorful Portuguese-style houses and beautiful street art on the walls, the Latin Quarter makes for a great art walk. Painted in hues of green, pale yellow, and blue, along with red-colored tiled roofs, artistic doors, and overhead balconies, you'll find houses that date back to the 18th and 19th century. There are cute little cafés, bars (Joseph's and Venite are our faves) and bakeries (hey, Confeitaria 31 De Janeiro) that are over 100-years-old dotting the streets of Fontainhas. For art aficionados Gitanjali Gallery, situated next to the heritage hotel, Panjim Inn is a must-visit.
Reis Magos Fort
Picturesque vistas of the river Mandovi, coming down the narrow steps of a fort that dates back to 1551, Reis Magos Fort lies almost facing the city of Panjim across the river. It is one of the most picturesque forts you'll find in Goa. Walk around the fort and take a tour of history — there are several exhibition halls inside the For that explain the historical relevance of the fort. Moreover the huge arc shaped windows, overlook stunning views of river Mandovi. And the rooftop views makes for equally stunning pictures for your Instagram feed.
Happy to shoot your own Dil Chahta Hai moment? Head to Chapora Fort. Oh, and another equally gorgeous and compelling fort is the one in Arambol that now has a boutique hotel too: Fort Tiracol. Go here for a sundowner or treat yourself to a luxurious stay and some breathtaking photos.
Turiya Villa
A luxurious heritage villa in the South, Turiya villa is by far one of the most Instagrammable properties in Goa. Old world Portugese architechture, sloping Mangalore tiled roof and large, ornamental balacos that open onto the streets, Turiya Villa has spectacular corners that make for stunning locations for a photoshoot. Each of their rooms are named after a constellation and are distinctly styled. Their lawn again is a sea of tranquility, so take off those sandals and take the perfect shot of you walking barefoot on the grass, breathtaking views of a 100 year old building in the background.
Other villas we love for beautiful backdrops? Villa Morjim, Dwarka Cola and of course, everyone's favourite, The Cape Goa on Cabo De Rama beach. Oh, and if you're looking at more of a visual treat, complete with quaint artifacts, old architecture and all, our suggestions would be Casa Menezes and Figueiredo Mansion.
Anjuna Flea Market
What's a Goa vacation without those jealousy-inciting shots at one of its trademark flea markets? For that exact set of photos head to the Anjuna flea market — one of the only flea markets that sits through the day every Wednesday, Anjuna flea market is Instagram gold. Lanes after lanes that sell everything from lamps to bikinis to clothes to spices to handmade wood carvings, at Anjuna flea market you'll never run out of things to browse, buy and click.
Pink Chilli
Amongst another of our favourite instagram worth restaurants is Pink Chilli. One of the first thing you'll notice about the place is its pinkness. Pink walls, quirky decor and a vibe that goes along Pink Chilli is burst of colour, art, traditions and beautiful restored Goan furniture, all of which add to the spunky Indian look of it. Located in Arpora, just opposite the entrance to the Ingo's Saturday night market, click a gazillion photos while you try out the Indian dishes particularly the fresh seafood.
Cola Beach, Sweet Water Lake & More
It's a no-brainer that beaches make for some of the most Insta-worthy pictures and if you're looking for stretches that are quieter, more secluded and pristine, let our guide for South Goa's best beaches take you places. In the North, we also like driving to Keri beach for sunrise and occasional trips to the Sweet Water Lake in Arambol for some lake-loving and them hippy trippy pictures along the way.
Comments