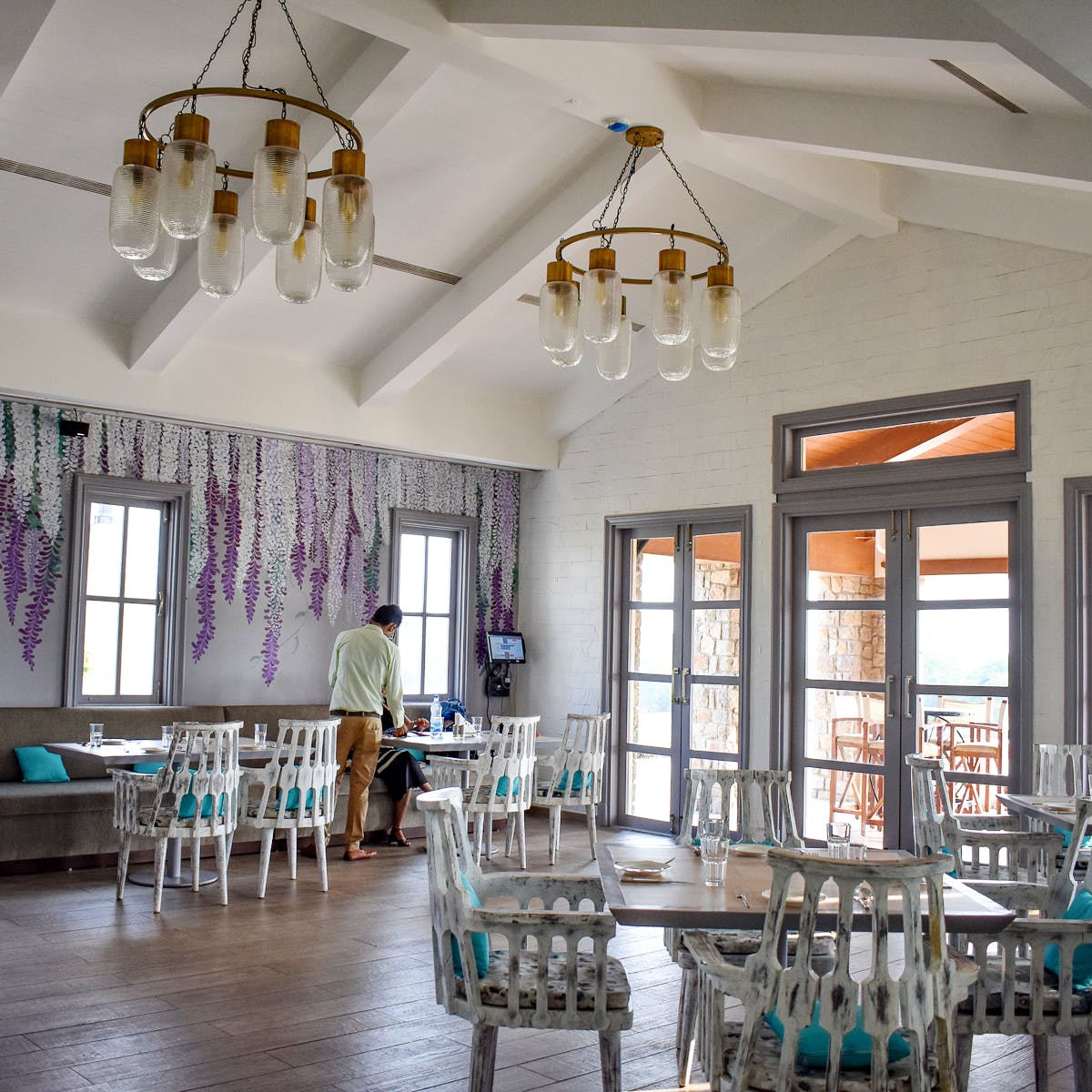 Get To These Places For A Dinner Date With Wine & Good Things In Life
Whether you enjoy a fancy meal or prefer going all out and about for your date, chances are you go out to wine and dine. Now that Hyderabad has plenty of restaurants to spoil you silly, ditch that beer and chips night, and pick one of these romantic restaurants in Hyderabad.
The Glass Onion
The Glass Onion — a restaurant by Fusion 9 is tucked inside Boulder Hills and it overlooks the boundless golf course and the humungous buildings behind it. Known for its mindblowing cocktails, if all you seek is great food and a decent wine collection, this has to be your haunt. They've got Krsma, Tarapaca, Jacob's Creek, and all the usual suspects, but as they say, it's the view that matters and they've got a killer one.

Jewel Of Nizam
Overlooking green gardens stands a tall white structure that houses the Jewel of Nizam, a restaurant that sounds (and looks) like something straight out of a fairytale. Jewel of Nizam — The Minar — is a fine dining restaurant located in Golkonda Resort, Gandipet. Get a slice of authentic Nizami delicacies like Anokhi Kheer, Barkas Patthar Gosht, Kacchi Dum Biryani. Their wine collection includes Redvale, Torres Vina Sol, Riff Rosso Merlot Cabernet, and of course, Sula. It calls for a perfect dinner date, y'all.

Sound Garden
Sound Garden in Kondapur is known for its interesting botanical cocktails and a fusion twist to its food. That said, we love how the bar is designed, keeping group dinners, night-outs, and romantic dinners in the picture. Get here with bae for an elaborate meal that you can pair with an Antares or Folonari. They've got Jacob's Creek, Sula, Fratelli too.
Shake Stir Muddle
As laid back as Shake Stir Muddle is, it is the sort of place that makes you want to dress up and get out on a Friday night. Surrounded by rocks, it shares space with a few boulders, which are also visible from the inside. While these folks are known for their killer cocktails, they whip up a storm with their sangria too. Everything is sitcom-inspired and you've got to try their Thai Basil Sangria or Red Frozen Sangria. The wine selection includes Krsma, Jacob's Creek, Sula, etc.

Tuscany
Red terracotta tiles, Paulin Paris hand-painted murals, and traditional Italian flavors — if that's your jam then you must check out Tuscany. When we say traditional, we're talking about Tuscan Pecorino, San Daniel Parma Ham, Mascarpone from Sienna, and other such authentic ingredients that will take you on a journey to the Tuscan villas. Sounds exotic, doesn't it? You can also sip on delicately ages wine from their own wine library.

Comments