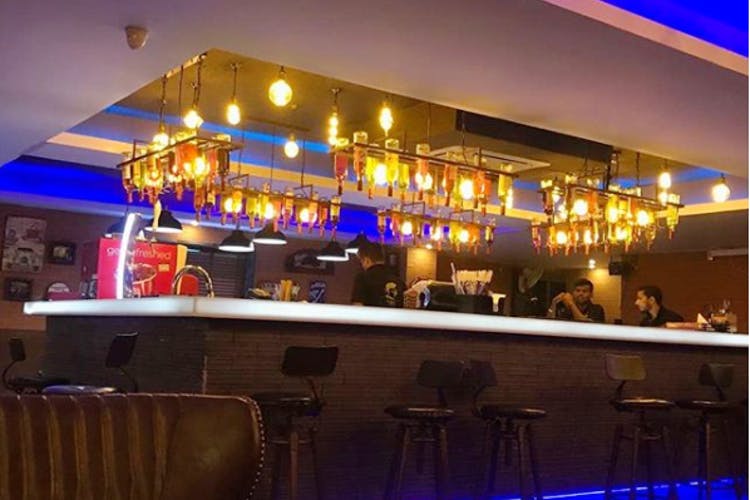 Take It Outside! Hit Up These Rooftop Bars To Relax And Unwind
Sure we all go bonkers about bars and restaurants with stunning interiors and ambience but rooftop bars hold a charm of their own. With breeze and a chilled beer or delicious cocktail, rooftops are a blessing in disguise and here's a list of best rooftops bars in Hyderabad.
Up - The Rooftop Lounge
A.S. Rao Nagar's very own party place — Up is an airy rooftop with a breathtaking view of Moula Ali Hill. We are fond of the al fresco seating, fresh air, and succulents that keep the bar quite green. Velvet blue sofas and a view of the city's rock formations make it a pleasant place to be. They also have an indoor seating area with wooden tables and quirky wall art that makes it a great place to go for conversations over drinks too.

Log Sabha
Film Nagar has a parliament-themed rooftop bar — Log Sabha — where graffiti of netas embrace the walls. With quirky captions like #UlluBanayega and #SabKiPhategi, trippy fairy lights, and a caravan bus, there are ample corners to Instagram. You quite literally sit under the stars and gawk at the ambience while chowing down delicious kebabs and churros.
Dirty Martini - Kitchen & Cocktail Lounge
Known for happening events and lit music scene, Dirty Martini is a rooftop cocktail lounge in Jubilee Hills. The industrial style ambience lends a vintage aura to the lounge, but we recommend stepping out and opting for the open air seating to observe the world pass by. And fresh breeze is on the house!
By The Bottle
As evening sets, By The Bottle is one of the coolest bars to find yourself at. The indoor seating is super noisy, so ditch that and go for the rooftop seating where you can watch the sunset and enjoy your dranks with pocket-friendly starters. With an awesome menu for happy hours where you can score drinks at INR 79 only, it really cannot get better than this.
Fusion 9
If you're taking bae out for shopping at Inorbit Mall, wind up at Fusion 9 for an intimate candlelight dinner. The rooftop area overlooks the Durgam Cheruv, and you can spot city lights at a distance. Although the music can be a little loud, fresh gusts of breeze can make your dinner quite lovely. Find yourself loving the oriental and continental dishes, but be sure to order a Bailey's Chocolate Mousse for dessert.

Fat Pigeon - Bar Hop
Fat Pigeon is a bar hop in itself, thanks to the variety of seating spaces (indoor, outdoor, and rooftop). They have quirky wall art and games like foosball which you can play with your friends. But we love this bar for its stunning rooftop seating that hosts movie screenings and if it gets too cold, the bar gives you blankets and cosy hugs to keep you warm. Do you really need anything else?

Tiki Shack - Rooftop Bar
Tiki Shack - Rooftop Bar has outlets in both Jubilee Hills and Gachibowli and both of them are touted as the best rooftop bars in Hyderabad. Do check out the Gachibowli outlet as its more spacious and less crowded. With quirky walls done up by Hoozinc, their signature orange bulbs hanging from cane baskets on the ceiling and candlelit high seat tables — Tiki Shack has retained its signature ambience here too. Other familiar accents in the decor include life jackets and ring buoys.

Comments