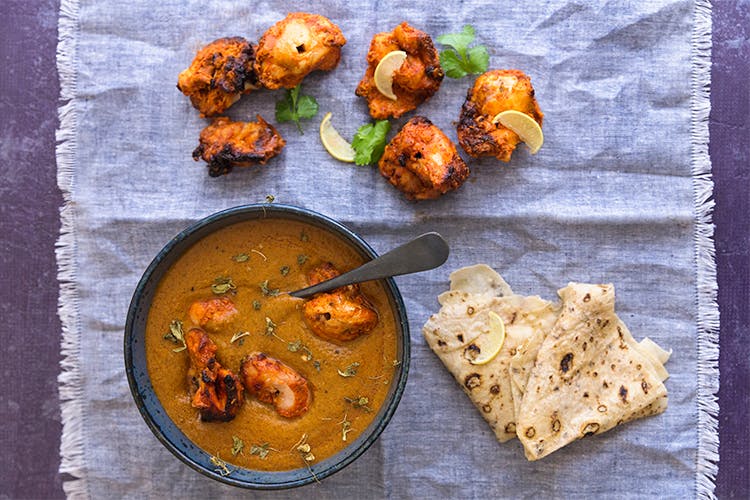 Onion Kheer To Boti Masala: Here's A List Of Must Try Dishes When You're In Hyderabad
If you are traveling to Hyderabad and food isn't the first thing on your mind, what are you really thinking? We really take our food seriously and although we're nuts about biryani (which is the best in India, okay? okay), there are some lesser known dishes that you've got to try. We've gathered our meat loving friends and asked them to take a pick of the best and the must-try (iconic) dishes in Hyderabad. Now, that's what we have for you.
Anokhi Kheer - Jewel Of Nizam
Anokhi Kheer (or Onion Kheer) is made from onions and the first time we've tasted it, this is what ran in our heads — errr...is this a sweet version of biryani? Made from white onions (instead of rice), this kheer is a blast of unexpecting flavours in your mouth. And nope, like onions, it doesn't bear a biting flavour, which is what makes it interesting. Considered as a lost recipe, not many restaurants serve these. While we've sampled this dish from a couple of home chefs, you can easily find it in Jewel Of Nizam.
Boti Masala - Sohail Waves Restaurant
Leaving you in a meat frenzy, Sohail Waves Restaurant in Malakpet brings all biryani and meat lovers to its yard. While you can devour boti masala or boti dishes anywhere, we've got a thing for the boti masala at Sohail. Spicy, slightly greasy, and dunked in masala, you've got to make a large meal out of this.
Bagara Dalcha - Prince Hotel
While Prince Hotel in Mehdipatnam is known for its classic shawarma, there's another reason for you to make a visit. They serve Bagara Dalcha – a traditional Hyderabadi dish of Bagara Rice and Dalcha, which is a lentil-based gravy that goes well with rice and biryani. Priced at INR 40 only, this dish is available only for lunch.
Luqmi - Rio Cafe
Rio Cafe is a sort of hidden gem in SD Road and we cannot recommend their luqmi and chai enough. The blue tables against which food is placed makes for awesome Instagram shots but it's truly the luqmi (a stuffed roti with mashed potato and spices) which is the real deal. Around breakfast time, this street-side cafe gets crowded and you might have to break bread with strangers.
Kaddu Ka Dalcha - Firdaus
Kaddu Ka Dalcha is a vegetarian version of meaty dalcha and it's made from bottle gourd. Did that perk up your spirits? Then head to Firdaus in Taj Krishna and dine like royalty. This fine dining restaurant in Banjara Hills is known for its authentic Hyderabadi delicacies so you can expect a wide range of iconic dishes. Want to go beyond the awesome Kaddu Ka Dalcha? Try out Jheenge Ka Salan (prawns cooked Hyderabadi style) or Haleem with Sheermal.
Khichdi Khatta Kheema - Hotel Rumaan
Khichdi is one of the most popular breakfast dishes. And why not? It keeps you upbeat throughout the day. Hotel Rumaan in Tolichowki is yet another iconic restaurant. We've heard many good things about biryani here but we recommend trying Khichdi Khatta Kheema where khichdi is basically served with khatta kheema (minced mutton). At INR 40, this is a breakfast that will leave you licking your fingers.
Khabsa - Dine Hill
Dine Hill in Masab Tank is popular for its Arabic dishes and they serve Khabsa on Saturdays. Khabsa is rice with lots of veggies, meat, and spices. Take a spoonful and you'll know this dish is here to lead you astray from your love for biryani. There's also mandi that you can share with a handful of friends. Dine Hill also makes wicked tandoor items like Seekh Kabab, Patthar Ka Gosht.
Jouzi Ka Halwa - Hameedi Confectioner
Hameedi Confectioners & Bakery might have begun as a stall in 1913, but it stands tall as one of the best sweet shops in Hyderabad today. A 15-year-old Turkish lad, Muhammed Hussain, started this business and his special dish, the Jouzi Halwa was such a hit among people that the seventh Nizam heard of it and visited the store to try it out. He loved the halwa to such an extent that he sent a letter with the royal seal to Hussain praising his sweets (Even today, this letter is on display at the store). Made out of milk, saffron, ghee, nutmeg, sugar, dry fruits, and some secret spices from Afghanistan, the Jouzi Halwa is heavenly.

Osmania Biscuits - Cafe Niloufer & Bakers
Located in Lakdikapul, this cafe has gained its name from a popular hospital with the same name in the proximity. Opening its doors at 4.30 am, the show runs till the wee hours of midnight with people rushing in to order the chai which is – kadak – as the Niloufer patriots claim. But what stands out here are the buttery soft Osmania Biscuits that go perfectly well with chai. Be sure to grab a box of them on your way out to savour them at home.

Kaju Ki Jali - Badam & Kaju ki Jali
Run by Nasreen Hussaini, Badam & Kaju ki Jali is an iconic sweet shop in Old City. Making plans to visit Charminar? You cannot miss the Kaju Ki Jali, which is made from a 50-year-old recipe handed over to Nasreen ji from her family. Kaju Ki Jali is made from cashew nuts and looks like a tiny flower and tastes a lot like a Kaju Barfi, but so much better. The consistency of cashew and its richness can be felt in every bite.
Arabic Ghawa - Mashaallah Shawarma
While Irani Chai is what defines Hyderabad, our city is no less known for its Arabic delicacies. The Ghawa tea, an Arabic tea, in Old City is something that you shouldn't miss. This has a unique preparation where the well-ground powder of coffee seeds is mixed with cardamom and a minute quantity of cinnamon and slowly boiled to derive a rich decoction. Rose water is introduced into this decoction for an aroma. This is an experience you cannot miss when in Old City. Go to Mashaallah for it, and see if you can get accompaniments in the form of dates or anything else that's on offer. Do note that this stall opens at 7pm.

Ask Sunaina a question