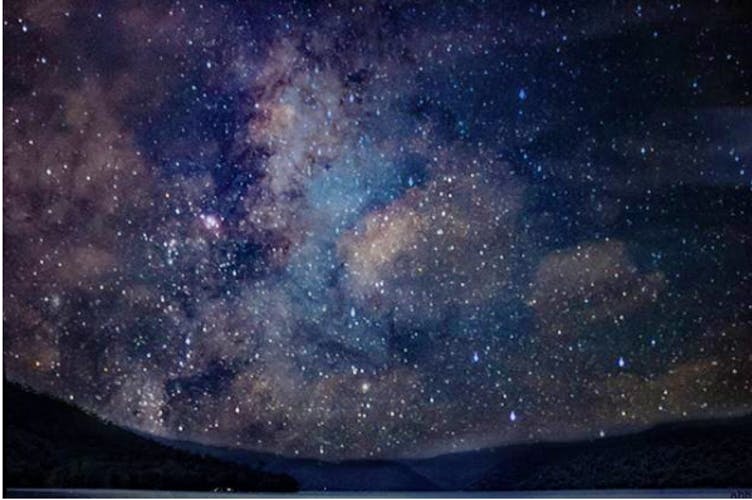 Bundle Up Your Squad & Rush To These Gorgeous Stargazing Locations Around Hyderabad
Have you wanted to get away from the hustle of the city life and bask in the light of a million stars? Whether you want to take bae on a romantic stargazing date or escape with friends for a weekend, check out these locations near Hyderabad and make plans to tick one thing off your bucket list.
Koil Sagar Reservoir
At Koil Sagar Reservoir, stretching across the Peddavagu river — you can go night camping and stargazing. This picturesque place has a lake you can camp around and hills you can hike upon. It is only a three hour drive from the city, so we recommend you start in the evening and to get here by sunset time so you can enjoy that view of surrounding hills too and have enough time to set your your tent before you stargaze.
Ameenpur Lake
Although Ameenpur lake is known to be a bird watchers spot, you can go here for star-gazing, You will need a pair of binoculars or a small telescope and even spot deep sky objects like star clusters too. It is not a place to go camping, but you can drive here in about 2 hours from the city and stargaze in the serenity of the area and enjoy some quiet time with the twinkling stars.
Pocharam Lake
The Pocharam Lake is located in Medak district of Telangana, at about three hours drive from Hyderabad. This lake is adjacent to Pocharam Wildlife Sanctuary and makes for a great camping site where you can also have bonfire nights. Get here by about 5 pm with a group of friends, and swim in the lake too. There is a vast area of lush greens surrounding the lake where you can set camp and wait for midnight.
Laknavaram
At a five hour drive from Hyderabad, is the lake town of Laknavaram. Go here for stunning views of the clear water of the lake, the yellow suspension bridge over it, the greenery and for a sky full of shining stars. You can camp here, and enjoy campfire, boating and hiking too based on your preference. It is one of the most peaceful locations around Hyderabad, and therefore you can hear bird sounds and the rippling water of the lake.
Papikondalu
Ferry through the Godavari river and experience the beauty of Papikondalu. Experience the ebbs and flows of the river, and night camp here stargazing from an island. Also enjoy the view of the surrounding dense forest on one side and disconnect from the social world as this place has zero connectivity.
Pro-Tip
At all these places, don't forget to carry essentials like a torchlight, mosquito repellants, snacks, water, and extra clothes.
Comments