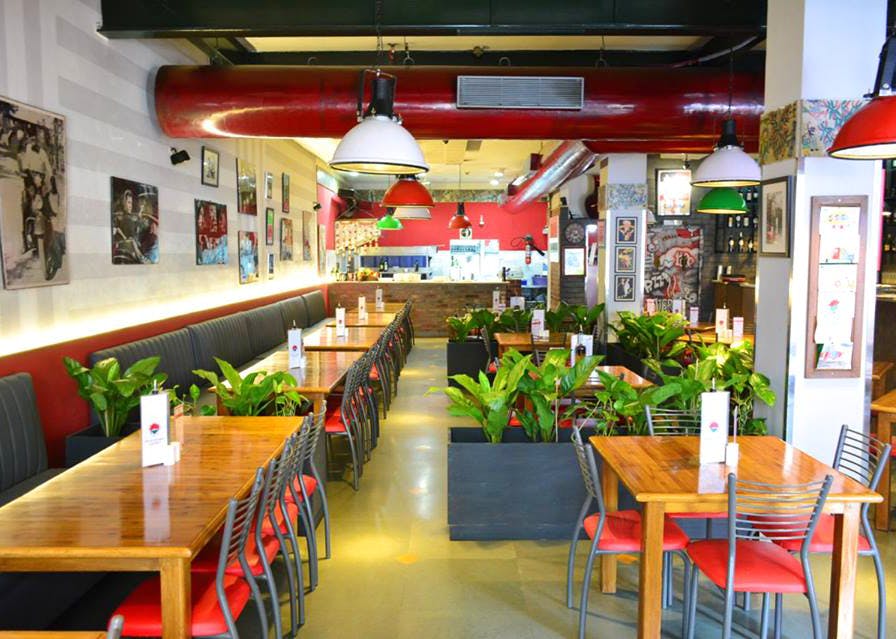 Buon Appetito! Head To These Places For An Authentic Italian Meal
Planning for a dinner date with bae? Be sure to make it Italian! Apparently, Italian cuisine has been voted as the most romantic food there is by diners in a random survey. If you agree that the way to anyone's heart may just be through a bowl of pasta, then head to these places for a taste of Italy in Kolkata.

La Cucina
Elegantly Italian! Fashionable interiors, signature Italian cuisine, impressive wine list and a luxurious fine-dining experience - it doesn't get better than La Cucina at Hyatt Regency. Their signature home-made stuffed pastas will transport you to the cobbled streets of Italy. We were mighty impressed with the Roasted Fillet of Tenderloin with Garlic Potato Mash, Braised Cabbage and Rosemary Jus. Don't miss out on the Classic Tiramisu with Kahlua no matter how stuffed to the gills you are. if you are planning on a romantic evening out with bae here, let them know in advance and they will oblige you with flowers, candles, wine and cake - along with their sumptuous food and delightful hospitality.
The Corner Courtyard
Located in an old bungalow, The Corner Courtyard, serves up amazing Italian food, prepared using locally sourced vegetables and handpicked ingredients. The menu is descriptive enough (with a line or two on the history of the dish as well) to help you decide what to try, if you are still confused, ask the ever-smiling servers to recommend their specialties. You must try the 'Arancini', meaning 'little Oranges' because that's what they look like. The epitome of Southern Italian street food, these are actually small risotto balls stuffed with mozarella, dredged in breadcrumbs and deep fried. Oh and did we mention just how delicious the white sauce pasta they serve here is! The ambiance of the place is totes instagram-worthy with an overall old-world charm.
Fire And Ice Pizzeria
This gorgeous place with huge glass windows is an authentic pizzeria which was actually founded by an Italian chef from Naples in 2005. Owner Annamaria Forgione is very particular about quality — every ingredient they use is stellar, a lot of it is locally sourced, and they make their own mozzarella and pesto. The funghi, four cheese and pepperoni pizzas will leave you gobsmacked. Old film posters and vintage food signs add to the character of this restaurant located in a huge heritage building. They have a well-stocked cellar — so grab a seat by the window, with a plate of gnocchi (light potato dumplings with tomato sauce and Parmesan) sip on a glass of wine and get teleported to somewhere in Europe.
Serafina
Hands down our fav place to head to for date night, Serafina is one of the few places in Kolkata to visit for mouth watering Italian food. Serafina which literally translates to 'fiery ones' is known for their authentic thin-crust pizzas and use of quality ingredients. The vibe is perfect for romantic weeknight dinners, celebratory occasions and big weekend brunches (weekday lunch combos for 3-course meal @ INR 599 and 5-course meal @ INR 799). More often than not you will find people decked up in floral dresses and dapper suits enjoying a big bowl of pasta. Mood lighting and right kind of music coupled with great food sets the tone for a perfect evening with your loved one. Taste the pannacotta here, made with fresh vanilla from Madagascar and thank us later.
Fabbrica Della Pizza
The first in the city to whip out wood-fired Neapolitan Pizza, this quaint restaurant will give you major 'little Italy' vibes. From the painted wall canvas to the potted pink flowers and wooden tables, the interiors make you feel like you're in a small Italian village pizzeria. If you're up for some classic and traditional Italian, you should head here. The pizza crusts are slightly thicker than usual (they serve sauces on the side to dunk your crust into) and they use a very light hand with the cheese. The show-stopper is the Pizza Al Nutella. It's every Nutella and pizza lover's dream come true. The four slices of freshly-baked pizza comes with a generous amount of chocolate-y spread on top that you might end up getting all over your face and hands but it's Nutella so noone's complaining.
Comments