Drunken Monkey's New Menu Has Over 120 Types of Milkshakes Starting at Just INR 109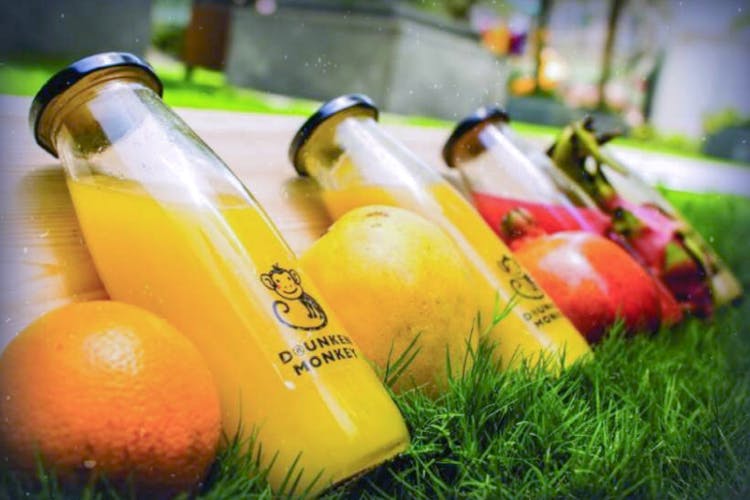 Shortcut
Sexy Spinach, Avocado and Coffee Nutella Magic – Drunken Monkey's milkshake menu has more than 120 kinds of liquid perfection!
What Makes It Awesome
Healthy, natural, with no added preservatives or added sugar, Drunken Monkey's milkshakes, smoothies and juices has us all drooling. And don't get us started on how epic the flavours sound! Apart from the regular apple, banana, chikoo smoothies, you also get the more exotic kiwi, dragon fruit and black grape. For the local Bengali flavour, they've even got a mousambi smoothie.
Sick of preservative filled, artificially flavoured, and fake fruit shakes? These bottled fruit shakes starting at INR 139 are 100 per cent natural. Musk melon, figs, nuts and more are blended into the shakes to make them energy-filled and protein-packed.
Hate eating green veggies? The veggie shakes will give you all the nutrition you need to get through the day, plus they're super flavourful. And they get an added bonus for the very creative names – the Root Cause is a powerhouse of root veggies, the Crazy Carrot is loaded with carrot and pineapple goodness and the Sexy Spinach is all the green healthy stuff (spinach, cucumber, grapes and lime) blended in one. And of course, there's an avocado shake!
Caffeine Addicts, there's an entire page dedicated to you! Coffee Brownie, Coffee and Caramel, Coffee Nutella are some of the ones that have us jumping up and down. These drinks are power packed and basically serve as an entire meal – they're so healthy and so filling! Fun flavours like cornflakes, muesli and Horlicks double up as a breakfast. You can even opt for the 'detox' range of smoothies if you want that post-weekend cleanse.