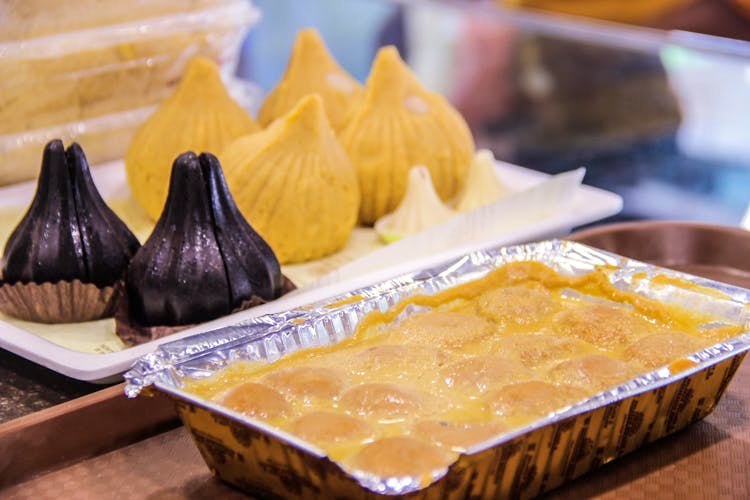 These Sweet Shops Are Over 100 Years Old, And Their Recipes Are On Point
Kolkata is renowned all over the country for its sweets and sweetmeat shops, and mishti is something that is at the core of every Bengali's diet. That is why it is essential for the people of Kolkata (and those visiting) to drop by these century-old sweet shops which will take you on a nostalgic trip.
Ganguram and Sons
Established in 1885, Ganguram and Sons started off in North Kolkata's Maniktala. From there, it has grown to 27 outlets across the city. You can visit any one of them and choose from their range of sandesh, starting with nolen gurer jalbhara sandesh, (both narampak and kadapak), maharani sandesh, mango pista sandesh and sankh sandesh among others. If you are not a big fan of the sandesh, try their kheer sweets including patal, khirer chop and khirkodom. But Ganguram is especially famous for its novel sugar syrup-based sweets. You will definitely have a difficult time to choose between kesar malai roll, indrani and rasmadhuri. If all these reasons are not enough, wait for this one -- Ganguram is the official supplier at the West Bengal Government's Residence and Secretariat!
Sen Mahasay
Ashutosh Sen set up a small and humble sweet shop at Fariapukur Street in 1897 and named it 'Sen Mahasay'. Even though he was not a professional confectioner, it was his hobby and that drove him into the business of mishti making. Some of his creations are Ratabi Sandesh, Pink Pera, Malai Chop and Abar Khabo. But what currently stands out for them are the mishti doi and monohora, which sell out in the blink of an eye. All these sweets are remarkable for their novelty and taste, and people still flock everyday to the various Sen Mahasay outlets to stack up their refrigerators with a box or two!
Balaram Mullick And Radharaman Mullick
If you blend the modern with the vintage, you get Balaram Mullick and Radharaman Mullick. Be it Diwali, Eid or Puja, Balaram is the destination for every household in the city and people know that they can depend on them because of their impeccable quality. Balaram was founded in 1885, but it has moulded itself with time and now offers cakes and pastries, besides sweets. The sweetmeat shop specialises in baked products. Indulge in their baked mihidana, baked roshogolla, and baked doi for a unique rendition of the traditional sweets. Their unending list of offerings also include aam doi, mango souffle, elixir sandesh, blueberry doi, gurer ambrosia, gur malai chomchom and gondhoraj lebu sandesh.
Girish Chandra Dey And Nakur Chandra Nandy
This award-winning sweetmeat shop was established as early as 1844 and has been frequented by celebrity chefs such as Vikas Khanna and Ranveer Brar. Girish Chandra Dey and Nakur Chandra Nandy is a mishti lover's paradiseand if you really want to enjoy the experience of having sweets from this shop, we suggest you visit their first outlet at 56, Ramdulal Sarkar Street in Hedua. They have a baffling range of out-of-the-box mishtis such as sandhek, kanthal, chocolate malai roll, mango mousumi, parijat, gurer sandwich and mango monohora. That's not where the creativity stops. They have even gone to the extent of naming two of their sweets on Sourav Ganguly and Sachin Tendulkar -- Sachin Sandesh and Sourav Sandesh!
Nalin Chandra Das And Sons
Another award-winning mishti shop which has held its tradition, while adapting to modern epicurean needs, Nalin Chandra Das and Sons is the oldest sweetmeat shop in Kolkata, established in 1841. Their variety will take you through the journey of five generations and eventually land you onto a platter of modern stuff such as green mango, kesar jalbhara, black currant jalbhara, chocolate jalbhara, chocolate talsansh, spanish tikitaka, brazilian samba and parma.
Comments