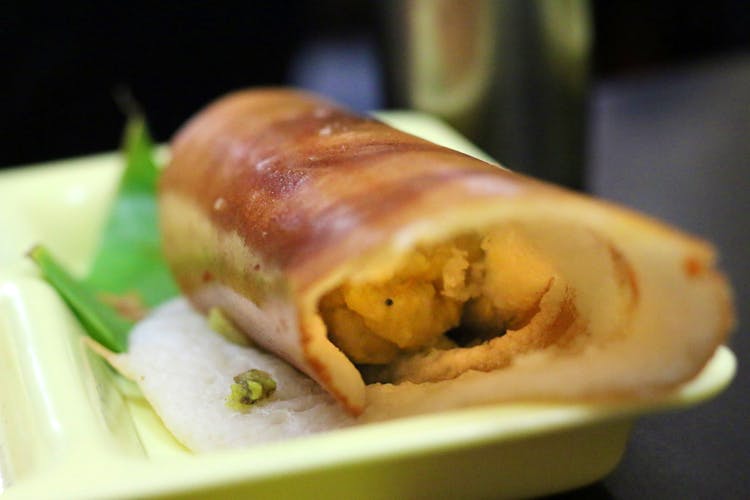 Breakfast Of Champions: A Guide To The Best Dosas In Bangalore
A humble breakfast staple it may be. But to produce a perfectly round, golden-hued, crispy-around-the-edges-and-fluffy-in-the-middle-dosa is nothing short of an art. LBB traces the famous restaurants in town that have mastered this fine art.
Hotel Janatha
While they also serve the plain and onion dosa varieties, the crowds mainly come in for their thick, crunchy masala dosa that goes splendidly with bowls of their steaming sambhar. One of the best in Bangalore, we think!
Price: INR 35
Shree Sagar (CTR)
This restaurant's iconic status is well-warranted. Their Benne Masala Dosa has a gleam to them thanks to the generous helpings of butter coated on them. It's pretty famous throughout the city!
Price: INR 48
Vidyarthi Bhavan
Since 1943, Vidyarthi Bhavan has been churning out crisped up masala dosas (both, potato and sagu fillings are available) surrounded by golden pools of ghee to every hungry customer arriving at its doorsteps. The strong filter kapi is an added bonus here.
Price: INR 46
Hotel Janardhan
Working your way from the brittle outer edges to the soft, potato or sagu-filled middle of their masala dosas will be the highlight of your day. We promise.
Price: INR 40
Mavalli Tiffin Room (MTR)
Every morning, walkers, joggers and breakfast seekers crowd the hallowed dining halls of MTR. Many order their famous, signature golden-brown, masala dosa that comes topped with a tiny bowl of melted ghee, that'll add plenty of richness to your meal.
Price: INR 86
Sree Krishna Kafe
Get a taste of Tamil Nadu's equally-famous dosas in Bangalore, at this cafe. The Ghee Roast Masala Dosa is a particular favourite with patrons, who love that the airy dosas come doused in spoonfuls of ghee.
Price: INR 80
Lakshmi Nataraja Refreshments
Tucked into the bylanes of busy Majestic, Lakshmi Nataraja does brisk business with their plump Pudi Masala Dosas that are served with helpings of coconut chutney.
Price: INR 75
SLV Refreshment
One of South Bangalore's favourite idli stops does a stellar job with its dosas as well. You'll mop up the delicate dosas in a jiffy, we think.
Price: INR 35
Chikkanna Tiffin Room
The dosas at Chikkanna are nothing short of heavenly, customers rave. The chocolate-brown masala and set (known as kali) dosas are paired with their famous slurp-worthy chutney that draws in the crowds to this nook.
Price: INR 55
Hotel Dwarka
While the Benne Masala Dosa has many takers at Dwarka, it's the Kali (Set) dosa that reigns supreme. The downy dosas, with a blob of melting butter on top, are accompanied by a spicy potato side dish and a chutney – the trio please your palate to no end.
Price: INR 28
Comments