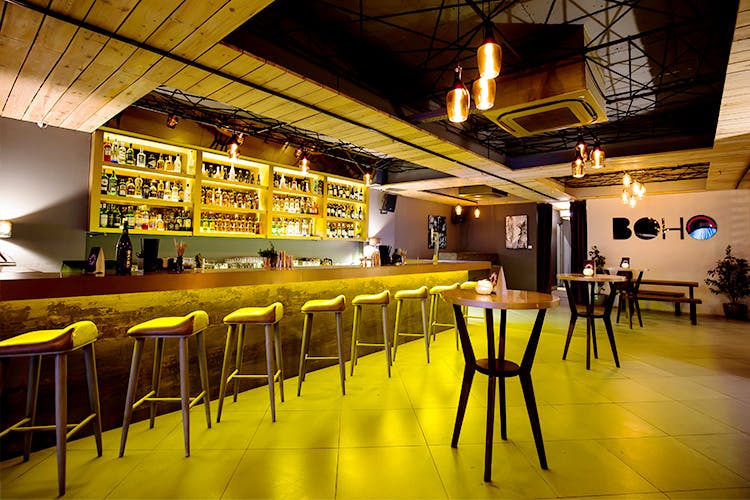 Lose Yourself To Dance At These Bars In Koramangala
The night always gets better when there are a dance floor and music to go with it. "Dance Baby Dance" is all your body, mind and soul would say when the music doesn't stop and the booze keeps flowing at these bars in Koramangala. So, take your squad, put one scene and head to these bars in Koramangala that has a dance floor and show off your killer moves.
Koramangala Social
One of the most popular bars in Bangalore, Koramangala Social always lives up to the hype. For a night filled with dancing, music, good food and a whole lot of cocktails, Koramangala Social is a perfect pick. The bar is filled with plants, and wooden tables giving a tropical feel to the place. This two storeyed bar hosts popular DJs as well as underground DJs and the dance floor here is picturesque as it feels like you are dancing in the middle of a forest. It can't get better than this, can it?

Foxtrot - House of Subculture
This secret (well, not so secret anymore) hideout in Koramangala that used to be a play school is now home to upcoming talents, underground artists and best of DJs from all over the world. Foxtrot - House of Subculture is literally a party house with multiple dance floors, great food, and bars on every floor except the terrace. The ambiance is Insta worthy and feels like it is right out of an architecture and interiors magazine! It is needed a melting point of culture and art as you find people from different backgrounds vibing to the music here and rocking the dance floor.
Indigo XP
When it comes to partying in Koramangala, Indigo XP is the crowd favourite. With a massive dance floor on the first floor and a rooftop with a bar and big screen, Indigo XP is one of the best places to go to for a night out. As the DJ spins the latest commercial hits from Bollywood and international chartbusters, you can't help but dance the night away. They are also a performance venue that hosts live gigs of local artists. Head to Indigo XP with your crew and rock the dance floor with those killer moves.

Bombay Adda
Transport yourself to Bombay with this lounge bar in Koramangala. With fusion street food and quirky cocktails such as Namma G&T, Masala Narangi and Chota Aam Panna, Bombay Adda is your dose of Mumbai in Bangalore. The place is decked up with high tables, chandeliers and posters of Bombay all over and also has a dance floor that spacious and won't cramp you up. With Bollywood and International chartbusters played at Bombay Adda, your legs won't stop until the music goes down.

Boho
With colourful decor from the 70s with a lit peace symbol, floral patterns, doodled blackboard, and pop-up posters all over, Boho takes us back to the 70s era in an instant. Enjoy a night filled with commercial blockbusters, finger food such as nachos, sauteed corn and french fries and variety of booze options and rock the dance floor with your favourite dance partner. Located around several other bars, it is a perfect option to begin your bar hopping and dancing through Koramangala as it does get pretty crowded here.

Ask Dikshita a question