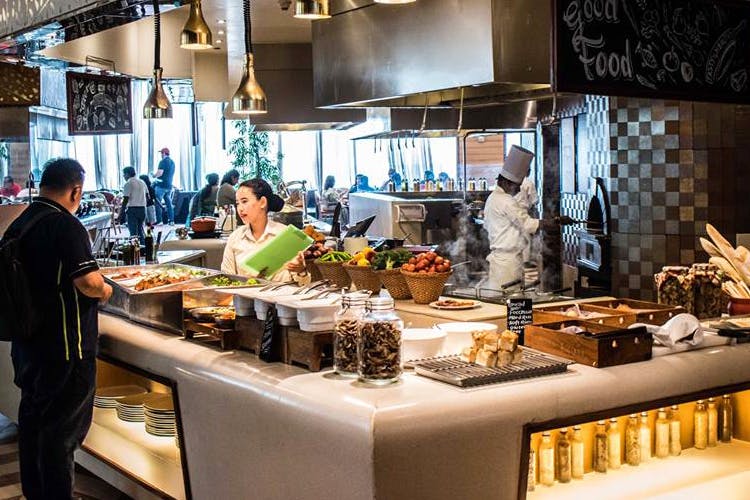 14 Boozy Brunches In Town To Turn Your Sunday Into A Funday
If you're in the mood to celebrate the start of a new week, you're on the same page as plenty of restaurants in Bangalore. From champagne sessions to pizza parties, we list lavish brunches – complete with live stations, bar bounty, and exotic delicacies – that you can book a table at, Sunday after Sunday.
24/7 at The Lalit
A big hit with families, The Lalit Ashok transforms into a rather spiffy picnic spot on Sundays. You can take the kiddies and even doggo (they get their own menu) to the event. And indulge in activities like tennis or swimming. When you want to concentrate on pampering your palate, they'll serve you everything from Continental to Indian and they even have a divine dessert spread. Plus, you can tank up on their selection of alcohol too.
When: Sundays, 12.30pm-3.30pm
Price: INR 2,450 upwards
Bangalore Brew Works
This popular brewery truly believes that people who love to eat are the best, which is why their Sunday Brunches are perfect for the glutton in you. You can munch on kababs, biryanis, roasts, pizzas and pastas that come along with craft beers and cocktails.
When: Sundays, noon-4pm
Price: INR 2,000 upwards
Feast at Sheraton Grand
Get ready to feast like a king at this glitzy restaurant. While knocking back your favourite tipple, you can partake in the lavish spread in front of you. Pastas, pizzas, sushi, and chaats – are part of the brunch menu here.
When: Sundays, noon-4pm
Price: INR 2,700 upwards
High Ultra Lounge
A killer view and an inhibited feast are on offer at this rooftop lounge. Live stations offer everything from soups to salads and steaming dim sums. You can also gorge on offerings from the grill and tempura creations. But the unlimited booze is what will take your Sunday to the next level!
When: Sunday, 12.30pm-4.30pm
Price: INR 2395 upwards
JW Kitchen
When you look for nothing short of decadence in your brunch, JW Marriott will serve you well. They host brunches on Saturday and Sunday. And you are invited to come along with the kiddies too. While the kitchen offerings will take you across the globe, you can savour their signature sangrias, Prosecco and glasses of champagne.
When: Sundays, 12.30pm-3.30pm
Price: INR 2,450 upwards
Vapour Brewpub & Diner
Happening at their new Sarjapur outlet, this popular brewery offers you a delectable spread. You can dig your fork into a variety of grilled meats, cold cuts, quiches, and desserts. As for the booze, you can either choose between unlimited beers from their brewery or sign up for Indian liquor.
When: Sundays, 12pm-4pm
Price: INR 1,399 upwards
Mynt at The Taj West End
Celebrating a special occasion? Then, Mynt's champagne-filled brunch will surely add sparkle to your big moment. Between sips of expensive champagne, you can gorge on a huge spread that includes exotic salads, live stations serving up pizzas, and roast meats. Their Lebanese Shawarma and seafood specials are worth biting into too.
When: Sundays, 12.30pm-3.30pm
Price: INR 1,750 upwards
Shiro
Japanese, Korean, and Thai flavours dominate the Asia-inspired menu here. A steady stream of aromatic stir-fries, sushi, maki rolls, and dim sum arrive at your table. These are followed by main-course offerings featuring fresh greens, chicken, beef, or prawns. Top it off with bites of Chocolate Sushi and Japan Cheesecake. To soothe your parched throat, choose between wines, spirits, cocktails, and mocktails.
When: Sundays, 12.30pm-4pm
Price: INR 2,599 upwards
Olive Beach
Packed with Mediterranean flavours, the brunch offerings at this applauded restaurant has plenty for vegetarians and meat lovers. The charming setting, wine and innovative cocktails add to the fun.
When: Sundays, noon-4pm
Price: INR 3,250 upwards
The Oberoi
Two restaurants at The Oberoi team up to wow you with a Sunday Gourmet Lunch. Park yourself at the soothing interiors of Le Jardin, or enjoy the breeze in Rim Naam's alfresco setting. Ready to take on the hunger pangs? Start at the cold station and pile your plate with cold cuts, a selection of international cheeses, salads, and sushi. Heat things up with the Mediterranean favourites, fragrant biryanis, curries, and coastal treats. Wash all this down with fine spirits, sparkling wine, or French champagne.
When: Sundays, 12.30pm-3.30pm
Price: INR 3,250 upwards
Biergarten
This laidback watering hole serves as the perfect setting for a boozy and lazy Sunday Brunch. If you want to keep things light, then, you can help yourself to a bunch of their in-house brews and beer cocktails. But if you plan on going the whole hog, the INR 1,850 (plus taxes) deal will get you a dazzling array of beers, cocktails, domestic wines, and IMFL liquor. Alongside, you can sample pizzas, biryanis, salads, and curries.
When: Sunday, 12pm-4pm
Price: INR 1,450 upwards
The Brew And Barbeque
Live it up on a Sunday at this much-loved brewery in Marathahalli. DJs and live performers provide the entertainment while you raid the bar bounty that includes freshly brewed beer, IMFL, cocktails and mocktails. When the hunger pangs come calling, you can hit the buffet tables that are laden with prawn cocktails, wood-fired pizzas, sliders and pastries.
When: Sunday, 12.30pm-4pm
Price: INR 1,799 upwards
The Reservoire
One of the latest entrants to Koramangala's bustling restaurant scene, The Reservoire has introduced the Energiser brunch on Sundays. Apart from a delectable spread that includes Continental, Indian and Chinese delights, you can enjoy their bar offerings that include beers, signature cocktails, and IMFL.
When: Sundays, 12.30pm-4pm
Price: INR 1,450 upwards
Cubbon Pavilion
Going all out on your next Sunday brunch? Then, we recommend you make a reservation at this luxurious restaurant. With your sparkling wine or champagne glass in hand, you can hit the interactive counters that dish out pizzas, waffles, grilled meats, seafood, and whatnot. You can then turn your attention to the buffet table that's loaded with dishes from all over the world.
When: Sundays, 1pm-4pm
Price: INR 3,250 upwards
Comments