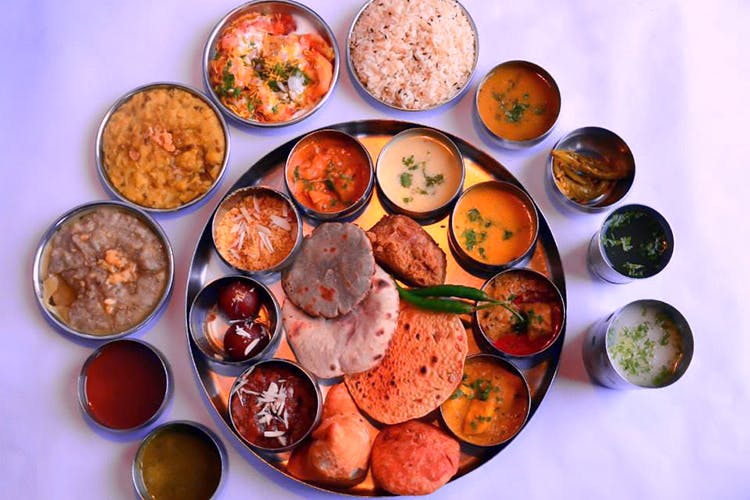 From Nepal To North Karnataka: Here Are Bangalore's Must-Try Thalis
Restaurants, big and small, are showcasing regional delicacies aplenty with their thalis. Food from nearby coastlines and around Karnataka are as popular as plates filled with treats from far-flung places such as Nagaland, Bengal, Assam, Rajasthan, and Gujarat. We recommend that you get ready to discover the whole culinary traditions with what is our list of the best thalis in Bangalore.
Bamey's
Experience food filled with neighbourly love as you dig into the Nepalese thali here. We recommend that you try the authentic mutton or chicken thalis that come with rich meat curries (loaded with spice that aren't at all similar to the curries from North India), rice, a portion of vegetables (usually saag), and daal along with curd, papad, achar (an authentic freshly made one to add a tangy punch) and salad.
Bhojohari Manna
Fill up your tummy with Bengal's favourite eats that are part of the mini and maxi thali at Bhojohari Manna. There's luchi (puris), bhaja (vegetable), alur dom, pulav, chutneys, papads and rich and creamy Bengali mishti to tuck into. It really is Bengal on a plate!
Chubalas Curry & Rice
This tiny nook in Kamanahalli has delicious thalis from Nagaland. While there are the vegetable and chicken versions, we recommend best picks being the pork, smoked pork, and fish thalis. Along with the mouthwatering, spice-filled non-vegetarian curries, you'll be served a helping of rice, veggies, dal, and boiled greens.
Gam's Delicacy
A traditional Assamese Akhaj or thali is available for feasting here. Aromatic Joha rice, a staple in Assam, occupies pride of place at the centre. Around it, you'll find bowls of mati (black gram) dal, vegetable and herbs that have been fried, and pitika (a mash of a vegetable, usually potato, that's done up with onion, mustard oil and chillies).
Fishland
Seafood reigns supreme at this legendary restaurant in Majestic. Ask for the Limited Special Seafood thali and you'll get a plate of rice, fish curry and fry, and a vegetable that can all be washed down with a cup of buttermilk.
Khandani Rajdhani
To us, Rajdhani has the best vegetarian thali in the city. Their chain of thali restaurants is where the dhokla rubs shoulders with dal batti churma. Stuffed with the best from Rajasthani and Gujarati cuisines, you can eat your way through an ever-growing stack of ghee-doused rotis, various kadhis and vegetables, and a long list of sweets and farsans.
Mavalli Tiffin Room
While you sip on a fresh juice, vegetables, bisi bele baath, rice along with sambhar and rasam, fruit salad and sweets arrive in record-speed as part of MTR's special meals. Your hand-to-mouth action will have to be super quick to keep up with the onslaught and the servers don't give up till they've ensured that you are sufficiently fattened up.
NH8
Explore the flavours of Rajasthan's kitchens on a humongous plate at this decked-up restaurant. On a regular day, you'll be treated to limitless servings of classics like dal batti churma, kadhi, vadis and an assortment of vegetables. Special occasions like Navaratri will see you feasting on sabudane ki tikki, raita, kheer and fluffed-up puris.
Suryawanshi
Suryawanshi's Maharashtrian thalis range from the simple to the indulgent. Their Gala Vegetarian Thali is crowded with a dry bhaji, varan (that's made with three types of pulses), phulkas, rice and regular condiments like pickle and papad. Their most expensive offering the Splendid Gala Fish Thali, on the other hand, includes Surmai fry, fish curry, Prawn Sukha along with rice and roti. Meat lovers can order up chicken and mutton thalis.
Bheema's
While Andhra-style biryani here might be tempting, we suggest you save it for another day and go for their unlimited vegetarian thali. Along with the steaming rice comes pappu (dal cooked with greens), staples like sambar and rasam, and the palya (sauteed vegetable dish) of the day. And, if you really can't do without something meaty, order a side of Chicken 65 along with your meal and tuck in! Read more about it in our review here.
Mahesh Lunch Home
Their seafood thali is what you must try here. Along with the rice and palya, expect specials like seer fish, prawns (in a tomato-based gravy), clams (nicely cooked with ground coconut), crab, and sardines, all to please the seafood lover in you. They also have a chicken thali which comes with kebabs, chicken curry, chicken korma and chicken sukka.
Bekal
Bekal's Kerala-style thalis include vegetarian, chicken curry and fish curry meals, and a Bekal Special Meal which is available only on Sundays. Served with rice of your choice, a spread of curries, pickle and a sweet dish, the meals here can be accompanied with one of their popular sides like the Syrian Meat Fry.
Samaroh
Samaroh's wholesome vegetarian thali is a lavish seven-course meal that starts with an amuse bouche of sorts (Keshar Mewa Boondi) and chaat before moving on to the starters like Palak Paneer Samosa, and a Methi Makai Seek. But, make sure you leave enough space for the mains. There are dishes like Palakwali Dal and Kolhapuri Kofta to be paired with the rotis. Oh, and chilled lychee Shrikhand for dessert, too.
Comments