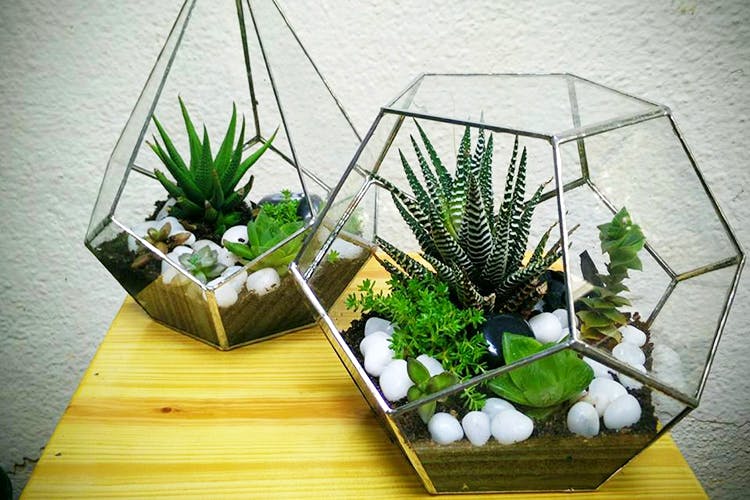 These Brands Will Transform Your Home Into A Green Haven Of Indoor Plants
Yes, yes. We know that Bangalore is super crowded and gardens are now almost a thing of the past. But this is your chance to bring out your love for gardens and gardening — by stocking up on indoor plants that will make your private living space cool and soothing. From useful herbs to naturally air-purifying one, these online stores will let you make use of your green fingers.
Zilpakala
A play between art, craft and plants, this brand brings you quirky and cute potted plants. Be it teacup pots with floral paintings on them, little birdies or animal-shaped pots like cutesy pig-shaped ones, this brand promises to transform your interior into playful and cheery space. But the fun doesn't end there! If you have any shape and size in your mind, you can get yourself a custom shaped pot too! And if you're looking for mini gardens encased in glass exterior, they sell terrariums too.
Garden Fairy
No space for a garden? No problem! This brand brings you something really magical yet small to adorn your home with. Basically, they'll give you a miniature garden! Think tiny picnic tables and chairs, a bird fountain and a lamp post surrounded by miniature tree-like plants. Wouldn't we love to own this tiny space of a garden? They also customise the garden, so if you have any elements like flowers, water features or even toys incorporated into it, feel free to tell them.
Greenopia
Busy with work and no time to care for plants? This brand also offers a cool self-watering system for your indoor plants. So you won't need to worry about a quick weekend getaway. These nifty plants come in simple, neutral coloured cups as pots, keeping the plants hydrated for a longer period of time (say, two weeks) that you can keep in your home or office.
Rooted Gifts
If you have blooms on your mind for indoor decor, Rooted Gifts, who've been reigning in the floral gift department for over 30 years, will sort you out. They have exotic, fresh off the farm flowering plants in rainbow colours (and more). Think blush pink anthuriums, bright red gerberas or delicate peach chrysanthemums. Imported from Thailand, The Netherlands, and Israel, among others, these plant will really brighten up your home. They make for fantastic gifts as well, so go on, send someone some real flowers.
Mudfingers
Succulent planters, terrariums in wine goblets and miniatures in terracotta pots. You'll see why we love this company. Their terrariums, much like their tagline, are true 'poetry in a glass'. They are indeed that and more as they come in the unique shapes like hanging bulbs and shot glasses. Their subtlety will add to the elegance of your home. Besides many things plant, the brand also sells bonsai (dwarf-sized trees) that are adorable to sit atop your desk too.
Comments