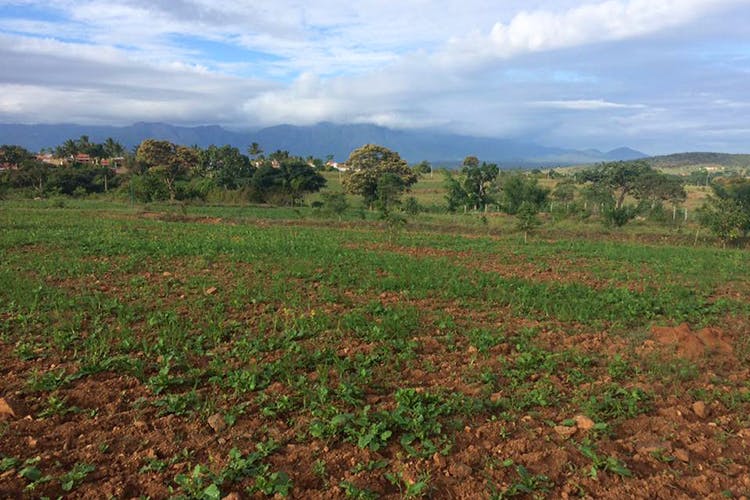 Play Real Life Farmville By Volunteering At These Farms Around Bangalore
Urban spaces are becoming more confined. And with our regular 9 to 5 jobs, it's not too much to expect that we go all out on the weekends. We splurge on some good food, entertainment and shopping. However, taking a week off, a month off, or even just the weekend, you could make some serious progress learning about farming and sustainable living. Whether you want to learn how to make a nursery, rear cows, till the fields or plant millets, these spaces around Bangalore will totally help you out.
Vanashree
Organically nurtured since 2005, this 8-acre farm, only 50km outside Bangalore, was started by IT professional-turned-farmer Srikanth. As with most institutions that strive to be self-sufficient, their dependency on the grid is minimal, with solar-based lighting and gobar gas fuel for cooking. Cows, ducks and chickens are reared on the property. On the farm, you can learn all about organic and natural farming by actually getting your hands dirty. Plus, pick up tips on tree and plant identification before bird watching for some relaxation.
Check out their website here.
Navadarshanam
Bordering the Thally reserve forest, this farm only encourages serious volunteers, not the average tourist. Partap Aggarwal, one of the founders, even brought out the Indian edition of the Fukuoka manual 'One Straw Revolution'. Dependent purely on solar power, their eco-friendly lodging isn't too extensive and the food is basic vegetarian.  You can choose to help out in a number of different things like eco-restoration or organic farming. With the trust formed way back in 1990, you can be assured of picking up some effective techniques and processes.
Check out their website here.
Aranya Eco-Village
A place not for the faint-hearted, the farm was hit by some intense rains late last year, destroying a lot of crops. Located in Anchetty, they have successfully raised some donations to rebuild the area, but can always use more help. Willing volunteers get to delve into low-energy house construction techniques, water/soil conservation, solar design and basic permaculture. With the ever active Rajnish Kumar now running things here, expect some heavy lifting and hard working toiling under the sun. Also expect some brilliant food, peaceful evenings and a lot of local love from the villagers.
Where: Denkanikottai, Krishnagiri District
Find them on Facebook here.
Hamsah Organic Farm
A slice of rural life well within city limits, this 5-acre farm run by John Fennessy, is an avid spot for a weekend volunteering stint. Get to use a tiller, walk some cows and cook some kale bajjis! Make sure you attend the seasonal mango harvest. There are constantly new things being sown, grown and reaped over here, making it a lively and interactive space to truly regain your lost roots. Visitors can also head down on weekends to pick up an assortment of interesting produce they have growing there, from zucchini and lettuce to fresh rosemary and passion fruit!
Where: Sarjapur Road
Find them on Facebook here.
SwaYYam
A non-profit entity registered in 2011 and currently overseen by Malvikaa Solanki,  the farm encourages permaculture techniques and sustainable concepts such as 'eat your yard', a Texan initiative on edible landscaping. It is located almost at the borders of 3 states –Karnataka, Tamil Nadu and Kerela. A minimum stay of 2 weeks is necessary to understand the vibes of the area, and basic food comes at a nominal cost of Rs. 250/day in order to cover grocery, cooking, and other farm expenses. They also have a project called Rangaayana, an effort to revive music, dance and folk traditions.
Where: Yelachatti
Check out their website here.
Find them on Facebook here.
Know of any other farms that one can volunteer at? Let us know in the comments.
Mary's Barn
Give yourself a break from the hustle of the city and live the simple life at Mary's Barn in Hessaraghatta. The two-acre farmhouse has everything you love about country life from animals like Moscowi ducks, geese, swans and rabbits, to vast expanses of land to frolic around in. Plus, there's a tree house to climb up and check out. You might not get to farm here, but you'll definitely live the farm life complete with slush volleyball and a rain dance, and a simple farm fresh brekkie when you wake up.
Martin's Farm
If you are looking for some lush greenery and serene weekends or parties in the lap of nature, Martin's Farm is where you should go. A real-life version of Old MacDonald Had A Farm, this farm has got pigs, cows, ducks, horses and an adorable dog will keep you company and you can even take care of them and feed them too. You can help with tilling, gardening and watering the plants as well. Perhaps even try milking the cows.
Earth's Kitchen
Earth Kitchen is a quaint weekend farm and bistro in Hesaraghatta lets you take a break from the city and experience rustic life. With over 2,000 trees, a pond for water harvesting, and plenty of vegetables and fruits grown try your hand at organic farming while you're here. You also get to gather herbs and plant cuttings for your own garden at home.
Comments