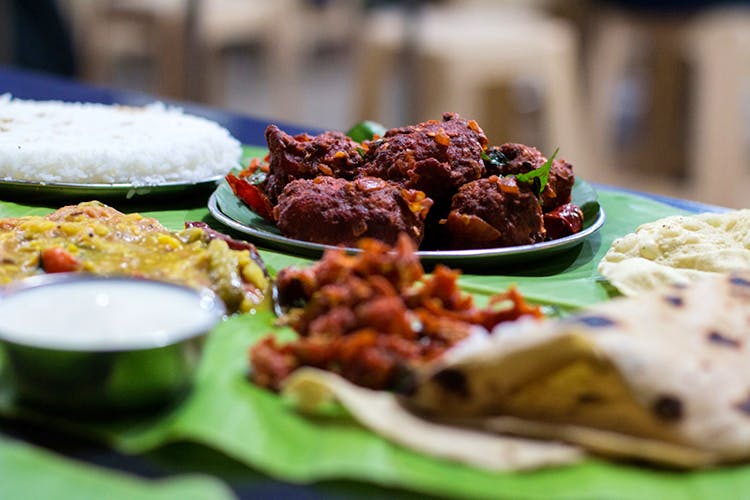 Cure Your Homesickness With These Homely Restaurants In Bangalore
It does get difficult to live away from home and most importantly home cooked meals. Homely food is one of the most fondly missed things come adulthood, no matter which corner of the world you are in. When homesickness hits you in Bangalore, check out these homely restaurants for your dose of homely meals.
Iyer's Mess
There's nothing in this world that good sapaad can't fix. Head to Iyer's mess in Malleshwaram and eat to your heart's content. Get yourself a homely meal for just INR 70 and feel like you never left home in the first place at Iyer's mess. The menu is pretty standard and can get monotonous for people visiting often. All you vegetarians, this homely restaurant could be your comfort place as they serve only veg food.
Polamma's Mess
Located right opposite Christ College, every student who has ever studied there has visited Polamma's Mess for home-style Andhra food. This homely restaurant serves Andhra style full meals for just INR 100 with a strict no-sharing policy. Try their Andhra chicken biryani and chilli chicken at prices that are very pocket-friendly. They have plenty of veg options to choose from as well. Known for their homely Andhra food, they also serve Indo-Chinese options that give us a lot of options to eat from.
Sethji Homemade Food
Get the taste of Rajasthani dhabas right here in Indiranagar with Sethji Homemade Food. Located in the inner by-lanes of Kodihalli (Indiranagar), Sethji Homemade Food serves a wide variety of North Indian food like palak paneer, paneer bhurji, stuffed parathas and rice combos. You can get yourself a full homely meal at INR 100 with roti, subzi, dal, chawal and papaad. Beat the summer with the beverages here which range from rose sharbat to khus lassi.
Delhi Food Point
Straight out of the streets of Delhi, Delhi Food Point serves some of the best North Indian homely food in Koramangala 1st block. If you are looking for a sastha, sundar and tikau option for your everyday dining, head to Delhi food point. Choose from a range of food combos like roti- subzi combos, paneer combos, rice combos, dal combos, and paranthas combo. It is a pure veg homely restaurant and they are open from 12am onwards, offering tasty breakfast options as well.
The Restaurant Coorg
Imagine the homely food being so good that you serve it to everyone in the city? That's exactly what The Restaurant Coorg in Indiranagar does. This quaint little homely restaurant is open only on weekends (Friday-Sunday) and serves authentic home cooked Coorg food. They serve veg and non-veg buffet for INR 750. All you non-veg lovers, try their aKki roti with pandi curry and beef fry and vegetarians in the house, try their jackfruit curry.
Comments