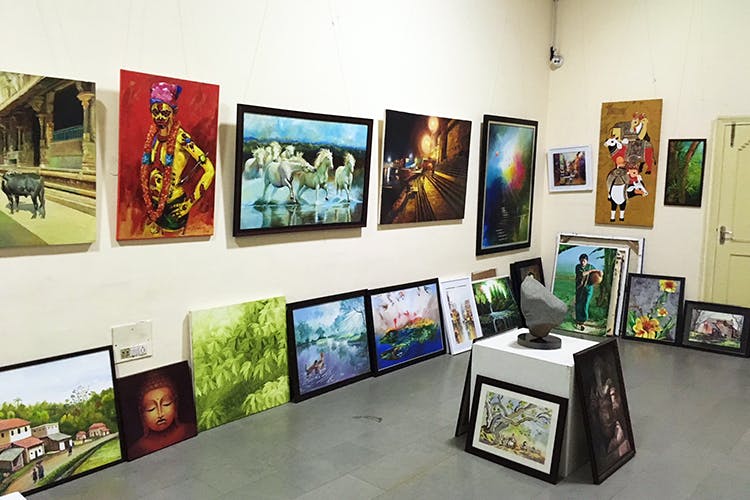 Oldie But Goldie: From Paintings To Flea Markets, There's Plenty Going On At The Iconic CKP
Short Cut
Karnataka Chitrakala Parishath, a visual arts complex, with a college of fine arts also on the premises, has so much to offer that you can make an entire day of taking in the art and activity that surrounds you.
What Makes It Awesome
Housing many rare paintings, sculptures and even puppets, the art museum at Karnataka Chitrakala Parishath has much to gape at. From stunning paintings by Nicholas Roerich (a Russian painter) and by his son Svetoslav Nikolayevich Roerich, who has captured breathtaking landscapes of the picturesque Kulu valley to folk art works dating from 1800s to the 1950s donated by art connoisseur HK Kejriwal, there is much to marvel at. You'll even find celebrated sculptures by artistes Sunil Das, Shyamal Dutta Roy, and Bikash Bhattacharjee.
Sign yourself up for the hobby classes conducted here that are completely open to the public. The classes are conducted at a cute little space that looks like a tiny house made with clay bricks, on a small hill, which to us seems like the perfect setting to get those creative juices flowing. You can master either Traditional Mysore Painting or Basic Painting here by attending a six-month course that will teach you the ins and outs of the art form and its techniques. The fee for the courses are INR 20,000 each and you can sign up for them at the office.
Want to add a smidge of high art to your home? Pick up a piece or two from the in-house art store, Art Mart, that stocks up on paintings and plenty of books and encyclopedias on art. It usually features local talent so it's a great place discover the thriving arts scene of the city. If you want to tap into your inner Picasso, head over to Bhasker's Stationery Shop. The famed stationery store of Avenue Road has another outlet on the grounds CKP. Climb down a narrow flight of stairs and walk into a stationery wonderland that made the heart of this stationery junkie thud a little louder. Packed to the gills with all of the art supplies and stationery you could dream of, get your hands on everything from brushes and paints to rolls of paper and pens with every kind of tip imaginable.
Pro-Tip
Run by the iconic Kamat chain of restaurants, the CKP Canteen is always buzzing with loyal patrons. Try the Open Butter Masala Dosa that's a crowd favourite here. Oh, and keep an eye out for the dates on Chitra Santhe. their annual art bazaar. With over 1,500 stalls featuring work of lesser-known artists from across the country, the whole street is cordoned off, and you can buy art from artists directly!
Comments