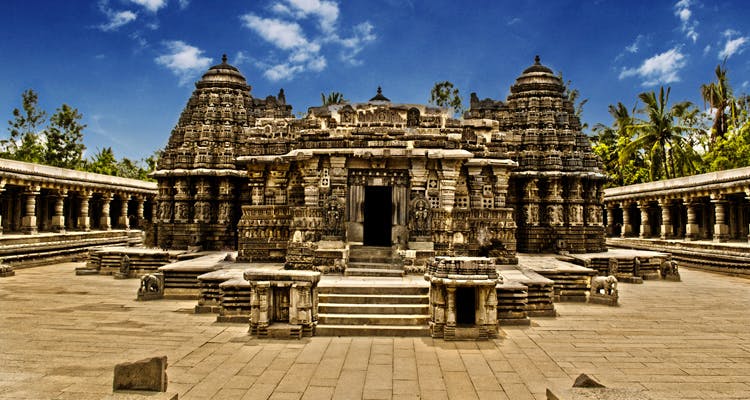 Ten Stunning Places To Check Out Under Three Hours Away From The City
We get it. It's been a long week, you've spent more hours stuck in traffic than you've spent with your family. And that getaway is far away budget and time-wise. The solution? Head out on a one day trip from Bangalore to one of these places which are three hours (or less) from town. We promise the drive and fresh air will make you feel good enough to return, all rejuvenated. Plus, you'll get to see a new place just beyond the bounds of our not-always-so-fair city. Kick into fourth gear, folks, it's time for a drive.
Somanathapura
This abandoned 13th-century temple was built by a general of the Hoysala dynasty army when they were a dominant power in South India. It's worth visiting for the stunning carvings on and inside the buildings – a prime example of Hoysala architecture. We suggest straying off the highway and taking the inside route through farms and villages for a relaxing drive.
Driving time: 3 hours (approx)
Bheemeshwari Adventure & Nature Camp
Situated on the banks of the Kaveri, the Bheemeshwari camp is a place where you could easily spend a weekend, but they also have one-day packages for those who don't have too much time. Try your hand at adventure activities such as zip-lining or parallel walking. Or navigate the river in a coracle, beer in one hand and a fishing rod in the other. The best time to visit is actually right now (October to January) . So, pack a picnic and hit the road to Bheemeshwari.
Driving time: 2.5 hours (approx)
Savandurga
Savandurga hill in the Ramanagara district is a great place for a short hike. It's only an hour or so away, and you'll get to see great views of the landscape below as well as the ruins of the fortress built by Kempe Gowda (no, not the airport guys!). Savandurga is a rocky hill with little tree cover, so go prepared with sunblock, hats and plenty of water and snacks.
Driving time: 1 hour (approx) Find it on the map here.
Nandi Hills
Head to Nandi Hills to check out a medieval fortress built in stages by the Cholas, Hoysalas, Vijayanagar rulers and others, Tipu Sultan's summer palace, a couple of stunning temples, horticultural gardens, and homes where Nehru and Gandhi have stayed on visits here. If you are strong-willed (and limbed) then we suggest you walk up the hairpin bends and stop for photo-ops at some marvellously precarious rock formations. This is also a great place to cycle to if you're a somewhat experienced rider. Catch the sunrise with your squad or bae and drive back to the city for breakfast.
Driving time: 1 hour 20 minutes (approx)
Srirangapatna
Srirangapatna, Tipu Sultan's erstwhile capital is full of things to see. It's a river island, with the Kaveri gushing around it, which means a dunk in the water or a coracle ride is a must. Check out the Dariya Daulat, a beautifully painted wooden palace, and the surrounding gardens, as well as the fortress and the very spot where Tipu was killed, for history buffs.
Driving time: 3 hours (approx)
Channapatna
Bring your inner child alive and visit Channapatna. If you have kids or are into crafts, Channapatna is a great place to visit. Home of the eponymous style of toy-making, Channapatna is where you load up on bright lacquer coated wooden toys that range from little cars to dolls. Remember those wonderful rocking horses? You can visit the Channapatna Crafts Park to see the work of thousands of artisans who make a living out of this dying tradition, and also try to peep into an active workshop to get a sense of how they do it.
Driving time: 1 hour 40 minutes (approx)
Dodda Aalada Mara (Big Banyan Tree)
Feel like going on a picnic? While you may not find lush woods right in the city, you can drive out to the Big Banyan Tree off Mysore Road for a merry day, Enid Blyton-style. This tree is over 400 years old and covers three acres, and the government has enclosed the space to turn it into a shaded park. Drive 10 kilometres further down the same road to catch a glimpse at the stunning Manchanabele reservoir, though access to the banks is restricted.
Driving time: 1 hour 10 minutes (approx)
Shivanasamudra Falls
Shivanasamudra, the magnificent twin waterfalls is situated in the Mandya district. Try to go around the monsoon as the water will be in all its glorious force at this time. There isn't much you can do around here, but you can take a peek at the hydro-electric power plant attached to the falls, which was set up at the very beginning of the 20th century and is one of Asia's oldest.
Driving time: 3 hours (approx)
Hesaraghatta
Love classical dance forms? Then drive down to Hesaraghatta where you can visit Nrityagram, a residential dance school teaching classical dance forms like Odissi, Kathak, and Bharatnatyam. Next, go to Earth Kitchen, an organic farm that also serves a delicious Mediterranean lunch (reserve this in advance because Earth Kitchen only operates during weekends).
Driving time: 1.5 hours (approx)
Ranganathittu Bird Sanctuary
If you're into birdwatching, you've probably been to or at least heard of, Ranganathittu. If not, head to this lovely sanctuary, which is on an island in the middle of the Kaveri, and it may become a new passion. The best time to visit is from December to July when migratory birds from North America, Australia, and Siberia settle here to mate.
Driving time: 3 hours (approx)
National Parks & Wildlife Sanctuaries
Comments