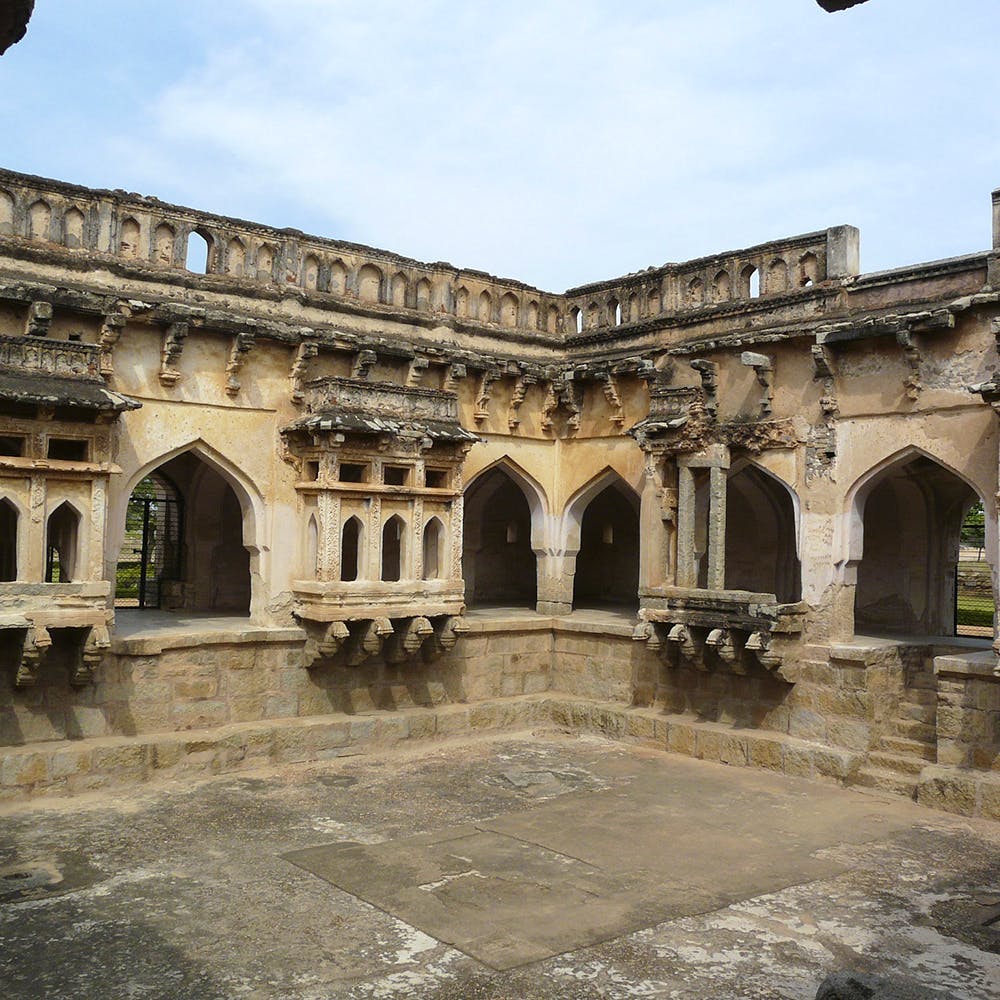 Add These Places To Your Itinerary As You Plan A Trip To Hampi
Situated at about 342 kilometres, Hampi, the temple town of Karnataka and the former capital of the Vijayanagara empire will give you a dose of history and heritage. A UNESCO world heritage site it attracts tourists from all over the world. If you are planning a trip to Hampi and are confused about the best places to visit while there, look no further! Add these places to your list and enjoy your fix of heritage, history and natural beauty that Hampi has to offer.
Vitthala Temple
Built during the reign of King Devaraya II, Vitthala Temple dates back to the 18th Century and is a must-visit attraction while in Hampi. This temple is home to the very famous Stone Chariot, which is the most sought after tourist spot (thanks to Incredible India campaigns). The temple is dedicated to Lord Vitthala, an avatar of Lord Vishnu and the stone chariot is dedicated to Garuda, the chariot of Lord Vishnu. While at the temple, don't forget to check out the Maha Mandapa, one of the oldest mandapas in Hampi with intricate carvings of Narshima, Yalli, warriors, and swans. Take a picture at the Stone Chariot (Got to do it for the gram, right?). It is open from 8:30 AM to 5:00 PM on all days of the week and has no entry fee applicable.
Anjaneya Hill
Trek along the Kampa Bhup's path in Anegundi area of Hampi and reach the Anjaneya Hill which is believed to be the birthplace of Lord Hanuman. Visit the Hanuman Temple situated on top of the Anjaneya Hill situated about four kilometres from the main city. One has to take a boat to reach the base of the hill and climb up to visit the temple. The picturesque view from the hill is perfect to witness a sunset, makes it one of the must-visit places in Hampi. There is no entry fee applicable here and as you climb up beware of monkeys around as you climb up the stairs to the temple.

Queen's Bath
Queen's Bath is one of the sites that showcase the architectural excellence of the Vijayanagara Empire. Located close to the royal enclosure in Hampi, Queen's Bath is one of the historic sites that one must visit while travelling to Hampi. Dated around 500 years old, it was constructed as a bath area for the women of the royal family which is believed to be used as a private bathing area for Kings and Queens. Constructed in Indo-Islamic style of architecture, this rectangular bath is surrounded by ornate arched corridors and balconies with glass stained windows. Post the Mughal attack, the Queen's bath is used as a picnic spot by tourists. It is open from 6:00 AM to 6:00 PM on all days of the week. You can buy small stone carved souvenirs at the Queen's Bath.

Riverside Ruins
Located close to the riverside of the Kodandarama Temple, you can spot various ruins among which the 108 Shiva Lingas on a square rock is the most famous. A little further, you can find another flat square rock with 1008 Shiva Lingas making it an important spot for Hindus. Apart from this, you can find a number of small shrines, statues, and ruins, which would satisfy the history lover in you. It is highly recommended to hire a local guide to take you through the historical references. There is an entry fee of INR 30 here and it is open from 6:00 AM to 6:00 PM on all days.
Hampi Bazaar
If you are exhausted of all the historic and religious sites, a visit to Hampi Bazaar would serve as a breath of fresh air. Located in the front of Virupaksha Temple, Hampi Bazaar is one of the most visited spots of Hampi with a kilometre of pavilion ruins. You can find shops selling clothing, jewellery, and antiques, sp pick up souvenirs for family and friends from this market. There are also cute cafes and restaurants at the Bazaar. At the end of Hampi Bazaar, find a huge Nandi statue and feel free to click photographs from your visit. There's no entry fee here, however, they don't have any ATMs around, so make sure to carry some liquid cash for your shopping.

Archeological Museum
Explore the archaeological history of Hampi at the Archaeological Museum located at Kamalapura in Hampi. Brush up on the history with a visit here as this museum has four sections for the city's structure, sculptures, and idols, tools, books and coins and antiques of the Vijayanagara Empire. This museum is home to models of Hampi with monuments located here and a miniature copy of Hampi with the hills and rivers. This museum is run by the Archaeological Survey of India and charges an entry fee of INR 5. Photography is restricted only to the outside premises of the museum, so make sure not to click pictures while touring inside. It is open from 10:00 AM to 5:00 PM on all days except Fridays and national holidays.

Tungabhadra Dam
Also known as Pampa Sagar, Tungabhadra Dam is constructed on the Tungabhadra river. It is one of the main tourist attractions for people visiting Hampi due to the scenic view. Walkabout 800 meters from the parking to reach the dam. They also have shuttle bus services for the elderly. Once you check out the dam and take in the magnificent view of Tungabhadra river, head to the garden close to it and check out the musical fountain, flamingos and small fish house. All the shutterbugs, this point is an absolute treat for you. It is open from 8:30 AM to 6:30 PM and has no entry fee applicable.

Matanga Hill
Matanga Hill in Hampi would unarguably offer you the best panoramic view of the city in all its glory. Trek up the hill for a morning filled with a beautiful sunrise and the view of the city and the Tungabhadra River. It is a 30-minute moderate level trek up the hill. We suggest you take the route next to Hampi Bazaar which is less strenuous as you can check out the abandoned shrines as you climb up. Spot the Veerabhadra Temple on top of the hill and witness the beautiful view of Hampi that is just unparalleled. If you aren't an early bird, worry not! Catch the sunset here with bae for a romantic evening.

Daroj Bear Sanctuary
Technically not in Hampi but located at about 15 kilometres from the world heritage site, Daroj Bear Sanctuary is a treat for all wildlife and nature enthusiasts. Take off on a mini drive and witness Indian Sloth Bears in their natural element. While at the sanctuary, you can also spot hyenas, jackals, leopards and spotted deers. The entry fee here is priced at INR 50 and parking here costs about INR 500. Don't forget to wear shoes with good grip and carry enough water with you for the trip here.
National Parks & Wildlife Sanctuaries
Lakshmi Narasimha Temple
Lakshmi Narasimha Temple is the largest statue in Hampi situated within the ruins of the city. It is the largest monolith statue that one can spot in Hampi. Built in 1582 A.D., this statue is 6.7 meters long and is a representation of Lord Narashima (an incarnation of Lord Vishnu), half man-half lion. It is also referred to as Urga Narasimha due to its fierce form and was destroyed when the Mughals attacked the Vijayanagara Empire. It is open from 6:00 AM to 6:00 PM on all days and has no entrance fee applicable.

Comments