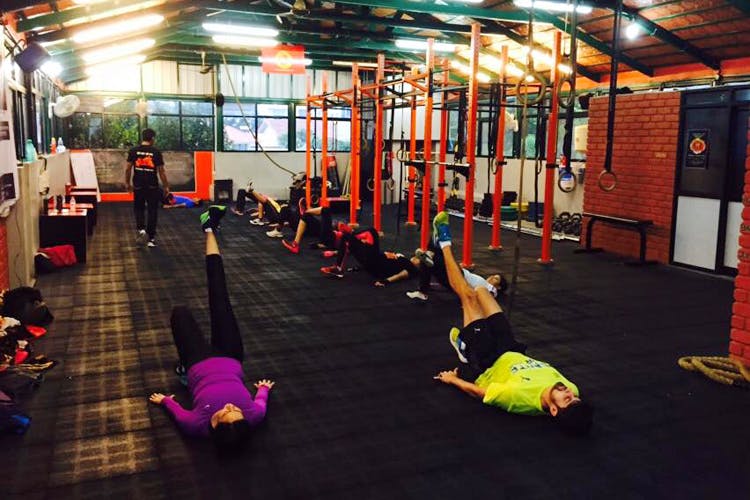 Squats, Burpees And Planks: Get Better, Faster, Stronger, Fitter At This Functional Training Zone
Shortcut
Forget calories, kilometres and air-conditioning in favour of strength, endurance, grit and functional fitness at this training facility in Kalyan Nagar.
What Makes It Awesome
Daft Punk wrote the song Harder, Better, Faster, Stronger after they probably worked out at The Outfit. I am completely convinced. Pretty much dissing machines like a treadmill, cross-trainer and those darned air-conditioners, this facility in Kalyan Nagar, is completely focussed on transforming your body and mind — how else can you do plank push-ups, burpee-squat jumps and glute lunges. Inspiration, to do these workouts every day, will come in the form of trainers who can do headstand push-ups, run marathons with ease and take down a bear (OK, we're not sure about this one). Since they're pretty hard core, don't expect them to go easy on you. But rest assured they are monitoring your every move to check your stance and technique — their priority is your fitness, but also your safety.
Strength through endurance training, speed and agility all come with the package. If you're expecting Pilates and calming asanas, you best swiftly run in the opposite direction. Here, ropes, kettle bells, tires and high bars reign supreme. We also love how they adapt workouts to the natural outdoors. Think training mornings in Cubbon Park, pushing tires, climbing rocks, running the tracks and doing planks on the soft grass.Ideal for those who want to get out of a traditional gym and pick up speed, agility, endurance and flexibility in a more realistic setup, or even for someone working out for the first time, The Outfit will challenge you, and push you to be the strongest you possibly can. The best part? Everyone in the gym has their own hurdles to conquer (literally and figurative ones), so when you're down, sweaty and want to give up, you'll have a whole bunch of people who have been-there-done-that, rooting for you.
Pro-Tip
They have other outlets in the city too.
More Information
The Outfit
Nearest Metro Station: Baiyappanahalli
Comments