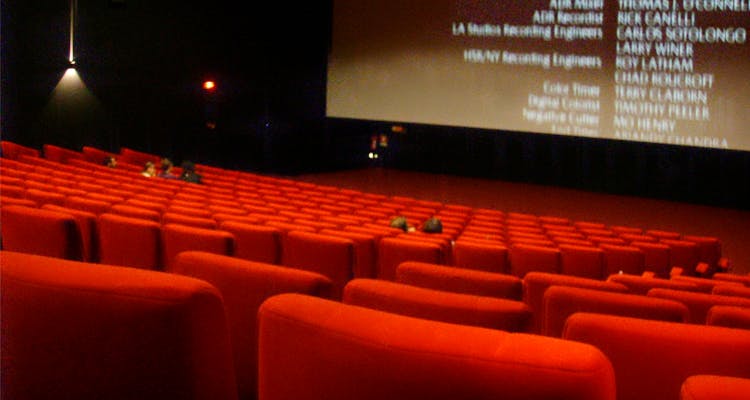 Watch Movies on the Big Screen for Under INR 150
If you thought going out for a movie can prove to be too costly, we might just be able to change your mind with this list of cinema halls that have tickets priced under INR 150. Oh, and we suggest you give them a call before heading out as ticket rates can vary from movie to movie.
LBB's loving
Rex Theatre
Readers' vote
Fun Cinemas
Cinepolis, Banerghatta Road
Located in Royal Meenakshi Mall, this theatre (one of the largest Cinepolis in the city, we hear) boasts of amazing picture clarity and superior sound technology along with comfortable reclining seats to make your experience better. And, the good news? It won't cost you a fortune if you head there for morning shows on weekdays (tickets within INR 120) or, on Wednesdays, when all shows are within INR 150 (not applicable for 3D movies)!
Price: Within INR 120 (morning shows on weekdays), INR 80-150 (Wednesdays)
Fun Cinemas, Cunningham Road
With tickets starting from INR 120, this is where you can catch the latest of Hindi, English and regional language movies at a bargain.
Price: INR 120-150 (weekdays)
INOX, Magrath Road
You don't have to miss your favourite movie because of pricey tickets. Make your way to this multiplex, located in Garuda Mall, on Tuesdays for tickets as low as INR 120 (executive category) and INR 140 (club category) through the day.
Price: INR 120-140 (on Tuesdays)
PVR – Marketcity, Whitefield
Morning shows for under INR 150? Yes, please! That's not all. On Wednesdays, they also have Silver and Prime category tickets for INR 100 and INR 150 respectively for shows before 6pm and post that, you get them for INR 120 and INR 170.
Price: INR 150 (morning shows), INR 100-INR 170 (on Wednesdays)
PVR Premier – V R Bengaluru, Whitefield
Movie buffs, want to catch a flick (on weekdays, that is) without burning a hole in your pocket? Look no further than PVR Premier! All weekday shows at this swanky new theatre are going to cost you just INR 150.
Price: INR 150 (weekdays)
Innovative Multiplex, Marathahalli
For those near Marathahalli, we suggest you hit up Innovative Multiplex the next time you want to watch a movie on a budget. Known for their reasonably priced tickets which start at INR 80, they might just tempt you to take a movie break every now and then.
Price: INR 80-150 (weekdays)
Rex Theatre, Brigade Road
Built in the time of World War II (known as The Paul's Rex back then), this humble cinema hall has stood the test of time and remains one of our favourites. And, more so, because of their amazingly low ticket rates! You can score stall and balcony tickets at INR 100 and INR 130 respectively on weekdays. Even during the weekend, their tickets are quite a steal, we think – stall tickets at INR 140 and balcony at INR 180.
Price: INR 100 upwards on weekdays, INR 140 upwards on weekends
Cauvery Theatre, Sankey Road
Regional language movies (Kannada and Telugu, mostly) and Hindi flicks are what you can expect at this single screen theatre. While their balcony seats might cost you INR 200, go for their mini balcony or first class seating options (if you don't want to splurge too much), priced at INR 150 and INR 100. And this applies for weekends as well! Yes, you read that right. Already planning a movie weekend?
Price: INR 100 upwards
INOX Fame Shankarnag Chitramandira, MG Road
Apart from Kannada, Telugu and Tamil movies, this popular theatre also plays Hindi and English releases. Their four ticket categories – Gold, Jubilee, Premier and Silver – are all pocket-friendly, starting from INR 90 and going up to INR 160.
Price: INR 90 upwards (weekdays)
Vision Cinemas, KH Road
While it may not be too high on ambience, Vision Cinemas is just perfect if you are on a shoestring budget and longing to watch one of the latest Hindi or English movies. With tickets at INR 100 (morning shows) and INR 120 on weekdays and INR 160 (morning shows) and INR 200 on weekends, we suggest you start planning.
Price: INR 100 and INR 120 (on weekdays)
Everest Theatre, Frazer Town
Playing only Hindi and Tamil movies, Everest theatre has tickets starting at INR 100 throughout weekdays and at INR 150 on weekends.
Price: INR 100 upwards on weekdays and INR 150 upwards on weekends
Urvashi Digital 4K Cinema, Lalbagh Road
One of the oldest theatres in the city, Urvashi Cinema got a new avatar after its recent renovations. This single screen cinema hall is among the first in Karnataka to introduce Digital and 3D Projection, we hear. Playing the latest of regional and Hindi movies, tickets at Urvashi Cinema go for INR 100 (Silver category) and INR 150 (Gold category) on weekdays. You can also score tickets for the same rates over weekends, depending on the category you choose.
Price: INR 100 upwards
Comments