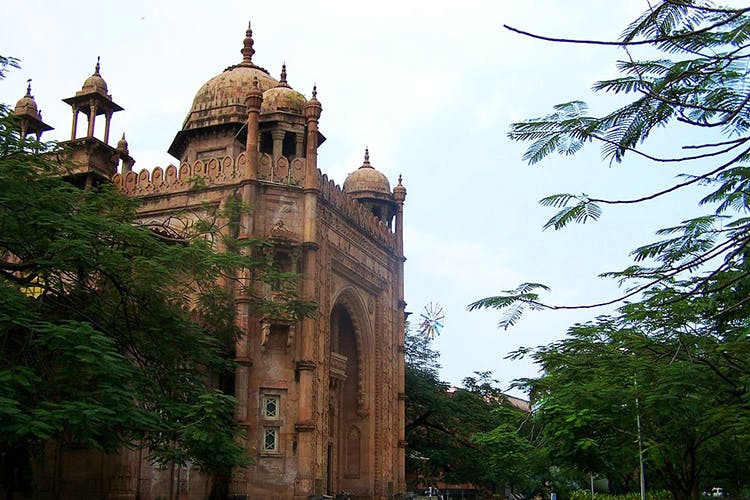 Here's How To Be A Tourist In Your Own City – Check Out These Chennai Must Do's
Tired of all the hustle and bustle that city life entails? Not enough time to get away on a vacay? Rest easy. Take a day off to explore the grand old city in all its glory. We might not have the Gateway of India or the Lalbagh in Chennai, but hey, we have our share of golden beaches, shopping options galore, age old temples, some of the best filter kaapi cafes and scenic driveways. The city is a perfect blend of old world charm coupled with a modern flair. So, what are you waiting for? Head out, explore and fall in love with Chennai all over again!
Take A Walk Along The Coast
Early morning traffic on the roads is almost close to a nightmare, so why not spend your mornings by the serene Bay of Bengal instead? Take a quick jog or walk along the longest natural urban beach in the country, the Marina Beach and breathe in some fresh albeit salty air. If taking a walk or jogging is not your thing, you can cycle along on the promenade that leads to the light house as well. The beach houses 14 harmonious landscaped galleries dotting its span, in the form of small theatre-type galleries where you can sit and relax after your morning walk.You can also have your very own picnic on the beach a little later in the evening once the sun has set. You can do the same on other beaches around the city as well, like Elliots Beach and the Thiruvanmiyur Beach.
Gorge On Authentic South Indian Breakfast
Indulge in some delicious south Indian breakfast that is iconic in the city. Head to Murugan Idli Shop for yummy authentic south Indian breakfast and a shot of strong filter coffee. You are sure to love the array of options available here for breakfast, ranging from fluffy ghee podi idlis to crispy, thin dosas and divine hot pongal. Don't forget to sip on some piping hot filter coffee as that's how every traditional south Indian brekkie must end. You can also try out the iconic Ratna Café and the popular Saravana Bhavan for a good early morning chow.
Step Back In Time At The Government Museum
Head to the second largest museum in India, the Government Museum on Pantheon Road. The museum complex comprises six buildings and nearly fifty galleries displaying artefacts from diverse fields including archaeology, numismatics, zoology, natural history, sculptures, palm-leaf manuscripts and Amravati paintings. Built in an Indo-Saracenic style, it also houses rare works of artists like Raja Ravi Varma. The city is also home to other interesting museums that you could visit, like the Chennai Rail Museum and the Vivekananda House.
Saree And Jewellery Shopping At T Nagar
No one can ever have too many clothes or accessories, there's always place for more, especially when it comes to nine yards of pure silk and antique temple jewellery! T Nagar is your place to shop for some exquisite Kanchipuram silk sarees and matching temple jewellery and don't miss out on getting some mehendi done on your hands from the talented artists seated outside stores, waiting to transform their skills into art on your palms. You can even get your blouses and dresses stitched in an hour and altered in a jiffy! You can find some budget buys like bangles, bindis, and even hundred rupees chappals, I mean who doesn't love some very affordable retail therapy? Drop by (the ever-bustling) Pondy Bazaar which is right around the corner to do some quick street shopping there too.
Go On A Long Drive On The Scenic East Coast Road
Beach therapy is the best therapy and watching a sunrise or a sunset on the beach is one of the best views one can experience in a lifetime! So start out early in the morning or a little after 4 pm and take a long drive on the scenic East Coast Road (ECR) to capture stellar images of the sunrise/sunset on one of the beaches along the road. There are many tiny by-lanes on the ECR that lead to quiet and not so crowded beaches, although you might want to be sure that its safe. Some of the famous ones are the Uthandi Beach and the Kovalam beach. You can also drive down to Thalankuppam pier near Ennore if not on the ECR.
Walk The Green Mile Right Here In The City
Take a long stroll in a green forest situated right here in the city. Make your way to the Theosophical Society (open from 8.30am to 10am and 2pm to 4pm) and take a walk down its narrow meandering trail with greenery on either side! Watch colourful birds happily chirping away and sit by a big banyan tree and relax as you unwind in this forest like garden. You can also visit the Chetpet Eco Park or the botanical garden Semmozhi Poonga on Cathedral Road just to unwind in a natural setting.
Catch A Movie At Sathyam Cinemas
Watch a movie starring your favourite celeb at the iconic Satyam Cinemas (and don't forget to stuff your face with many kinds of popcorn available there!). Lauded for its premium quality and inexpensive pricing, Satyam Cinemas is often used by film makers for film premiers and audio launches. It has been a household name in Chennai since 1974 and is the city's favourite destination for people from all walks of life to unwind. It is also quite famous in Hollywood and has received praise from international film makers like Ang Lee (whoa!).
Didn't include your favourite thing to do, see or eat in Chennai? Tell us in the Comments.
Comments