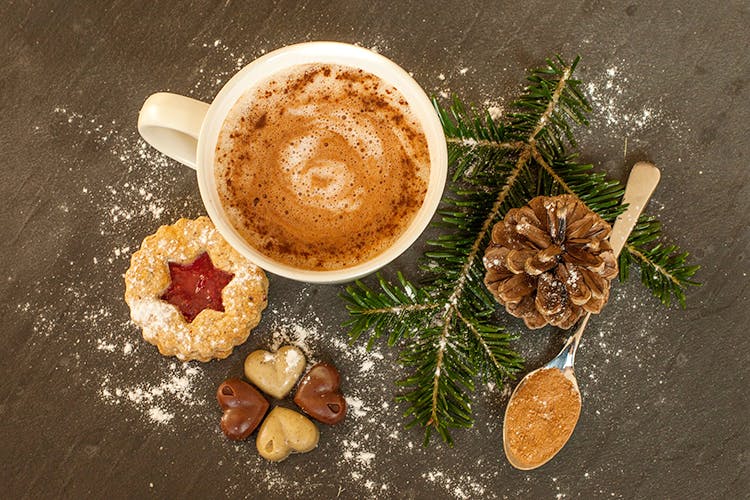 Red Velvet, Tiramisu Or Cinnamon: Enjoy A Cup Of Hot Chocolate On A Rainy Day
Contrary to popular belief, there is no season for hot chocolate, just like there's no season for hugs and happiness. Hot chocolate, on a cold or rainy day, is absolutely heavenly. While authentic hot chocolate is supposed to be rich melted chocolate with just enough milk to keep it smooth, these 6 places in Gurgaon add a special something to offset that sweetness.
P.S. The prices quoted below are for small portions, and additional charges may apply for different flavours.
Chokola
Chokola, as you would expect, has a range of hot chocolates. Apart from the Classic Milk Hot Chocolate, they offer a Classic Dark and White Vanilla Hot Chocolate. If that's too basic, they also do hot chocolate in cinnamon, coffee and hazelnut flavours. If you like fruity flavours, we'd recommend you try their novel combination of White Chocolate and Mango.
Price: INR 100
Costa Coffee
Costa Coffee is quite budget-friendly, what with its huge portions and absolutely decadent confections. They have a Classic Hot Chocolate which you can also get in the flavours of Black Forest and Honeycomb. They have just introduced a Coffee Mocha latte which is a shot of coffee, a lot of chocolate and steaming milk. Get yours with a hint of mint or hazelnut.
Price: INR 140
Madison & Pike
Our personal favourite, Madison & Pike takes the classic hot chocolate and 'dresses it up'. With lavender, red velvet, Mexican or hazelnut flavours, this quirky little bakery has hopped to the top, so far as hot chocolate is concerned. 
Price: Varies according to flavours
Roots - Cafe In The Park
This garden cafe may not have the widest variety of hot chocolate but it has the one thing that everyone loves – Nutella. And solely for this reason, Roots is on this list. Nutella is the milk chocolatey, hazelnut flavoured food of the Gods and Roots takes this most versatile ingredient and makes a yummy hot chocolate with it.
Price: INR 165
The Chocolate Room
Yes, the room in which Hansel, Gretel and I would voluntarily get trapped, the Chocolate Room has a whole page of their menu devoted to Italian Hot Chocolates. Mint, Hazelnut, Chilli, Milk and Dark Chocolate almost seem like standard flavours at this point so may we direct you towards the Tiramisu, Caramel and Strawberry? A 'cuddle cup' of hot chocolate with marshmallow or chocolate coated waffle balls is like a warm hug.
Price: INR 129
Comments